This Remodeling Costs Guide, updated for 2020, will help you research accurate prices for the most popular home renovation, remodeling and construction projects. On average, doing a complete house renovation costs $40,000-60,000. However, most homeowners choose to tackle one room or project at a time. This saves money and makes the process less overwhelming.
Our comprehensive list includes the cost of over 45 popular Interior Remodeling, Exterior Construction, Electrical, Mechanical (HVAC / Plumbing) projects, grouped by type. It is continuously updated to include new projects, as well as price adjustments for materials.
Get started on your remodel by requesting free estimates from remodeling contractors near you.
In this guide:
Average home renovation costs
Most expensive rooms to remodel
What remodels can you do for $100K?
Rebuild vs remodel: what is smarter?
Hidden costs of major renovations
Money saving remodeling hacks
Remodeling estimates vs real world prices
Cost of interior remodels (kitchen, bath, flooring, painting)
Prices for HVAC/Boiler/Furnace/Water Heater/Central Air/Ductless
Roof replacement and repair costs
Siding installation & exterior house painting costs
Cost of exterior house remodels
Electrical work costs
Concrete work costs (patio, walkway, steps, footings)
Cost of brick, stone & masonry projects
Whether you are a homeowner, investor, or real estate broker, this price guide is an accurate reference tool for planning a budget for your projects.
Cost estimates for this guide are sourced from over 100+ medium and large remodeling and general contractors, extensive research and the Remodeling Magazine.
How much does a house renovation cost?
Home Improvement Costs (click to get price quotes in your area):
Currently, most remodeling costs are up about 5-10%, compared to last year. This is due to the increased material costs as well as shortage of qualified labor. Roof replacement costs have been pretty stable over the past 10 years, increasing very slightly at a rate of about 1% per year.
Also, keep in mind that remodeling prices may vary by as much as 20-30% or more. This will depend on such factors as: the contractor you hire, type of materials used, existing house conditions, your geographic location, as well as other variables.
What is the most expensive room to remodel?
In 2020, the most costly room to remodel is the kitchen. Moreover, according to reports from Houzz and Remodeling Magazine the cost of kitchen remodeling is actually on the rise. Since 2017, kitchen remodel prices have risen by more than 30%, with an average remodel now costing $14,000-18,000.
Bathrooms are a close second when it comes to increased remodeling expenses. Homeowners are spending 15-17% more on a bathroom remodel than they have in previous years. Small bathroom remodels still remain at the top of the popularity list, followed by master bathroom, living room, and bedroom renovations.
The higher cost of remodeling is in large part due to higher materials prices that have been in affect due to a significant increase in tariffs on goods imports from places like China. Moreover, in many areas there is also a shortage of professional contractors, so the existing ones tend to charge higher fees for their work.
Most People Spent:
$5,350 - $13,670

See costs in your area Start Here - Enter Your Zip Code
Can you remodel a house for 100K?
Many homeowners looking to buy a fixer upper home or to flip a house wonder how much remodeling can be done on a 100K budget.
The short answer is that for properties worth less than $1,000,000 spending $100,000 on remodeling can basically give you all the major interior and exterior renovations of mid-level quality. This would include things like:
– Full kitchen remodel (stock cabinets, quarts or granite countertops, energy efficient stock appliances)
– Full master bathroom and guest bathroom remodel
– Complete interior painting
– New lighting
– New flooring (mixture of hardwood and ceramic tile)
– Removal of some walls/minor room layout changes
– New heating/cooling system
– New boiler/water heater
– New roof (asphalt shingles)
– New siding (high end vinyl or fiber cement)
– Minor landscaping
It's important to note that the devil is always in the details, as things like mold, or structural damage can easily eat away $8-12K of your remodeling budget, before you even start the renovation.
Similarly, a higher level of finish, more upscale materials, more complex labor will also eat away your budget very fast. For example, some people can spend $100,000 on a kitchen remodel alone.
Keep in mind that when it comes to remodeling, professional labor constitutes about 60% of the total cost. Therefore the more you can do on your own, the more you will be able to stretch your budget to cover more projects.
Pro Tip: As a rule of thumb, especially if you are thinking of making money on flipping houses or getting a high ROI when selling your own house after a major remodel, you should not spend on renovations more that 10-15% than the overall value of your home.
Full remodel vs build a new home
Some old houses are in such bad shape that people who purchase them ask whether its cheaper to do a gut remodel or to tear down and build a new house?
Overall, its on average 20% cheaper to do a complete house remodel than to tear down and build new.
When making this decision one of the biggest considerations is your satisfaction with the size and layout of the house. If you are overall ok with it, then its smarter to remodel. However, if the existing house is too small, the flow of the rooms is not functional or comfortable, you will need to build an addition on top of the full remodel. In this case, it may be cheaper and smarter to tear down the old house and to build one completely tailored to your needs.
One major benefit to remodeling is that you can pace yourself and your finances. If you don't have a lot of money and cannot dive into a full renovation, you can tackle different rooms, when you are comfortable. When you want to rebuild, you have to come up with a very large amount of money pretty much upfront, or at least over the course of 6-8 months, as the building project goes through its phases.
Also keep in mind that you will be able to live in the house during most of the phases of the remodel. This will obviously not be the case if you are building a brand new home. In this case you also have to factor in the cost of living somewhere else for up to 1 year, as well as the inconvenience this may cause.
Yet another important factor to consider the condition of the foundation and structure of the existing house. If its in very bad shape, fixing it will be very expensive, and in cases like this its really better to tear down and start over than rely on the fixes.
If flipping the house is your end goal you have to do very serious market research to figure out whether you will be able to recoup your investment if you choose to rebuild.
Before buying a fixer upper, we recommend paying for a very thorough and in depth inspection that will identify all the issues so that you can have a realistic budget of how much it will cost to remodel this house.
Hidden costs of home renovation
The reality is that no remodeling project is free of surprise and extra costs that seem to creep up out of nowhere. Some of these simply cannot be avoided, which is why remodeling pros always recommend to set aside at least 10-15% of the total project cost as an emergency budget that can be used in these unforeseen situations.
However, with smart planning and budgeting, you can stick to your original financial goal and still accomplish your dream remodel.
Here are the most common money pitfalls that may come up:
Structural damages
This often happens in older homes, when the remodeling plan involves moving walls, or doing complex electric and plumbing updates. When the work begins, a contractor may often discover structural problems in the walls, flooring or ceilings, that can have serious safety ramifications if they are not taken care of. In this case, you just have to brace yourself, and pay to fix all the discovered issues.
Building code violations
This is a similar unpredictable scenario where an electrician or HVAC pro may discover serious code violations from pre-existing work. This is a ticking bomb that can lead to fires, flooding and other types of damage, and its essential to fix. To avoid similar problems in the future, its very important to hire a licensed pro, who who will do all his work up to code. Handy men or cheap contractors usually love to cut corners in this department.
Mold and termite damage
Again, old houses are more susceptible to mold and termite infestation compared to new construction. This is a very expensive issue to remedy, but also one that cannot be left alone, because the damage will only get worse as time passes.
Remodeling hacks that will save you thousands of dollars
If you are on a tight budget and every remodeling dollar counts, consider these tips that can translate into major savings. A quality renovation does not have to be outrageously expensive, if you go about it in a smart way.
Avoid moving existing plumbing lines
Major plumbing work is among the most costly parts of the remodel. While it may be tempting to start moving plumbing lines in a kitchen or a bathroom, ask yourself whether this is truly necessary. A homeowner who wants to re-arrange the position of the sink, tub and toilet for aesthetic and convenience reasons, may not realize that doing so can easily tack on an additional $3,000-6,000 to the total cost. This is an update that should be discussed with your contractor ahead of time, so that you know how much it will cost, and evaluate whether its a worthy investment.
Purchase stock rather than custom-built materials
This is an issue that comes up in most kitchen remodels. New cabinets can make up as much as 20% chunk of the remodeling budget, but there are also ways to save. Custom built cabinets are extremely attractive and convenient, but they cost at least 40-50% more than stock cabinetry. There are plenty of stock and semi custom cabinet brands that offer a lot of options and flexibility in terms of design and functionality. Decide whether you want to splurge or save in this department.
Bathrooms remodels also face a similar issue, as there is a lot of room for customization vs using stock materials. This includes, shelving and cabinetry, as well as shower enclosures.
Many small items blow up the budget
Finding the right materials, fixtures and accessories for your remodel can be both exciting and frustrating. Primarily this is because such a huge price range exists for seemingly similar items. This is where you have to keep your cool and be smart. Think about whether everything you want requires a brand name? Expensive doesn't always mean better quality or nicer design.
However, small items can quickly add up to big bucks and you will suddenly be faced with thousands of dollars worth of materials purchases. Instead, go bargain hunting to various local building materials outlets. You will discover many gorgeous materials and accessories, even designer ones at half the price compared to retail. If you must, splurge on a few high-end items that you are dying to have.
Change orders = sunken costs
Did you know that the majority of unforseen remodeling expenses come from the homeowner changing his or her mind about what needs to be done? Sad but true, if you don't carefully plan what you want your kitchen, bathroom, or addition to look like, down to the smallest details, you will end up driving yourself and the contractor crazy by requesting for changes to be made once the project has commenced. Usually, this ends up costing thousands of dollars more than necessary, if more planing was done ahead of time.
The flip side of this issue can be coming from a dishonest contractor, who keeps adding new costs, as he works on the remodel. This often happens when a pro lures you in with a "low price estimate", but doesn't spell out all the details of what he will be working on. Then, you continue being surprised by extra items that just come up, but its usually very difficult to get out of the contract in the middle of the renovation.
To avoid this ugly scenario, make sure that you have a very detailed, itemized contract that spells out exactly what the contractor is charging money for. If anything truly unexpected comes up, its needs to be included in the updated contract.
Remodeling cost estimates vs real world prices
Many homeowners who are in the planning and budgeting phase of the remodel go online to research the costs of various remodeling projects. They are then very unpleasantly surprised when the price quote they get from an actual contractor is 2 to 3 times higher than the prices they found on line.
Many users of the Remodeling Calculator have expressed similar frustrations with significant cost discrepancies.
Here is what you need to keep in mind to save yourself the confusion and disappointment.
1. The level of finish that is on the remodeling prices list is considered "Standard builder grade finish", which is the most cost effective way to get the job done. Prices will go up significantly depending on any specific materials, custom work and a tight schedule.
2. All prices are for work that is done up to code standards and inspected by the city, if necessary. Many handymen and people without licenses do the work for less money, but because they lack training and knowledge, their work is not done up to code. Not only does this pose danger to your house, it also creates problems during sale, major renovations, etc. Often this work needs to be done again correctly, so essentially you have wasted money and time by hiring someone who is not professional.
3. Labor charges are for licensed and insured contractors. The estimate takes into account overhead costs associated with maintaining a safe business. These labor costs are very different depending on the geographic location and local real estate prices. While our calculators add up-charges for places like California, still real world costs may be even higher depending on a particular contractor.
4. Permit prices vary greatly depending on location and therefore they are not included in our list. However, its crucial to pull permits for all projects that are being done in your house. Many homeowners run into major problems with the town hall, if its discovered that a major project has been conducted without permit. In some cases, the town can legally force the homeowner to remove the update that has been done. Also, when you sell your home, prospective buyers will be looking to see all the permits that have been pulled to get a sense of the remodels that have already been done.
5. Pricing is based on a minimum project cost of $4,000. In case the total job is under $4000, these prices will be higher due to the overhead of initiating and completing the project.
6. Even in the same area, you will have pros that charge very different prices, depending on their company size, reputation, current amount of work, etc. Well established companies that have no pressing need for new clients can charge 20-30% more for labor than their peers, just because they have the luxury to do so. If you are looking for reasonable prices, its best to find a small to mid-size business with good references that is looking to grow and is still willing to give new clients a break.
7. The purpose of online price guides for renovations is to give you an idea of potential costs as well as some negotiating power with the contractor. When pros see that you know what you are talking about and are generally familiar with prices for both materials and labor, it will be much harder for them to up-sell you.
Remodeling costs by room type
There are many renovations you can undertake inside your home. The most popular updates that have the highest ROI and can improve the value of your home are listed below.
In 2020, doing a kitchen or a bathroom remodel remains at the top of the list, as one of the most desirable updates.
Project
Cost
Project Details
Average Kitchen Remodel Cost
$19,720 (includes labor)
This price includes the following: 20 linear feet of cabinets, 200 sq.ft of floor tile and installation, 30 sq. ft. of backsplash tile and installation, 4 piece set of stainless steel appliances(Energy Star Rated) 45 ft2 of granite countertop (Colorado gold or Venetian gold), 50/50 under-mount sink, pull down faucet, dishwasher kit, track light fixture, new garbage disposal, and painted kitchen walls.
New Kitchen Cabinets
$3,965 (includes installation)
This price includes: 20 linear feet of Birch Wood cabinets (base & wall), available in 3 colors. Add $145 for each additional linear foot. Maple cabinets should be calculated at $185/1 linear foot.
Kitchen Countertops
$35-100 /sq.ft2
This is the price for installing basic color granite counters with standard eased or bevel edge. $10 /sq.ft2 more for other edge types, and $10-15 /sq.ft2 more for premium colors. You should budget an additional $200 for installing an undermount sink.
Kitchen backsplash accent tile (glass / metal / stone / mosaic)
$7-15/sq.ft.(includes materials and labor)
Accent tile costs vary widely. Depending on design and material, backsplash tile can cost as little as $3-5/sq.ft. and as much as $15-25/sq.ft. If you have 30 sq. ft. of backsplash accent tile, your cost will be around $23-39+ per sq.ft for labor and materials.
Kitchen Faucet
$190-500+ (includes installation)
Price includes a new kitchen faucet, removal of old unit and installation of new pull-out / pull down faucet.

Installation / Labor cost for replacing a faucet is $140-200 when you hire a handyman. New faucets range in price from $70 to $300+ and may in some cases also require new water lines ($7-10 each) and in rare cases replacement of water shut-off valve. Price for plumbing work to replace shut-off valve is not included here.
Garbage Disposal
$235-460 (includes installation)
Remove old garbage disposal, install new drain basket, attach new garbage disposal, attach electrical and plumbing (drain). Optionally attache dishwasher drain.

If you do not have a disposal currently, there will be an additional $75-125 charge to adjust / re-route drain pipes.
Appliances
$3,000-20,000
Most kitchen renovations include replacing all major appliances (stove, refrigerator and dishwasher). The price range on appliances is extremely wide, depending on the quality, brand names, energy efficiency and level of customization you are looking to have. If you shop for discounted appliances in big box stores, such as Best Buy and Home Depot, you can easily purchase all your brand name appliances for under $2,500-3,000 total. Energy Efficient models can cost 20-30% more than traditional ones. High end appliances, especially those that are custom build can easily start at $4,000-6,000+ for a stove or a fridge.
| | | |
| --- | --- | --- |
| Project | Cost | Project Details |
| Small Bathroom Remodel | $7,830 (includes labor) | This price includes an allowance of $1,200 for new bathroom fixtures: up to $146 for a tub, up to $112 for a toilet, up to $227 for a vanity, up to $100 for a vanity top, up to $145 for a medicine cabinet, up to $120 for a shower head/bath faucet, up to $80 for a sink faucet, up to $200 for tile, up to $70 for an exhaust fan – see materials only prices. Note, if your bathroom is larger than 40 / ft2, you should calculate an additional $70/sq.ft. |
| Master Bathroom Remodel | $30,000-50,000 | This estimate is for a complete renovation of a large master bathroom. It includes: replacement of all fixtures (toilet, tub, shower, enclosure, sink), new countertops, lighting, flooring, wall and shower tile, all new windows and doors, cabinetry and shelving, light plumbing and electric work. While this will not be a luxury renovation, high quality materials will be used in this price range. |
| Replace tub with shower | $2,500 – 4,000 | Many homeowners who don't have much use for a tub, opt to remove it completely, and put in a large shower enclosure. The estimate includes both the removal of the tub, and the installation of the shower, as well as all materials. This update can cost more if luxury materials are used. |
| Steam Shower Installation | $3,500 – 15,000 | When it comes to such a luxury feature as a steam shower, the price can vary greatly, depending on the type of system you want and the complexity of installation. Prefabricated steam shower kits are the most budget friendly options, and can range from $3,000-5,000 for labor and materials. However, a custom built steam shower with all the bells and whistles will start at about 6,000 and can easily cost as much as $15,000-20,000, depending on the shower enclosure size and materials used. |
| Wall Tile Installation | $4.94 – 6.56 / ft2 | This price is for tile installation on a prepared area and DOES NOT include the cost of tile itself. Includes: thin-set, grout and installation on walls up to 8 ft. high. Add $1-10+ for a sq.ft of tile (depending on style, quality, material, brand). |
| Bathroom Vent Fan installation | $250 – $800 – labor + materials | Includes removal of the old vent, cleaning the exhaust duct, and installing new vent. Price differences come from different quality fans (basic costs $40-70 vs premium models, with noise control, integrated lights, humidity and temperature sensors, costing $200-$300) and different level of installation complexity. If you don't have exhaust duct already installed, look to pay $300-500 more to install ducts/exhaust. |
Project
Cost
Project Details
Paint One Room
$355 for a 120 sq. ft. room (includes the cost of 2 paint colors)
This price is for a room free of furniture – painter comes in, paints and leaves. No prep work or repair work is included. Also excludes painting ceilings.
Interior House Painting
$1.75 – $3.40 /sq.ft2 (includes the cost of 2 paint colors)
This cost is for a floor plan's sq. ft. Use our Interior Painting Calculator to get a more accurate cost estimate. Total cost depends on square footage. Less than 300 sq.ft. will be $3+ per sq.ft. Over 1500 sq.ft. will be less than $2/sq.ft.
Crown Molding
$5-8/ln.ft. (includes materials and labor)
This estimate is for a regular shape room and basic crown molding materials, such as MDF, PVC, and Polyurathane. Natural wood, plaster and other specialty materials can cost up to 50% more. Also, custom and complex crown molding designs, as well as oddly shaped rooms, with a lot of corners, will cost at least 2-3 times more.
Install Drywall / Sheetrock
$52 per sheet (includes materials and labor)
This price includes installation of drywall, taping, patching, sanding and texturing per sheet, up to 8 feet
high.
Drywall Plaster
$900-1200 per room
This price includes labor and materials for plastering a typical 150 sq. ft. room (walls only) with 8 foot ceilings. Plastering the ceiling will add another $400-500 per room.

This prices assumes that homeowner will remove everything (furniture, etc) from the room, and contractor will cover the floors to protect them from damages.

Replace Interior Door
$295
This price is for a wood 6 panel white door and installation. Includes hinges, cutting and fitting the door to the right height. Add $45 for a new door knob with installation.
| | | |
| --- | --- | --- |
| Project | Cost | Project Details |
| Hardwood Flooring | $7.32 / ft2 | This price includes oak wood flooring finished and stained, and installation. |
| Wood Flooring Refinish | $2.75-4.10 /sq.ft2 | This price includes sanding, staining and polyurethane finish. |
| Carpet Installation | $3.44 /sq.ft2 ($31 / sq. yard | This price includes 1/2 inch padding, 38 oz carpet and installation. Removing old carpeting will cost another $0.6 – $0.8 per sq.ft. Note, if your room size is bigger that 12 feet in both directions, you are looking at increased waste on materials side, because carpets come in 12 ft. wide rolls. So if your room is 13′ wide, then you will have 11 feet of waste. |
| | | |
| --- | --- | --- |
| Project | Cost | Project Details |
| Basement Finish | $35 /sq.ft2 | This price includes framing, electric work, recessed lighting, drywall, taping, sanding texture, paint and carpet. |
Average 350 s.f. Attic Conversion Cost:

See costs in your areaStart Here - Enter Your Zip Code
Roof replacement cost
While replacing and old or leaking roof is not a glamorous renovation, it is a top priority to keep your house safe. Moreover, if you are planning to sell your house, installing a new roof will make it a lot more desirable to prospective buyers, because no one wants to deal with roofing problems.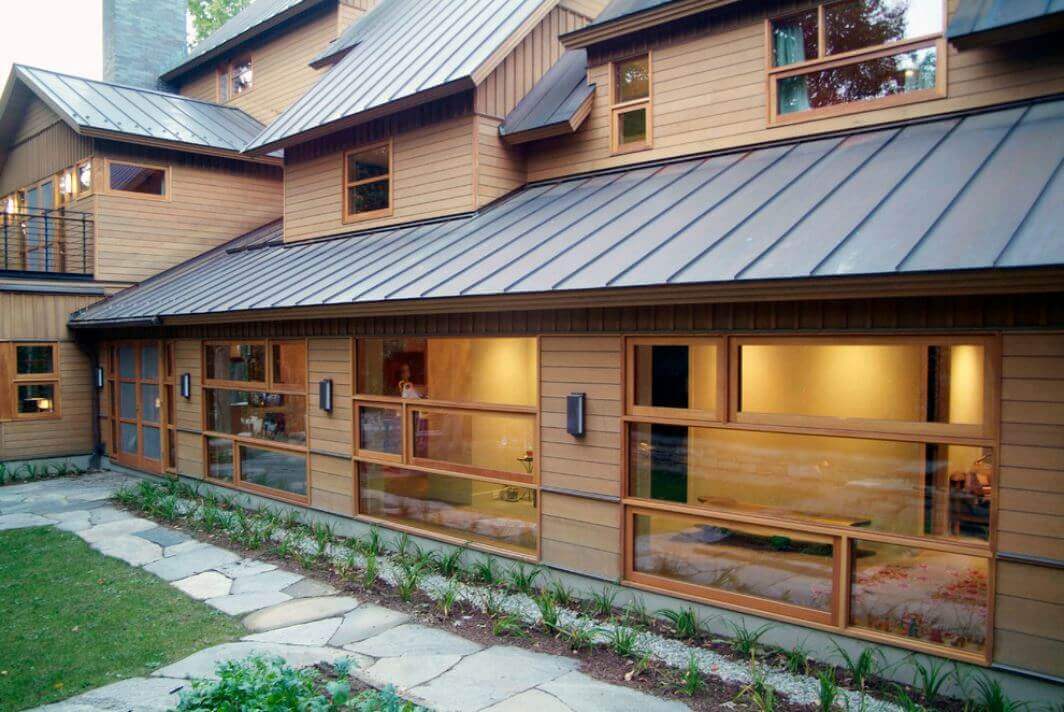 Over the last few years, metal roofing has become increasingly popular. Not only does it offer superior protection against the worst types of weather, its also a stylish alternative to classic materials, such as asphalt, wood and clay. Standing seam roofing in particular is a top choice for modern and contemporary style houses.
Project
Cost
Project Details
Asphalt Shingles Roof Installation
$6288 or $3.88/ ft2 (includes labor and materials)
This price is for an average 1620 sq. ft. gable roof on 1 story house, with architectural roof shingles, and one layer tear off of old roofing material. Top manufacturers include: GAF, CertainTeed, Owens Corning and IKO.

Add $50 if an OSB board needs to be replaced. Add $25 a square big for each additional layer of tear off.

Metal Roofing
$8,624 – 20,000 or $5.39 – 12.50 per sq. ft2 (includes labor and materials)
This price is for a 1600 sq. ft. roof. Lower end prices are for R-Panel / 5-Rib panels with exposed fasteners. Mid-range and high end pricing is for Metal Shingles ($7.50+ per sq. ft.) and Standing Seam ($9+)

Add $50 if an OSB board needs to be changed. Add $45 per square for 1 layer of tear off.

Cedar Shingles
$11,360 or $7.10 per ft2
Price includes installing new cedar shingles/shakes roof, cedar breather underlayment, and copper valleys/flashing (if needed) on a 1600 s.f. roof.

Removing old wood shingles or shakes will cost $1.20 – $1.50 per foot. Repairing roof battens will be $30 per 8′ piece. Steep and/or cut-up roofs may cost $2 to $5 more per square foot.

Clay Tile Roof
$15,680 or $9.80 per ft.2
Estimate includes installing a new clay tile roof, and underlayment, all flashing, on a ranch style 1,600 sq.ft. home. Note, that clay tile is extremely heavy, and often requires additional structural reinforcement. This upgrade can cost $6,000-15,000.

Moreover, tile quality and design, as well as expensive shipping charges may also greatly impact your total cost.

Slate Roof
$22,560 or $14.10 per ft.2
Estimate includes installing a new natural slate roof, and underlayment, all flashing, on a ranch style 1,600 sq.ft. home. Note, that slate is the heaviest roofing material that requires structural reinforcement. On many homes it is not possible to install a new slate roof at all. Adding appropriate reinforcement can cost $10,000 or more.

Slate quality and therefore price varies greatly. Cheapest quality slate that is the least durable comes from China, while slate that is quarried in Spain and US is of a very high quality, and can last well over 100 years.

Rubber Roof (EPDM)
$6,960 or $5.8 per ft.2
Price for an average 1200 sq.ft. flat roof, with removal of 1 layer of old rubber, installation of 1″ PolyISO insulation boards (6R value per inch), and installing new 60 mil EPDM rubber membrane, fully adhered to the insulation, with 3″ aluminum drip edge, and one masonry chimney flash.

Removal of tar & gravel roofs would cost an extra of $1 per sq. ft. Installing Tapered (sloped) insulation will add about $1.35 per sq. ft. Replacement of rotted substrate – $75 per sheet of 5/8″ CDX plywood.

TPO Roofing
$7,560 or $6.3 per ft2
This price includes installing a new 60 mil fully adhered TPO membrane on an 1,200 sq.ft. flat roof, together with 1″ PolyISO insulation boards, with 3″ aluminum drip edge, and one masonry chimney flash.
Roof Repair – missing shingles
$275 to $450 + materials
Price for replacing up-to 1 bundle (33 s.f.) of asphalt shingles, that are broken, blown off or missing.

If the roof is very steep or high, your cost can go up to $500+

Slate Roof Repair – broken slates
$700 to $1200 + materials
price for replacing up-to 20 slates, that are broken or missing.

If the roof is very steep or high, total repair cost can go up to $1500+

If a roofer needs to match a rare slate size/thickness/color, you can expect to pay an extra of $15-50 per piece.

Rubber Roof Repair
$375 to $700
Patch up-to 10 holes in rubber roof. Replace up to 4 corner flashings on chimneys / skylights.

I personally charge $425 for 2 hours of labor + materials. Labor is $100/hr over initial 2 hours (15 min increments). My price excludes re-seaming, as a lot of material is used (especially when you need to cover old 6″ tape with 12″ tape).

Re-seaming costs $13-15 per linear foot of 6″ tape, and $20 per ln. ft. for 12″ wide tape.

Homeowners can also purchase a DIY Rubber Roof repair kit, which includes all necessary tools an materials for most common repair jobs, and save an average of $200-400.
Siding installation / repair costs & exterior house painting
Here we cover installation costs for the most popular siding materials, such as: vinyl, cedar/Wood shingles and clapboard, Fiber Cement and Composite Wood siding (Hardie and LP SmartSide), engineered wood, stucco, etc., as well as costs of siding repairs.
In this section we also provide estimates for the cost of exterior house painting.
If you need a more accurate price quote for siding replacement, use our comprehensive Siding Calculator, where you can enter house ground dimensions, building height, slope and style of the roof (to get gable end dimensions) number of windows & doors, and receive a very accurate cost estimate.
Project
Cost
Project Details
Vinyl Siding
$7,102 -10,368 or $4.50 – 6.40 / ft2 (1450 s.f., includes labor and materials)
This price includes removal of old vinyl or aluminum siding and installation of new .044″ clapboard vinyl siding with 1/4″ backer board insulation and wrapping 2 doors with aluminum, on an average size ranch home. Also, includes typical window and door trims. This excludes aluminum copping (wrapping) of window frames, which costs between $50 and $75 per window.
Vinyl Siding Repair
$250 – 500 for repair or replacement of few vinyl panels, fixing bubbling caused by tight nailing, etc.
Since vinyl repairs are all different in nature, it hard to estimate your exact cost. However there are common issues that are typically caused by improper installation, such as panels being nailed too tight, which results in bubbling. Also, sometimes panels crack due to impact, or melt due to being close to a grill. Most of these can be fixed in under $500, including installation on few new panels.
James Hardie Siding
$12731 or $8.78 / ft2 (1450 s.f., includes labor and materials)
This prices includes installation of house wrap, pre-painted Hardie Plank cement siding with stainless nails, sealing all joints, painted wood or PVC trim around all doors and windows. Hardie siding should only be installed on flat / smooth substrate. Removal of old siding will range between $1000 and $1500.

Primed (unpainted) Hardie Plank will cost about $800 less, but you will also need to paint the house, after siding is installed.

High end price with ALL PVC trim should be about $18460 or $12.73 per sq.ft.

Also, check out this guide for in-depth look at Hardie Plank material costs.

LP SmartSide composite wood siding
$11644 or $8.03 / ft2 (1450 s.f., includes labor and materials)
This prices includes installation of house wrap, pre-painted LP composite wood siding with stainless nails, sealing all joints, painted wood or PVC trim around all doors and windows. LP SmartSide should only be installed on flat / smooth substrate. Removal of old siding will range between $1000 and $1500.

LP has it's own pre-painted trim. However, our recommendation is to either use PVC trim or Cedar Wood trim and paint it to desired color, to avoid delimitation issues that are common with factory trim, that's made of wood particles.

High end price with ALL PVC trim should be about $16,997 or $11.72 per sq.ft.

Paint Whole House (Exterior)
$3550 – $4200 for a 1600 sq. ft. home (1900 s.f. surface area)
Perform basic prep work (scrape off old paint & power-wash), and apply one coat of basic exterior-grade paint. Use accent color for all trim (window/door trim, soffit, fascia, base trim, moldings, etc).

Two coats of paint will cost approximately $1100-$1300 more.

Extensive prep work (sanding down old paint, rot repair, etc) will cost $500-$700 extra.
Exterior house renovation projects
We grouped all exterior remodeling projects together. These include: house painting, new & replacement windows, landscaping, paving, external buildings, additions, garages, sheds, etc.
PRO TIP: While there are companies that price their replacement windows around $1000/each (Pella, "Replacement by Anderson", "big-box" stores, etc), and also companies that charge as little as $300/window (Window World, etc), most reputable windows installation companies charge between $450-600 per Vinyl Window up to 101 U.I. (typical window size). We recommend that homeowners AVOID doing business with both Expansive and Very Cheap companies and go with small-to medium size owner-operated local contractor.
Why you should avoid Pella, "Replacement by Anderson", "big-box" stores, etc as well as Window World and similar companies:
First group grossly overcharges, for average quality windows, and "preys" on homeowners who do not know much about windows, promise them some "super-duper" warranties, etc.
Second group (Window World and similar) sell lowest quality windows, that stop closing and leak air within a year of installation.
Project
Cost
Project Details
Replacement Vinyl Windows
$390-$580 / window installed (double pane, Low E)
This price includes removal of old windows, framing any openings and installation of window up-to 101 "UI" (UI or United inches is a sum of window height + window width).

Add $99 for an obscured (privacy) glass. Add $89 for tempered glass. There will be an extra charge if Crypton gas or Triple Glass is necessary. Minimum of 5 windows.

Estimate prices of installing Replacement Windows with our windows calculator.

NOTE: While you can get windows without Low-E glass, which will save you $40-100 per window, most states do not allow installation of windows without Low-E, in living areas (homes, apartments, etc.).

Wood Windows
$680+ / window installed (double pane, Low-E + Argon)
Price includes removal of old windows, and installing new wood window up-to 101 UI.

Add $99 for an obscured (privacy) glass. Add $89 for tempered glass. Crypton Gas, Triple Glazing and high(er) efficiency spacers + frame insulation will add another $75-100 per window. Minimum of 5 windows.

NOTE: Few manufacturers of wood windows offer triple glass packages, due to thicker wood frames, which leave less roof for glass.

Aluminum Seamless Gutters
$9.50-$12 / ln. ft.
Average house has about 90 feet of gutters, which will cost $1185 for 5″ (K-style) seamless aluminum gutter and 4-6 downspouts, without Leaf Guards. Extra floors, corners, downspouts, will cost more.
LeafGuard Gutters
$20-$30 / ln. ft.
LeafGuard is a "holding company" with a network of dealers. Parent company owns the design and charges dealers certain fee from each job. Each dealer charges different price, to account for local pricing, but generally, LeafGuard gutters are pretty expensive.

Expect to pay between $20-$30 per linear foot of gutter, and in most cases separate fee for each downspout or drain. On a typical house with 90 feet of gutter length, expect to pay $2350 – $2900.

Our Recommendation: Due to design, you can never "open" LeafGuard gutters. Therefore, if or when they do get clogged up, you will not be able to clean them, without damaging the gutters! We recommend that homeowners install regular seamless gutters, with leaf protectors (plastic or aluminum) added separately! Your cost will be significantly lower, leaf protection identical, and you will have the flexibility to clean or repair the gutters, easily.

Copper / Zinc Gutters
$40-50 / ln. ft.
Copper and Zinc gutters cost a lot more than aluminum, due to much higher cost of materials, and a lot of custom labor, such as seam soldering for copper. Copper and Zinc are typically installed on custom and historic homes, and are not very common on regular houses. Copper is often installed along with slate roofs.
Pressure Treated Deck (with footings)
$20-$23 / sq. ft.
Pressure treated deck are the most common and least expensive type of deck/patio that you can build. For a typical 200 sq. ft. new PT deck, with concrete footings, and 8 railing posts with simple wood railings and a 4-step stair, expect to pay around $5100.

PRO TIP: We also recommend treating your new PT deck with Clear Polyurethane coating once in 3-5 years. This is a simple procedure that you can do yourself, for around $100-150, or pay your deck builder around $500. Clear Poly will prolong the lifespan of your PT Deck, and will greatly improve the appearance, by giving your deck a tint of color, while still showing the natural wood grain! Wait at least 12 months, before 1st Poly coat, to let the wood turn more natural color.

Build TREX / Composite Deck
$32-38 / sq. ft.
TREX and other composite deck materials are more expensive. For a typical 200 sq. ft. New TREX/Composite deck, with concrete footings and PT frame, and 8 railing posts with simple wood railings and a 4-step stair, expect to pay around $7600-$9300, depending on how fancy you want to get with the railings.

PRO TIP: Composite decks WILL absorb moisture and swell over time. Therefore, if you want to go with a fancy decking material, we recommend AZEK or other PVC deck material, which will not absorb any moisture!

Exterior Door
$570
This price is for a basic steel white exterior door, with installation.
Framing
$4-$5 / ft2 (includes labor only)
Note that framing is very specific, so the final price will vary greatly depending on the project.
Wood Fence
$39 / linear ft.
This price is a for a linear foot of installation of a wooden fence 6 ft. tall, wood 3-Rail Dog Eared Fence Panel, includes cement and 4″x 4″ posts. Add $400 for a gate.
One Car Garage
$12,875
This price includes plans, framing, cement, roof, garage door, door opener and a walk-through door. Putting in a window costs an extra $325.
Two Car Garage
$15,925
This price includes plans, framing, cement, roof, garage door, door opener and a walk-through door. Putting in a window costs an extra $325.
Attic Addition
$71,190
Cost for a basic 15×24 shed dormer addition on the attic. Includes new shingle roof with two fixed skylights, 4 vinyl windows, basic shower bathroom and one standard room, and standard plumbing, heating and electrical wiring. Excludes building staircase, debris removal and building permits.
Home Addition
$100,000-320,000 or $120-400/sq.ft
This is the cost of building an 800 sq.ft. home addition. Typical additions include a kitchen, an office, or bedroom and a bathroom. If you are looking to build a two-floor addition, you will need to hire an architect, which will add 10-15% to the total cost.
Exterior Paint
$2.05 – $3.74 / ft2 (includes the cost of 2 paint colors, trim and siding)
This price is for a floor plan's square foot of a level that has exterior exposed walls up to 9 feet high.
HVAC / heating / cooling
Most People Spent:
$4,670 - $5,930

See costs in your area Start Here - Enter Your Zip Code
This section covers every aspect of heating and cooling your home, installing Central Air systems, Air Ducts, Radiators, Ductless Mini-Splits, etc. All HVAC equipment must be properly sized to operate at optimal efficiency. Undersized equipment may not deliver enough cool/warm air, whereas oversized equipment will deliver too much cool/warm air, using too much electricity, oil or gas.
We recommend using our HVAC Heat Load (BTU) calculator, to estimate accurate size of your heating/cooling equipment.
PRO TIP Many homeowners are confused by the heating/cooling equipment names and compatibility. Here is a quick clarification:

1) Central Air system consists of a Central AC and Hot Air Furnace. One cools the air, and another one heats it up. Both work together to keep your house comfortable. Both require ductwork (air ducts) to be already installed in your home to deliver cool/warm air from a central location to all the rooms in your house.

2) Boiler is used for heating only, and works by pushing hot water through radiators (located inside your rooms), to warm up the area. Some boilers, like Navien, have integrated tankless water heater, so it heats up the house, and make hot water on demand.

3) Water Heater is exactly what the name implies – it heats up the water, so you can take showers, wash dishes, etc.

4) Ductless heat pump also known as Mini-split system, can be use as an all-in-one AC and heating device. These very efficient HVAC systems do not need ducts to condition your rooms, but only work in one area (zone). Cool / warm air is deceived into your room by an Air Handler (indoor unit). Many ductless systems come in multi-zone configurations, and have many different types of indoor units (wall-mounted, floor-mounted, concealed ceiling cassette, and even a small duct, which can be hidden in the attic, and condition multiple small rooms via short ducts.
Central AIR (AC + Furnace)
$6,980-$9,603 (labor and materials)
This price includes a 14 SEER 3.5 TON Central AC + 80000 BTU, 96% efficient Gas Furnace. Price includes a drop-in installation of AC compressor, AC coil, Furnace, gas, line-set & electrical connections. This price assumes that you already have air-ducts & gas lines in your house, an existing 240V electrical connection outside, and copper line-set installed.

Installing new copper lines will cost about $390.

Installing new 40-60A, 240V electric circuit will cost additional $500.
Central AC System
$4,390 – $6,040 (labor and materials)
This price includes a 13 SEER, 3.5 TON central AC – condenser, coil, electric & line-set connection and drop-in installation.

Upgrading to a 16 SEER central AC will cost additional $1300, and will save and will save 18% in operating (electric) costs annually.
Central HEAT PUMP AC
$6,850 – $9,860 (labor and materials)
This price includes a 16 SEER, 3.5 TON Central Heat Pump AC (heating in temps above 35F degrees) – condenser, coil, electric & line-set connection and drop-in installation. For "emergency" lower temperature heating, an electric heater is usually added for a cost of $180-$250. Ideal for warmer climates. If you live in colder climates, it is recommended to go with "dual-fuel" setup: Central Heat Pump + Gas Furnace.

Upgrading from 16 SEER to 18 SEER Central Heat Pump will cost additional $2300, and will save 11-12% in operating (electric) costs annually.
Central HEAT PUMP + FURNACE
$10,160 – $14,607 (labor and materials)
This price includes a drop-in installation 16 SEER, 3.5 TON Central Heat Pump AC and 96% AFUE, 80K BTUs Furnace (Gas only), with dual-fuel smart switching between Heat Pump and Gas heating, depending on outside temperature.

Upgrading from 16 SEER to 18 SEER, will cost additional $2430, and will save 11-12% in operating (electric) costs annually.
Ductless Mini Split AC (Heat Pump) – 12000 BTU – 1 Zone
$3,500 – $4,000 (Labor + Materials)
Price includes installation a 12000 BTU Mitsubishi M-Series (23.1 SEER) Ductless Mini-Split AC / Heating systems with one indoor unit and one outdoor condenser, checking line-set (up to 50 feet) for leaks and filling with refrigerant (R410A), as well as doing all necessary electrical connections.

Each additional zone with 12K BTU will cost about $3000 extra.

High Heat models such as H2i series (26.1 SEER), which are perfect for any application in a sub-freezing environment (-10F or lower ambient temperature) will cost about $400-600 more per zone.

If you do not have 230V power available at desired location for outdoor unit, you will need to get it installed for about $300-450 extra.

You can opt for a less known brands to save about $1000-1500. You can also find some highly ranked MrCOOL brands on Amazon for $1200-$1300 total equipment cost. MrCOOL is a fully DIY-target manufacturer based in US. If you don't feel comfortable installing a Mini-Split yourself, you can hire an HVAC professional to do the work for about $1000-1500, which would bring the final cost to about $2000-$2700 for a 1 zone 12000 BTU system.

Learn more about benefits of Ductless Heat Pumps

TANKLESS Hot Water Heater
$1400-3500* Labor + Materials with basic warranty 10-15 years
This price includes removal & disposal of the old water heater and installing a new tankless unit, one with all connections. Relocating the water heater (if you need to vent the gas outside, using power vent option) costs extra.

Electric Tankless water heaters cost $300-600 less to install, than gas.
Electric option may and often will require Service Panel Upgrade to 200 Amps ($900-1200 extra)
Gas option will cost much less to operate (in energy costs).
Gas units will often need to be power vented, and sometimes may not be vented into chimney.
Adding power vent costs $400-600, and relocation may cost $300-$1000

Hot Water Heater (storage tank)
$950 Labor + Materials with basic warranty 4-5 years (40 Gallon Gas)
This price includes removal of the existing water heater and installing a new one with all connections. Relocating the water heater costs extra.

A 50 Gallon Gas tank would cost extra $100.
Electric hot water heater usually costs $100 less than Gas unit with same specs and warranty.
Extended warranty period (from 4 to 8 years OR from 5 to 10 years) would be $100 extra.
Tankless water heaters usually cost $900-1700 more than storage tank with same fuel type

Furnace Installation – 90K BTU
$4,775 (Labor + Materials)
This price includes removal of an existing furnace, installation of a new 90% efficiency 90,000 BTU furnace with all connections. It does not include combustion air installation if it does not already exist. (Covers 1800-2400 SF)
Hydronic Heating System
$7,500-9,000 (labor and materials)
Includes boiler, radiators/baseboards and new gas boiler. Oil boiler + new oil tank will be about $1700 extra.
See the differences between Oil vs Gas boiler.
Electric Sub-Floor Heating Installation
$15,000-18,000 or $10-12/sq.ft
This cost estimate is for a 1,500 sq.ft. space and includes all labor and materials. Radiant floor heating can be installed pretty much with any type of flooring and is a wonderful luxury for homes located in cold climates. The most popular rooms for heated floors are bathrooms and bedrooms.
How much does a water heater cost?
Water Heater Repair
$250 - $350
40 Ga. Water Heater
$850 - $1100
Tankless Water Heater
$1200 - $3500

See costs in your area Start Here - Enter Your Zip Code
Cost of electrical upgrades and repairs
These are not remodeling projects, but rather internal systems that support the lives in our homes / apartments and make them comfortable. Heat, Hot Water, Electricity, HVAC Systems, etc. All the moving mechanical parts in our homes go in this category.
This section covers upgrading a 100A to 200A electric service, installing outlets, light switches, circuit breakers, and even an Electric Vehicle (EV) home charging station!
Project
Cost
Project Details
Upgrade Electrical Panel To 200 amp
$1,200-3,000 (labor and materials)
This price includes disconnecting and reconnecting the power line, installing a new meter socket and replacing the circuit breaker panel. Upgrading the panel from 200 to 400 amp will cost $2,000-4,000
Recessed (Can) Lighting
$210 / fixture
This includes wiring, cutting drywall and installation of the fixture.
Bathroom Vent
$275 – $700+ for Labor + Materials
This cost of the vent itself ($50-$250) and installation. If you already have a bathroom vent installed, and need to replace it, labor cost should be $150-$200. If you need to run the electric wire to the vent & switch, as well as running flex air-duct, cost can exceed $1000.
Adding 15-20 AMP Circuit to Electric Panel
$200 – $1000+ for Labor + Materials
If you have existing wiring, cost of adding a circuit to the panel should be within $200. If your electrician will need to install new wires through UNFINISHED area, to add receptacles / light switches expect to pay $400-750, depending on length of the wire. Running electric wires through finished walls, can exceed $1000, depending on the amount of walls that need to be opened up, and re-drywalled after.
Installing 240V EV (electric vehicle) charger
$850 – $1200+ for Labor + Materials
Home EV chargers are typically a Level 2 J1772 charger that can push 20-40A at 240V to charge your car faster. 30A level 2 charger itself will cost about $459 and as much ad $900 for a 40A Bosch charger.
Tesla "Wall Connector" costs $500 and can push up-to 48A, but will only work for charging Tesla cars (not other EVs), and requires a 60A circuit breaker.

Installation labor cost, including running a 240V cable, installing circuit breaker, and a wall outlet, as well as connecting the charger to the electric circuit will cost $450-$750.
Installing a 15-20A Circuit Breaker
$150 – $200 for Labor + Materials
If you just need to upgrade/replace a circuit breaker in your panel, the cost of materials ranges from $15-$65, and labor of about $100-$150. During this process, entire electric panel will have to be turned off.
Replacing a 15-20A electric outlet
$110 – $150 for Labor + Materials
Replacing old 2-prong outlet or a broken outlet should cost $100-$125 in labor and $10-25 in materials. Keep in mind, that it's ideal that you have a grounded electric cable connected to the outlet.
Concrete work
Estimate costs for installation of concrete stairs, slab / patio / walkways, in either plain (broom finish) or beautiful stamped concrete. Project prices below do not include demolition or excavation work.
Concrete is a tremendous building material used around the world, and loved by engineers/architects, builders, and homeowners for its strength, durability, and longevity.
Most People Spent:
$2,247 – $3,040
(for 240 sq. ft.)

See costs in your area Start Here - Enter Your Zip Code
In most cases, any concrete should be reinforced with steel re-bar and/or steel wire mesh. It is also recommended that any concrete work is done in ambient temperatures above 45F (5C) degrees.
Below are the estimated costs for most common concrete projects.
Concrete Patio
$2,247 – $3,040 (240 s.f.)
Build concrete form (12'x20'x4″), install re-bar to prevent/minimize cracking, pour 3000-4000 psi concrete, mag (smooth) and do broom finish with picture frame edging. This will use 80 ft3 (3 yrd3) of concrete.

Upgrading to 6″ thick concrete slab will need 120 ft3 (4.5 yrd3) of concrete and will cost additional $650-$700.

Use our concrete calculator to estimate the amount of concrete and materials/labor costs.
Stamped Concrete Patio (with sealer)
$4,177 – $5,380 (240 s.f.)
1) Build concrete form (12'x20'x4″), install re-bar to prevent/minimize cracking, pour 3000-4000 psi concrete. Mag (smooth) and do picture frame edging.

2) Spread coloring agent/powder, and stamp slate or stone profile with flexible rubber stamps, while concrete is still uncured.

3) On the next day, when concrete is cured, clean coloring powder with blower, power-wash the concrete surface. Next, apply cleaning agent, broom-wash the surface, and power wash the concrete second time. Ofter concrete is washed and dries fully, apply 2-3 coats of clear concrete sealer.

Stamped concrete patio may take 2-3 days to install, depending on ambient temperature. This project is best to do in spring, summer, or early fall, and not recommended for winter-time installations, unless outside temperatures are above 45F – 50F degrees.
Concrete Walkway/Pathway (200s.f.)
$1,918 – $2,210
Build concrete form (4'x50'x4″), install re-bar to prevent/minimize cracking, pour 3000-4000 psi concrete, mag (smooth) and do broom finish with picture frame edging.

If you need "curved" or steep slope walkway, your cost will be 10%-15% higher.
Pave a 2 car driveway
$4,130 – $5,820
This is the typical price to pave a 16 x 40 (640 sq.ft.) driveway with concrete. Note that there can be a lot of hidden or extra costs in this and any other concrete project. These include, pouring 4-6″ concrete thickness, trowel & broom finish, picture frame edges, removal of shrubs and stones, etc.

Additional costs may be added if your driveway needs grading, gravel delivery / compacting, excavation, or any other work not directly included in pouring the concrete, and finishing it.
Cement Slab 4″ thick (no finishing)
$6.2 / ft2
This price includes preparing the form, pouring the cement and smoothing the surface with straight edge. No edging or broom finishing is included. Add $1.5/sq.ft for demolition of old concrete (minimum of 300 sq.ft)
Cement Slab-on-Grade Foundation – 6″ – 12″ thick
$7.1 – $12 / ft2
If your slab will be use as "foundation", you will need thick concrete (6″ minimum). Also framing anchors should be installed during the pouring. This increases labor and materials cost.

Price includes preparing the form, installing re-bar & wire-mesh for improved stiffness, and to prevent cracking, pouring the cement/gravel mix, smoothing the surface with straight edge & power trowel the concrete after smoothing.

You will also need a 10-15 mil thick vapor barrier below the slab, costing $1-$1.25 per s.f., to prevent moisture from damaging the concrete, and causing mold in the future. All the plumbing and electrical that will be embedded in the slab, should be done before concrete is poured.
Concrete Footing
$195 for a 9″ x 3′ round footing.
Dig a 24″ wide & 3′ deep hole in the ground, pour 12″ high concrete in the base of the footing, install re-bar, 9″ wide round form, and pour a 3′ high footing (1 foot above ground).

Depending on where you live, and ground frost line depth, footing height may vary between 1 foot and 6 feet. Each additional foot of height will cost about $20-$25

Price is for a minimum of 6 footings installed. Smaller jobs will be more expensive.
Concrete Foundation (8′ high)
$9-$24 per square foot.
Foundation costs vary greatly depending on type of soil you have, thickness of concrete walls, depth, etc.

Generally, expect to pay about $18 per square foot (but can go as high as $30/s.f.), installed not near the ocean or other bodies of water. This cost does not include excavation, engineering, permitting, etc.
Concrete Stairs
$1,845 – $2,250 for 3 steps, 6×6′ platform
Include building a concrete form, installing re-bar and wire mesh reinforcement (to prevent concrete from cracking), and pouring 4000 psi concrete mix. Finishing with trowel, edging and final broom finish.

Concrete steps and platform to be pitched about 2-3 degrees away from the hose, do create positive slope for water drainage.
Average Siding Costs:

See costs in your area Start Here - Enter Your Zip Code