Currently, the average price to install new granite countertops is $3,500-5,000. Replacing old counters is one of the top kitchen remodeling projects, and granite still remains a very popular material.
Many homeowners love the classic look and feel of granite, which works well in both modern and traditional kitchens. While it has been loosing some popularity to other materials, such as quartz, granite is still installed in millions of homes around the world.
Average Kitchen Remodel Cost:

See costs in your areaStart Here - Enter Your Zip Code
Granite Countertop Prices
Across the US, homeowners report spending an average of $75-90 per square foot installed on granite countertops.
You total cost will greatly depend on the quality of the stone you select.
Low-end stone costs as little as $35-40 per square foot. These slabs usually have a very plain, uniform look, without patterns. Colors typically include shades of black, dark grey, light grey and beige. This type of granite is ideal for a rental apartment and or a first-time, budget home.
If you are not looking for anything fancy, Home Depot granite options are worth checking out. They are well made, decent quality, and you will have 15-20 different colors to choose from.
Mid-range granite varieties cost $50-65 per square foot. These slabs have more interesting patterns and offer a wide range of color variations.
High-end options cost as much as $75-110+ per square foot. These beautiful stones are rare. They boast unique looks and are ideal for upscale kitchens. Many have a marbled texture and a very light color, making them appear very similar to marble, but at a significantly lower price. White granite countertops are particularly sought after, and are often more expensive.
Here is a sample of premium colors and patters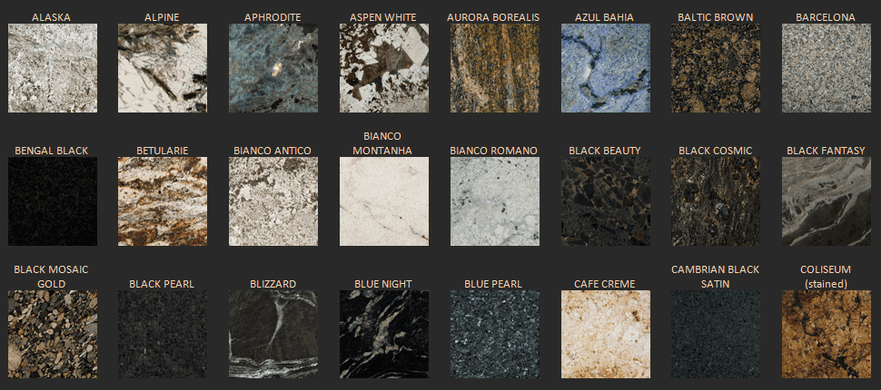 Depending on your preferences, it is possible to get a stone that either has a matte or glossy finish.
You can also get special treatment for an extra 10-15% This will help prevent staining and eliminate the need to reseal your counters for as long as 10-15 years.
If you are looking for a unique stone, it is best to go to a fabricator, rather than a home improvement store. Fabricators have access to dozens of gorgeous granite slabs that can fit any style kitchen.
Those who love the look and feel of granite, but cannot afford the high cost of a large slab, can opt for granite tile. It can range in price from $10-30 per square foot.
The biggest disadvantage to granite tile is the large number of grout lines that will be visible after it is installed. Moreover, this grout will need to be regularly sealed, calling for a lot more maintenance than slab counters. However, tile can work very well if you have a complex countertop lay out, or a very small counter space.
Lastly, the source of the stone will impact its price. Usually granite that is quarried in the US is cheaper than stone shipped from Brazil or Italy.
It is also very important to consider the stone's grade, as it will determine its overall longevity and durability.
Installation Costs
It turns out the cost to install a granite slab is about the same as the price of the stone itself.
In other words, if your granite costs $35 per square foot, your installation will also be about $35 per sq.ft. making the total cost $70 per square foot.
Pro Tip: usually, installers charge less for labor when you opt for a more expensive stone. This is a trick you can use to get a better looking slab of granite, while saving money on installation.
To get started, contact your local granite installaters for free estimates.
Work complexity and the extra features you may want in your counters will drive up the cost. These include:
– Size of the slabs. Large pieces will cost more than smaller ones, because they are more difficult to work with.

– Number of corners will increase total installation price.

– Countertop layout and the number of cuts that need to be made.

– Type of edge profile you want. Fancier edges will require more intricate labor and can significantly drive up the cost. These include: DuPont, Waterfall, Ogee, etc. Simple edge profile, such as Round will be the cheapest to install.
How To Save Money On Granite Counters
With some planning and research its possible to get a much lower price, and save up to 30% off on very good quality granite.
Here is how we got $79 per foot granite countertops for $54, installed. Overall, we saved $1,563. By the way, this strategy can also help you save money on other countertop materials, such as quarts, marble, etc.
Step 1: Select the Right Fabricator / Installer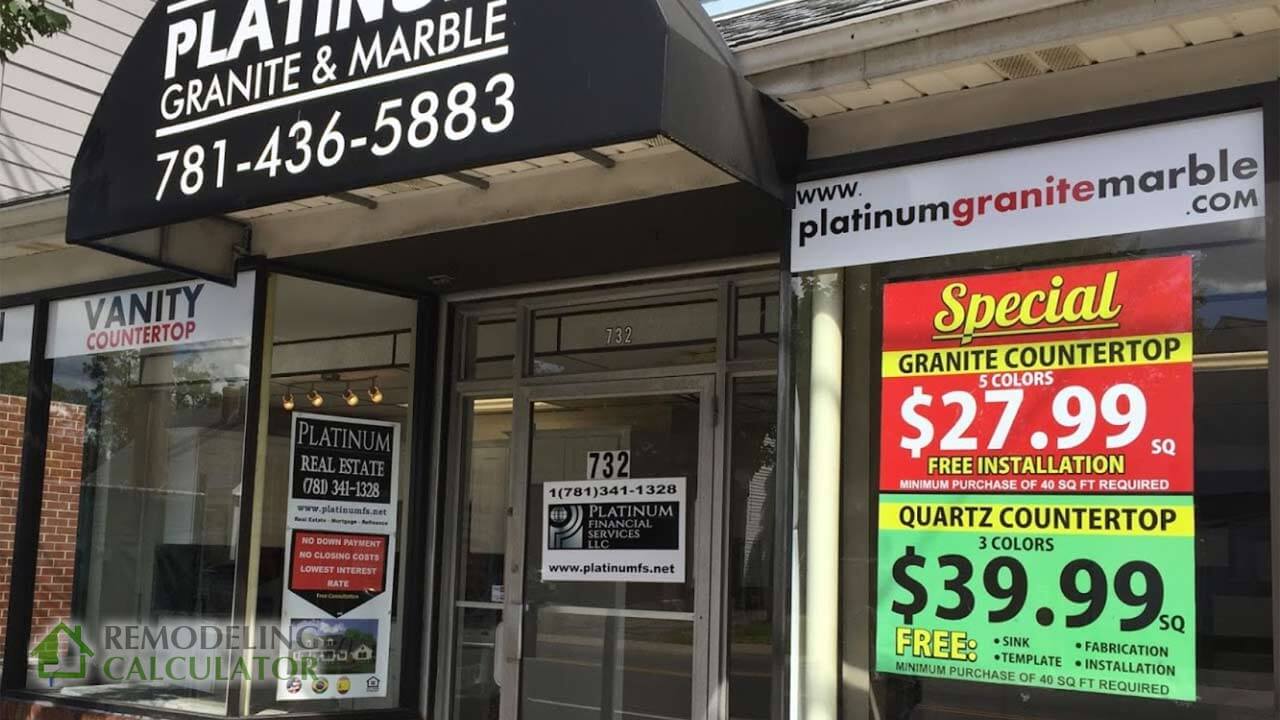 Always shop around
At first, we went to this place called Stone Depot in Dedham, MA. It is located right behind an expensive Legacy Place mall, on Route 1A, with a lot of traffic and thousands of people going by every day – basically a Prime Business Location. The point here is – their location means higher prices, because of higher rents, more visibility, and wealthier clients.
So for "tier 6" Granite (list price of $100 per sq.ft.), they quoted us a "discount price" of $82.94 per square foot, before tax. For 51 square feet of countertops, the total price was $4,453.13.
This included a "20% discount" for cash payment, fabrication, sink cut-out, sealing of the stone, and installation. We could probably get a little bit of a break with further negotiations, but from what I understand, premium color granite is expensive, and there is not much room to play.
The problem we encountered right off the bat was that the most budget-friendly granite options look very plain and unattractive. The better looking colors cost nearly as much as quartz. After checking out prices at Home Depot, Lowe's and IKEA, we started looking for smaller independent fabricators.
Get away from expensive towns / areas
Changing the location of our search was the best decision that helped us find our premium Granite counters at a near "budget price". I stopped looking around Dedham, Needham, Newton, and looked in more "working class" towns – Stoughton, Randolph, Brockton. Here is the logic:
The stones are THE SAME, no matter who your fabricator is, because they come from the same 3-4 suppliers in the Boston area. The biggest one is MSI Inc. Most local countertop shops buy from MSI, what really matters is the final cost. I believe that fabrication and installation quality is virtually the same among big and small players.
So we found this company, Platinum Granite in Abbington, MA, and what caught my attention was the picture in Google Maps. It was an image of the advertisement for their REAL prices for Granite and Quartz!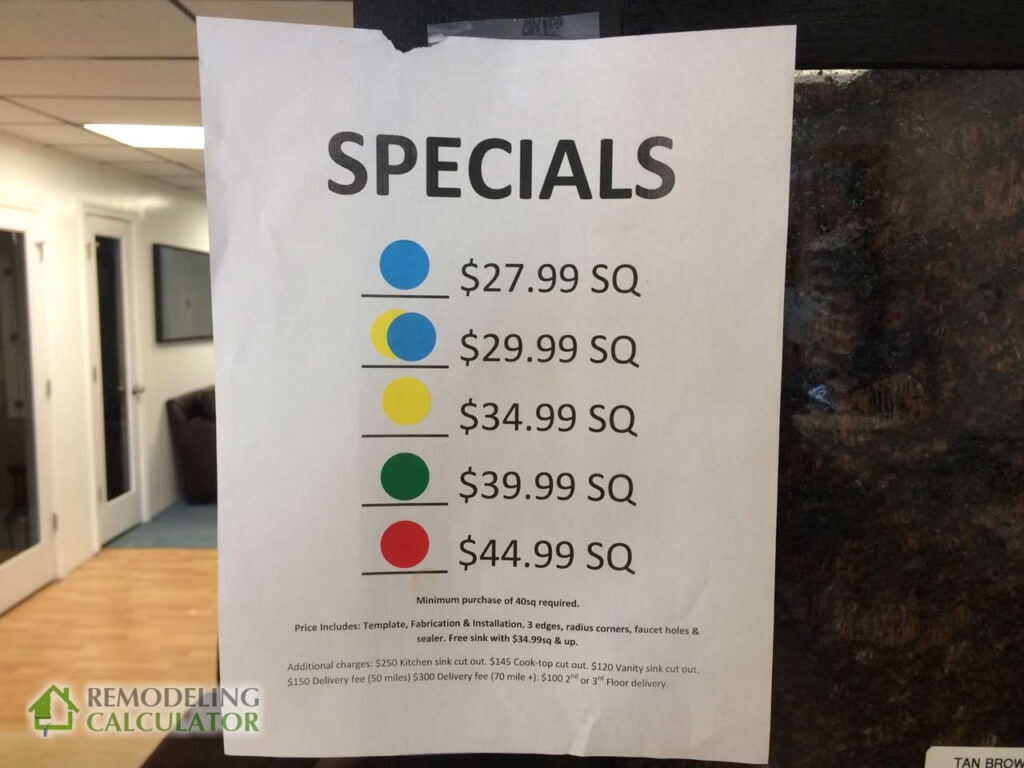 So they have 5 basic granite colors for $27.99 per square foot and 3 basic quartz colors for $39.99 per square foot.
This is a huge difference, compared to $82 per sq.ft. that we got at Stone Depot.
As always, there is "small print", but it's the same for every fabricator.
Minimum purchase of 40 sq. ft. is Required to get the advertised price
The reason for this requirement is countertops are fabricated from SLABS, which are typically 60-65 sq. ft. So if you need only 20 square feet for your project, the shop still needs to buy a whole slab, and they will be left with a large piece, which they cannot use.
So if your project is smaller, price per foot goes up. Again – this is a standard practice with ANY countertop company.
BTW, I think it is an excellent idea for contractors to advertise pricing on their websites – it helps homeowners make better buying decisions, and get more realistic prices.
Step 2: Get pricing and negotiate!
So we found our fabricator. Now it was time to choose the stone / color and get the pricing. First I went to their website and found more deals / as well as prices for specific colors. When we visited Platinum, we got to see the actual samples, as well as their price structure.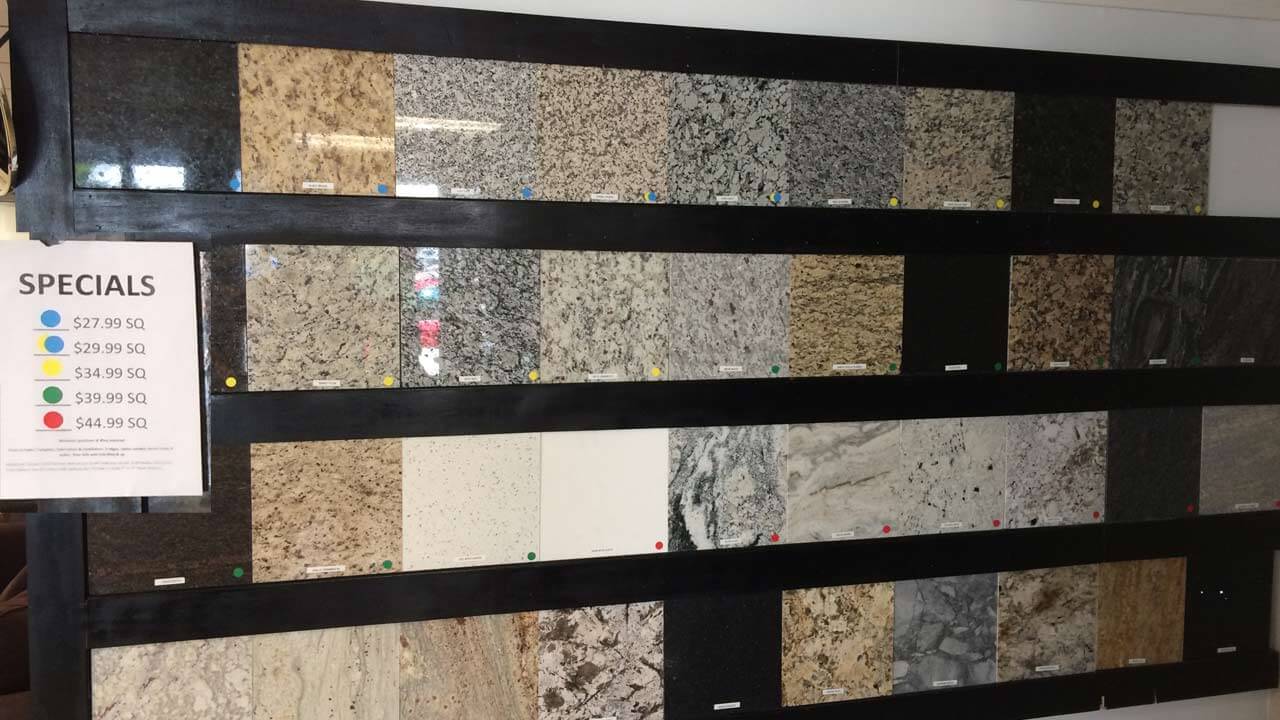 Before we started to negotiate, we picked out 4 colors from the sample wall (above). However, what you see in a sample will not be the actual stone that you get. Because granite is a natural stone, colors VARY a lot, depending on where it came from and even the batch.
So Platinum suggested that we go to MSI International – a large Wholesale Supplier of granite, quartz, marble, soapstone, tile, etc. There, we would pick the actual slab that we wanted, and get a firm price.
Once you put down the deposit, your fabricator buys the slab from the supplier, measures your kitchen, cuts the countertops and finally installs it.
So we went to MSI and looked at all the colors we liked, as well as lots of other colors that are available. We liked only one color from the ones we saw in the Platinum's showroom – River White.
Unfortunately the only stone that we liked had a huge vertical line in it, that was a DEFECT. Other slabs of this stone type where from a different batch, and had prominent shades of "purple and grey" – not the look we were going for.
Since the slab had a defect, I started thinking – what if we position our countertop parts so the defect does not show? Turns out it is possible to do this in some cases (depending on the location and size of the defect). I called our fabricator, and they said that we CAN go to the shop where the slab is cut, and select which piece goes where. We could potentially completely get rid of the defect, if our pieces fit the right way.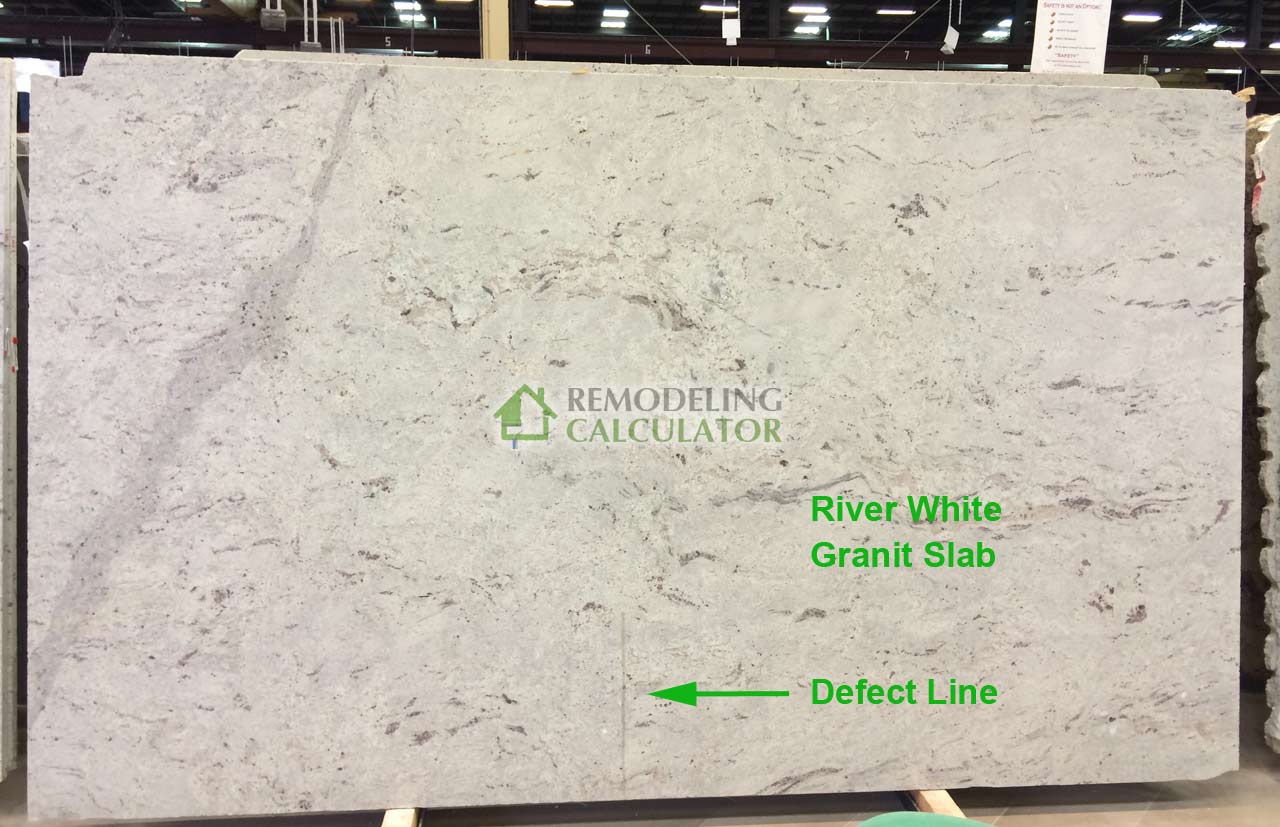 Moreover, after speaking with our fabricator, I realized that I could get a much better price for this particular slab because of the imperfection.
Additionally, I discovered that this particular stone was listed as a 42 Sq. Ft. Slab, when in fact it was 6'5″ by 10'11", which is nearly 70 square feet. What this means is that the fabricator would buy the stone at almost 40% discount from MSI, and we would also get a discount as a result. Again – list "sale" price for River White granite is $45/sq.ft. After negotiating, we agreed on $40 per foot, which is $250 less than an already great price!
Step 3: Research other options
So while considering this imperfect slab, we stumbled upon a completely different, yet very beautiful stone. The name won't tell you anything, but it's Natuno Bordeaux.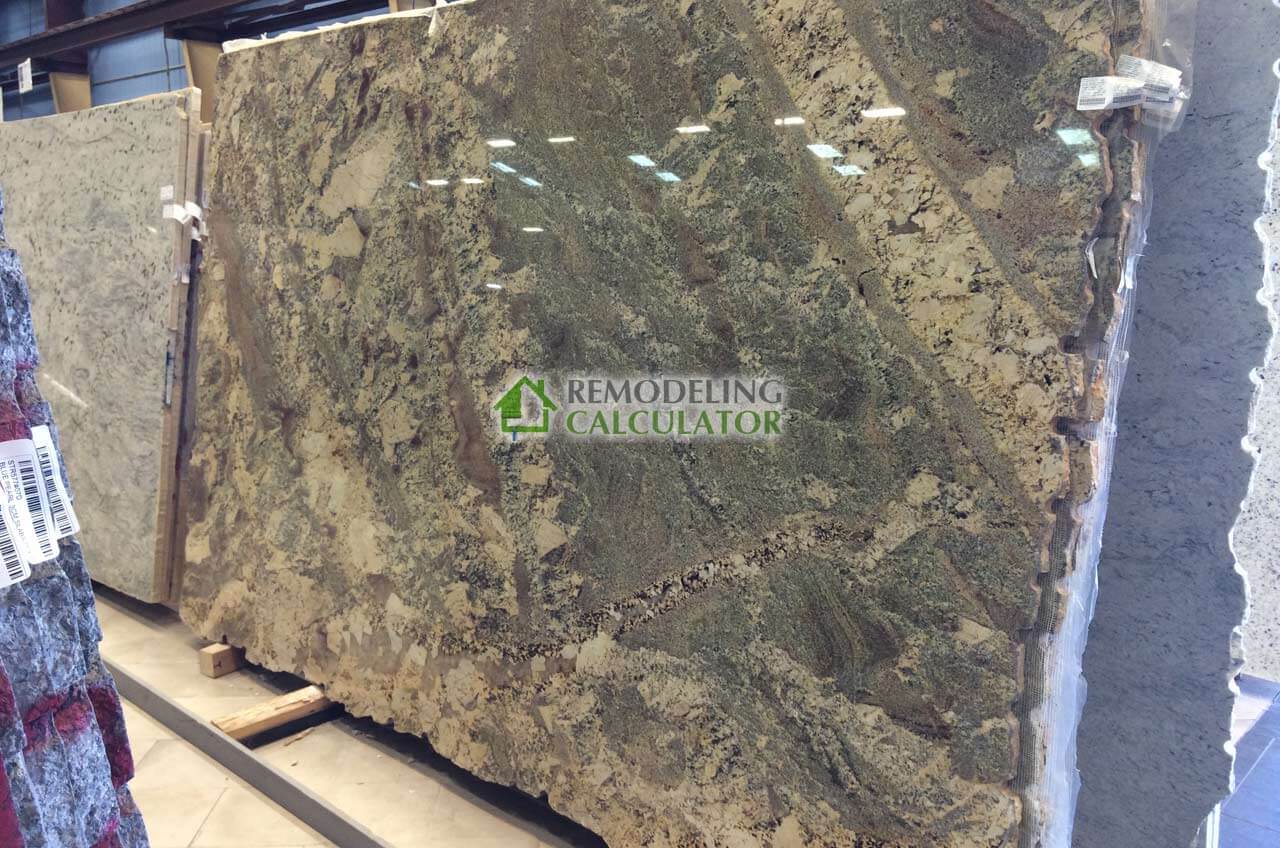 This granite looks much more "Premium" in my opinion, so immediately I'm thinking that it will cost at least $80 per square foot. We called our fabricator to find out the price, and they quoted us: regular price is $69 per square foot (I wasn't far off), but they will do it for $60!
So now, I had a dilemma – $40 per square foot for an OK color that also has a defect or $60 per square foot for a MUCH better color without any issues.
In the end, we decided to get the Natuno Bordeaux, and here is why:
If we ever sell, the premium counters will be much more attractive, than a second tier stone (although it is not bad at all). The final difference in price is about $870, but enjoyment and resale value of the latter is much greater. Simply because it's a very rare and beautiful stone and it will look amazing with our white cabinets and white farmhouse sink.
Oh and by the way – I negotiated the final price down to $58 per sq.ft. (about $100 savings) and here is another way that we will save more $$$.
How we saved additional $612 on our countertops
We got a Farmhouse Sink – DOMSJÖ Double bowl from IKEA. Now follow the logic: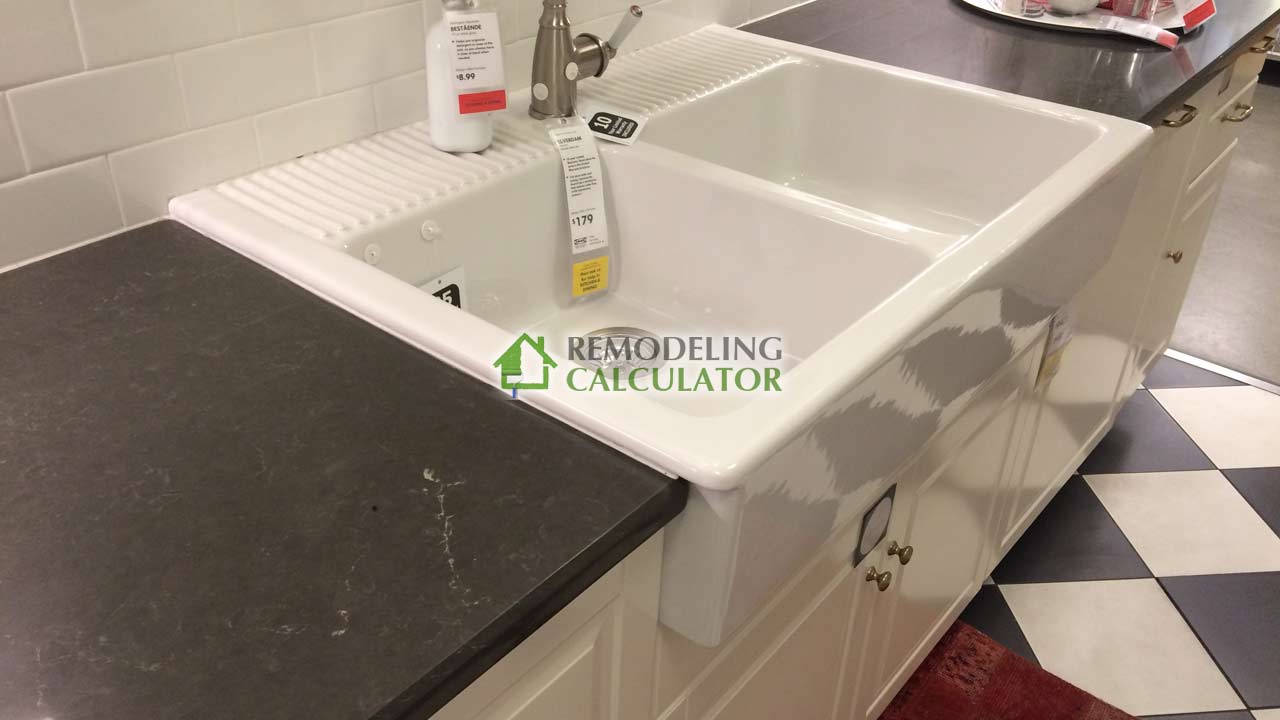 1) This sink sits OVER the counter, and granite is cut flush and inserted under the side lips of the sink.
2) Sink is 36″ wide and 27″ deep. It covers the area from the back wall to the front, and granite is not installed around it.
3) Since the counters are inserted under the sink sides, there is no Cut-out for the sink, and the bowl itself covers 36″ of the counter length.
What we get is: our countertop square footage is 6.25 sq. ft. smaller (6.25 * $58 = $362.50). We also save on sink cut out ($250), which gives us $612.50 in extra savings.
Last thing – we are not getting 4″ granite bar that goes along the back wall which is another 7.69 square feet ($446 saving). YES, you need to pay for this as well.
Instead we installed a tile backsplash from BuildDirect, at about $7 per square foot with delivery!
Our total savings:
We got the Natuno Bordeaux, which would normally cost $4,231 (before tax, with sink cut-out, 4″ back bar, at list price of $69 per foot).
By negotiating and eliminating unnecessary elements, we paid $2,668, which is a $1563 savings!
Find Granite Countertops At The Best Price!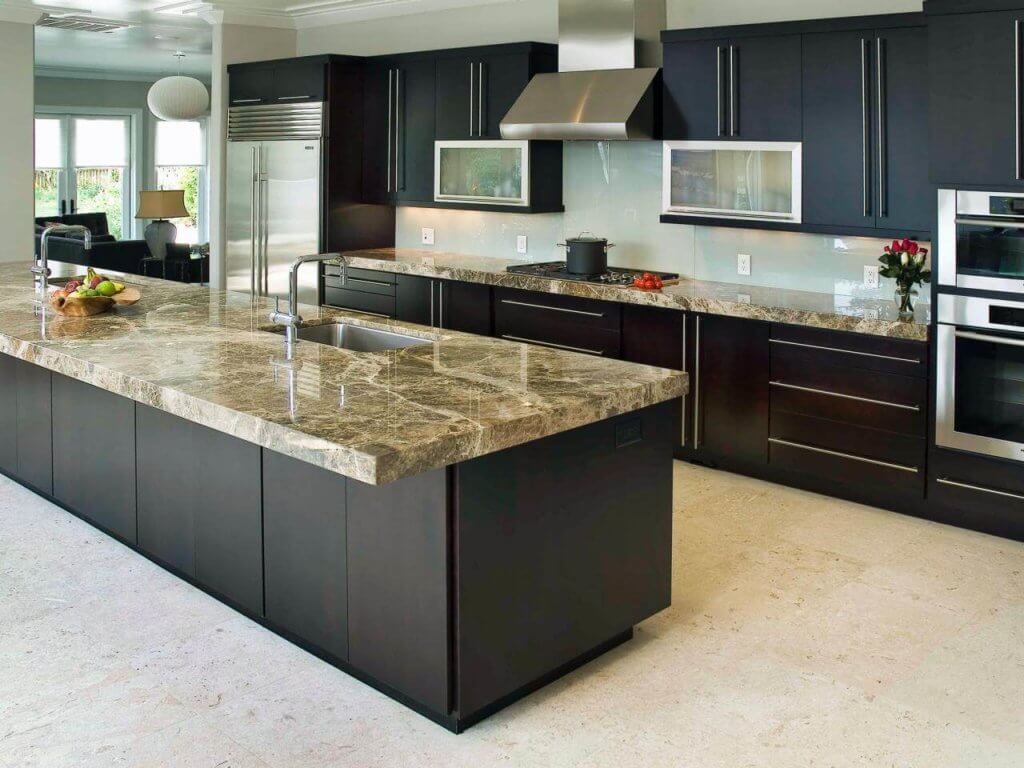 1) Measure your existing countertops. This will make it easy for you to get accurate price estimates
To make it quick: measure the length of the front edge of your counters. Get total length in inches. Multiply length by 25 (depth of standard countertops), and divide by 144. This will give you square footage.
If you have inside corners, add 4.34 square feet for each inside corner (25*25″).
EX: If you have 250″ of counter length, and 1 inside corner, do the following: 250*25 = 6250 + 625 (inside corner) = 6875 / 144 = 47.75 square feet!
2) Find a fabricator that is located in "less expensive parts of town".
Don't limit yourself to your town only. Do a 25 mile radius search on Google Maps. Preferably find a fabricator that advertises prices.
3) Visit several places and get quotes for colors you like.
Try preliminary negotiations by asking: "What kind of discount can you offer?"
Also ask about a CASH price, and see if you can avoid paying sales tax when paying cash.
4) Once you have several negotiated quotes, choose the least expensive fabricator.
Ask them to send you to their supplier to pick out a slab. When you visit the supplier, call the fabricator and ask for quotes for the colors you like.
If you pick a specific slab and want to proceed – put a "TAG" on that stone (reserve it for 1 week). Go back to the fabricator and negotiate a final deal.
5) Eliminate unnecessary elements.
4″ rear bar costs money! If you don't need it – get rid of it!
If you are getting a standard drop-in sink – ALWAYS go for an UNDERMOUNT sink. Preferably deep double bowl. Don't install a top-mount sink, or you will ALWAYS have nasty mold growing under the sink lip.
If you are getting a drop-in sink you are already paying for a sink cut-out, so you might as well get a better sink. If you change your mind later, it will cost over $1500 to go from top mount to undermount, and you will most likely have problems.
Also consider the IKEA farmhouse sink that we are getting – it will typically save you $500-700, depending on the stone you get.
Average Kitchen Remodel Cost:

See costs in your areaStart Here - Enter Your Zip Code