Bathrooms (along with kitchens) can be the best investment of your remodeling dollars in terms of both your personal enjoyment and the resale value the you get. However, they are also some of the most expensive items on the list.
NOTE: If you are planning a bathroom remodel or have just completed one, please leave us a tip on how much you paid for your materials, in the comments section below.
In this article we will look at how much you can expect to spend on MATERIALS for a conventional bathroom remodeling project. We will exclude luxury items from the review, as these are very dependant on taste preferences and where you buy the items. You can see some approximate prices for "luxury" bathrooms here.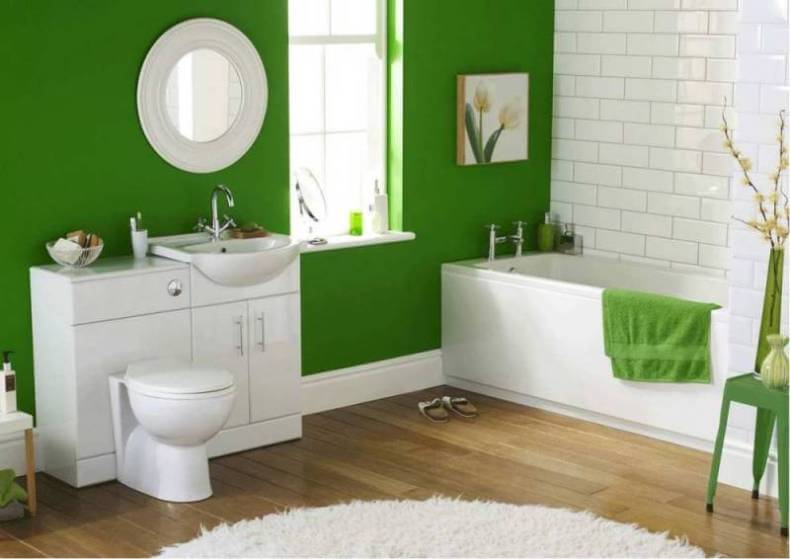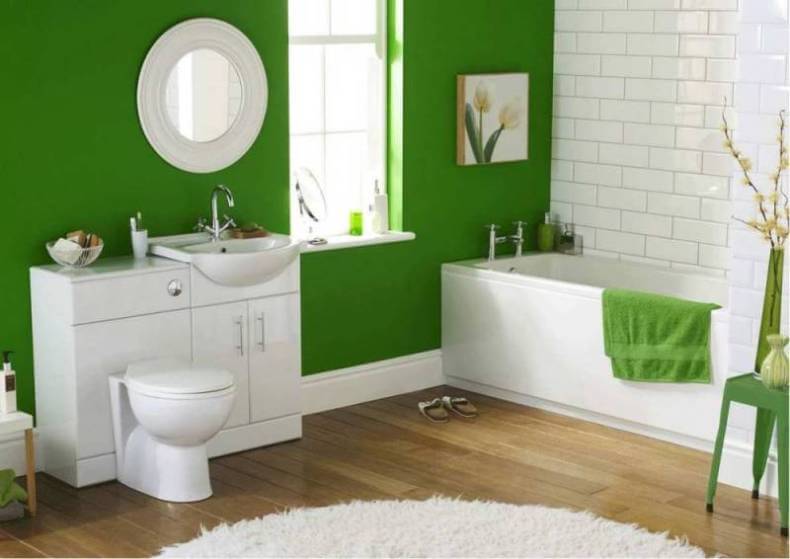 Average Bathroom Remodel Costs:

See costs in your areaStart Here - Enter Your Zip Code
If you want to estimate complete cost of remodeling your bathroom, use our Bathroom Remodel Calculator.
For our purposes, we will estimate cost for a typical 5*8 feet full bathroom , with a standard bathtub, a toilet and a sink. We go through three project types:
1) Higher End (not luxury by any means) – Your typical (middle class) single family house.
2) Middle of the Road – First home for a young family on a budget / High end rental property.
3) Low End – Rental property.
We will run over the costs based on two scenarios – Tile on walls, and painted walls with bathtub liner. Of course, there are TOO many combinations that you can do, but for the purpose of simplicity, we will stick to these two. Also note that all prices are from Home Depot, so they will be very close to those that you would pay in NH, TX or OR, or almost anywhere in US. Since there are so many suppliers and brands, there really is no standard. That's why we chose the big home improvement stores (Lowe's too) as our price source. One last thing – this is a remodel scenario – not new construction, so all plumbing and electrical connections are already in place, and will not be calculated! So lets get started:
See our Remodeling Costs Guide for 2017

This comprehensive guide of labor + material price estimates covers most interior, exterior and mechanical projects around the house!
Bathroom Materials Cost
The table below summarizes the most common items that you will have in your bathroom. These numbers DO NOT include any tools required for installation, nor any labor. Also, sales tax is not included.
| Item | Low | Middle | High |
| --- | --- | --- | --- |
| TOTALS: | $1,013.00 | $2,895.00 | $5,142.00 |
| Bathtub | $119.00 | $209.00 | $379.00 |
| Bathtub Drain | $20.00 | $56.00 | $85.00 |
| Bathtub Liner / Tile | $140.00 | $370.00 | $650.00 |
| Shower Assembly | $45.00 | $136.00 | $229.00 |
| Shower Door / Curtain | $35.00 | $199.00 | $391.00 |
| Sink * | $55.00 | $250.00 | $550.00 |
| Sink Plumbing | $35.00 | $55.00 | $70.00 |
| Faucet | $30.00 | $88.00 | $160.00 |
| Mirror / Cabinet | $30.00 | $59.00 | $89.00 |
| Toilet ** | $98.00 | $228.00 | $368.00 |
| Towel Hangers | $19.00 | $49.00 | $89.00 |
| Tile Floor | $140.00 | $300.00 | $450.00 |
| Bathroom Light | $27.00 | $76.00 | $142.00 |
| Miscellaneous Items *** | $150.00 | $250.00 | $400.00 |
| Walls (Paint / Tile) | $70.00 | $570.00 | $1090.00 |
Remarks / Conclusions: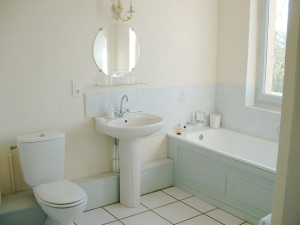 * Low end sink is a pedestal sink. Mid and High End are vanity with sink tops.
** The mid range toilet is good enough for the "high end". We just included a more expensive model for those who feel that the more expensive item is, the better is the quality (not always true).
*** Misc items are the small things that you can find around the bathroom, but which are not required. An example is a built – in soap holder, and toothbrush holder, etc.
Average Bathroom Remodel Costs:

See costs in your areaStart Here - Enter Your Zip Code
Also note that Tile on walls is for Mid-range and High-end only. Low-end uses painted walls and bathtub liner.
For Mid-range walls, we used $4/sq tile with minimal use of "trim" tiles. For High-end, we used $9/sf tiles, also with minimal use of trim tiles. Moderate and heavy use of trim pieces can easily add $300-500 to the bill.
As you can see, there is about a $2000 difference between each "level". In most cases however, the mid -range is a pretty good choice for most people and offers adequate value. Some items can be swapped back and forth, but these are the real world prices that you will buy at a local big-box home improvement store.
As for Installation Prices, you can use our Bathroom Remodeling Calculator or our general purpose Home Remodeling Calculator to estimate the cost.
In the next article we will discuss the installation costs. We will also compare the Big Box prices to those of independent contractors, as well as DIY installation costs – there are still expenses you will incur, even if you do the job yourself.
And lastly, we will also have a special "report" on whether you should buy the materials yourself or have the contractor buy them for you.
Spy Pictures of the Bathroom Materials and Prices
[nggallery id=1]
Related Articles
12 steamy bathroom ideas for 2014!
Luxury Bathrooms Guide (with prices!)
Enjoy!
Average Bathroom Remodel Costs:

See costs in your areaStart Here - Enter Your Zip Code
Published/updated on: January 27, 2014