Want to know how much it will cost to paint the inside of your entire house or just few rooms? Estimate your house Interior Painting Cost and Get Local Price Quotes with this most comprehensive Paint Calculator. This tool lets you get an instant price estimate to paint the interior of your existing or new construction home, as well repair of damaged walls and application of multiple coats of paint in one or more colors.
Interior Painting Cost Estimates are based on painting all rooms in your house, including closets, staircases, and ceilings - 2 coats of paint on walls, 1 coat on ceilings, and in closets.
Interior Painting Cost Calculator: Important Usage Information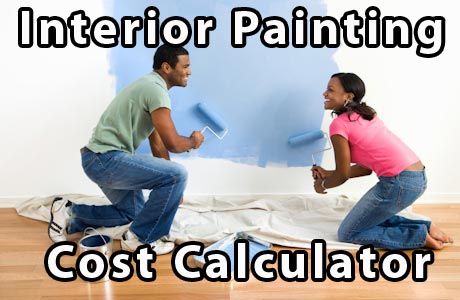 This calculator is designed to estimate the interior painting cost of the entire house. If you need to price just a few rooms, use our
Room Painting Calculator
. For outside painting costs, use our Exterior House Painting Calculator.
Prices are based on 8' ceiling height. If your ceilings are higher, you should add about 9% per additional foot to the total price.
If you do not change the Color / Ceiling setting, costs are calculated assuming application of 2 coats of light color paint on all walls, and 1 coat on all standard ceilings.
Moving or covering furniture, painting moldings, repairing wall damages, or painting doors/windows, is not included in the initial price. However, you can change these settings to include those items in the total cost.
If you want to paint rooms in darker colors, this will require more than 2 coats to get proper coverage and color saturation, thus increasing cost.
If you have Cathedral / Vaulted ceilings, painters will have to spend considerably more time setting up staging, and getting up to paint such ceilings, thus costs will go further up.
Wall Repairs:
Since every house is different, this option is estimated to have minor or major repairs. Most painters will charge per man-hour for this service, so we estimated our cost formula based on how many hours it will take to do small or large repair to sheet rock / drywall, over the entire house area.
Average cost to fix wall damages is about
$40-45 / hour.
Moldings:
Each house has a different type and quantity of moldings. To simplify the estimating process we include 2 options - paint floor moldings only, or no molding painting at all. If you have moldings on walls or on ceilings, you can price those at
$0.65 / linear foot.
Progressive Pricing Formula
See our demo video of how the Progressive Price Formula work below:
Most painters price their work per square foot, or entire house (horizontal square footage). However, if you are looking to paint only a small area (one or two rooms), your cost per square foot will go up, as the area goes down. As with most other home improvement projects, economy of scale determines the cost of your job.
Thus if you want to paint 2 rooms of approximately 150 sq. ft. each (300 s.f. total), you will be paying about
$4 per sq. ft.
However if you are painting the entire house, your base price is about
$2.25 / sq.ft.
for a 1 storey home with a total of 1700 s.f. of living area to be painted (including closets / staircases). A 2+ storey home of same size will cost about
$2.45 / sq.ft.
However, as the house area increases, your cost per square foot goes down. For example, painting a 2400 sq. ft. house will cost
$1.85 / sq.ft.
, and a 3000 s.f. home will cost about
$1.65 / sq.ft.
To account for these price differences based on home size, we've included an intelligent
progressive pricing formula
that gradually changes cost/foot based on house size. You can test this by gradually increasing or decreasing the Home Size setting in increments of 10 / 20 / 30 sq.ft., etc.
Average Interior Painting Costs:

See costs in your area Start Here - Enter Your Zip Code
Published/updated on: March 7, 2016