Paint Estimator calculates how much it will cost to professionally paint all rooms in an existing or new construction home.
This price also includes the following: repair of damaged walls, and 1 coat of new paint for closets, staircases, moldings and ceilings. Estimated cost includes Labor and Materials.
How To Use Paint Calculator
The calculator is designed to provide accurate interior painting cost per square foot for the
entire
house.
Prices are based on 8' ceiling height. If your ceilings are higher, you should add about 9% per additional foot to the total price.
If you do not change the Color / Ceiling setting, costs are calculated assuming application of 2 coats of light color paint on all walls, and 1 coat on all standard ceilings.
Moving or covering furniture, painting moldings, repairing wall damages, or painting doors/windows, is not included in the initial price. However, you can change these settings to include those items in the total cost.
If you want to paint rooms in darker colors, this will require more than 2 coats to get proper coverage and color saturation, thus increasing the cost.
If you have Cathedral / Vaulted ceilings, painters will have to spend considerably more time setting up staging, and getting up to paint such ceilings, thus costs will go further up.
Wall Repairs:
Since every house is different, this option includes minor or major repairs. Most painters will charge per man-hour for this service, so we estimated our cost formula based on how many hours it will take to do small or large repair to sheet rock / drywall, over the entire house area.
The average cost to fix wall damages is about
$40-45 / hour.
Moldings:
Each house has a different type and quantity of moldings. To simplify the estimating process we include 2 options - paint floor moldings only, or no molding painting at all. If you have moldings on walls or on ceilings, you can price those at
$0.65 / linear foot.
Progressive Price Formula
See our demo video on how a painting estimate is determined:
Most professional painters charge for their work either per square foot, or for the entire house (horizontal square footage). However, if you are looking to paint only a small area (one or two rooms), your cost per square foot will go up, as the area goes down. As with most other home improvement projects, economy of scale determines the cost of your job.
Thus if you want to paint 2 rooms of approximately 150 sq. ft. each (300 sq.ft. total), you will be paying about
$4 per sq. ft.
However if you are painting the entire house, your base price is about
$2.25 per sq.ft.
for a 1 storey home with a total of 1700 sq.ft. of living area to be painted (including closets / staircases). A 2+ storey home of same size will cost about
$2.45 per sq.ft.
However, as the house area increases, your cost per square foot goes down. For example, painting a 2400 sq. ft. house will cost
$1.85 per sq.ft.
, and a 3,000 sq.ft. home will cost about
$1.65 per sq.ft.
To account for these price differences based on home size, we've included an intelligent computation formula that gradually changes the cost per foot, based on house size. You can test this out by gradually increasing or decreasing the
Home Size setting
in increments of 10 / 20 / 30 sq.ft., etc.
Return On Investment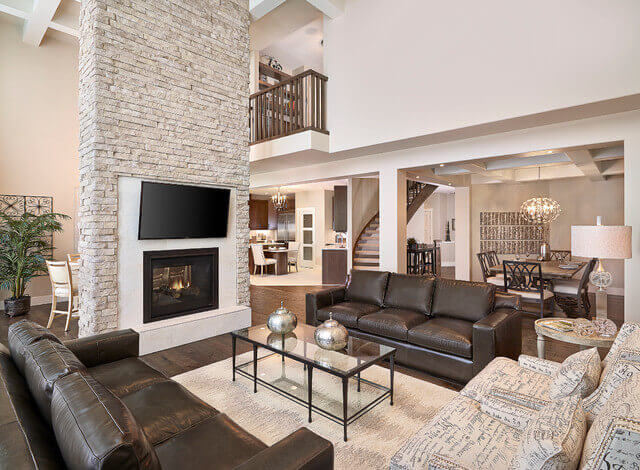 Compared to most remodeling projects, repainting your home interior is relatively inexpensive, yet it brings in a very high ROI of
80% or more
. Putting on a fresh coat of paint is a must if you want your home to sell fast and for the asking price. Real estate brokers can't say enough about how much impact a newly painted home can make on a prospective buyer's desire to buy the property. Follow these tips for best results:
- Do all rooms.
This will create a sense of flow and design consistency throughout the home. Many people will be disappointed if they see a freshly painted living room and kitchen, but dingy looking bathrooms and bedrooms. In today's market, most buyers are looking for a turn-key house.
- Paint trim, ceilings, doors, windows.
While it will cost more and will take more time, your space will get a real face lift. If you just do the walls, the room will not look as presentable and modern.
- Go for neutral colors.
Every person has their own color preferences, so there is no point in trying to impress with the trendiest hues of the current year. Instead, go for time tested, classic and neutral colors, such as beige, taupe, cream, shades of grey, off white. If you want to add more color on an accent wall, shades of blue, green, or warm earth tones always have a nice general appeal.
Average Interior Painting Costs:

See costs in your area Start Here - Enter Your Zip Code