This Deck Cost Estimator will help you estimate prices for different types of decks, based on your specifications - size, type of railing, material (wood, AZEK, Composite, Trex), etc. Pricing is also adjusted for your geographic location.
How To Use Decking Calculator
To get an accurate estimate, it's important that you enter all project details properly.
Step 1: Enter Your Deck Size
First, enter the size of your projected deck. You can later adjust this.
Step 2: Enter Number Of Railing Posts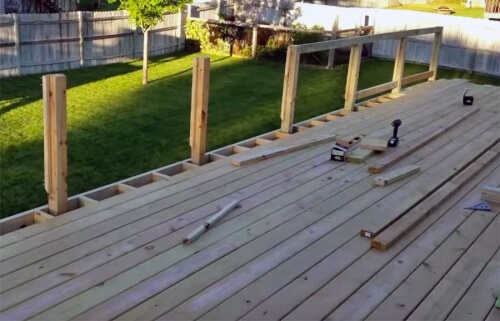 This is an important factor that can change your total cost at least by a few hundred dollars. In the default settings, we include a deck size of 360 s.f. and 10 posts.
If your deck is attached to the house wall, and is sized at 12' x 30' (360 s.f.), you will have 3 posts on each 12' run, and additional 4 posts on the long side (corner posts were included on short sides). This gives you a total of 10 posts. If your deck geometry is different, you may have more or fewer posts.
It is ideal to keep post span at 6 feet between posts, which is a standard length of railing sections. However, you can space them more frequently - for example at 4 or 5 feet apart. However, this will result in waste of materials. You should not exceed 6 ft. spacing between railing posts, as that can make using your deck unsafe.
Step 3: Choose Your Project Type
If you are looking to build a deck, chances are that you will need to construct all supporting structures from scratch. Therefore, most people should choose
"Build New Deck + Footings"
This means that in your estimate you are also including pouring new concrete footings that will support your deck.
If you already have a deck and need to "renew" it with Pressure Treated or Composite material, but want to leave the old framing in place (maybe do a few small repairs as well) select
"Replace Boards and Railings Only"
.
If you already have a deck, but it's in bad shape, and the frame is rotted - you should remove both the old deck and frame, and build a new one. However, you can reuse old footings. In this case select
"New Deck + Rebuild Frame"
Step 4: Choose Your Decking Material
We provide 5 material options, that are widely used in US and Canada - Pressure Treated
Wood
,
Trex
decking, (or similar grade) Composite,
AZEK
(or similar), Cedar / Redwood and "Store Brand" Composite Deck.
Each of these materials has their pros and cons, which are beyond the scope of this calculator. We will have separate guides to explain the benefits of each.
What's important here is the cost of each material, as well as future maintenance. See the table below, which shows how much each decking type costs, as well as its total construction price:
As you can see, building a Pressure Treated (PT) wood deck is the most affordable option, while an AZEK deck is the most expensive. A composite deck is somewhere in the middle of the price spectrum.
NOTE - Material cost is for DECKING BOARDS only. It does not include frame, footings, railings, fasteners, etc.
| Decking Material | Material Cost / sq. ft. | Installed Cost / sq. ft. |
| --- | --- | --- |
| Pressure Treated (PT) Wood | $2.3 - $2.7 per sq.ft | $19 - $25 per sq.ft |
| TREX Composite or Similar | $4.9 - $6.3 per sq.ft | $32 - $38 per sq.ft |
| AZEC PVC or Similar | $7.8 - $8.5 per sq.ft | $39 - $43 per sq.ft |
| Redwood / Cedar | $4.5 - $7.5 per sq.ft | $33 - $45 per sq.ft |
| Noname (1st Gen) Composite Decking | $3.8 - $4.5 per sq.ft | $31 - $36 per sq.ft |
Tips On Selecting The Right Decking Material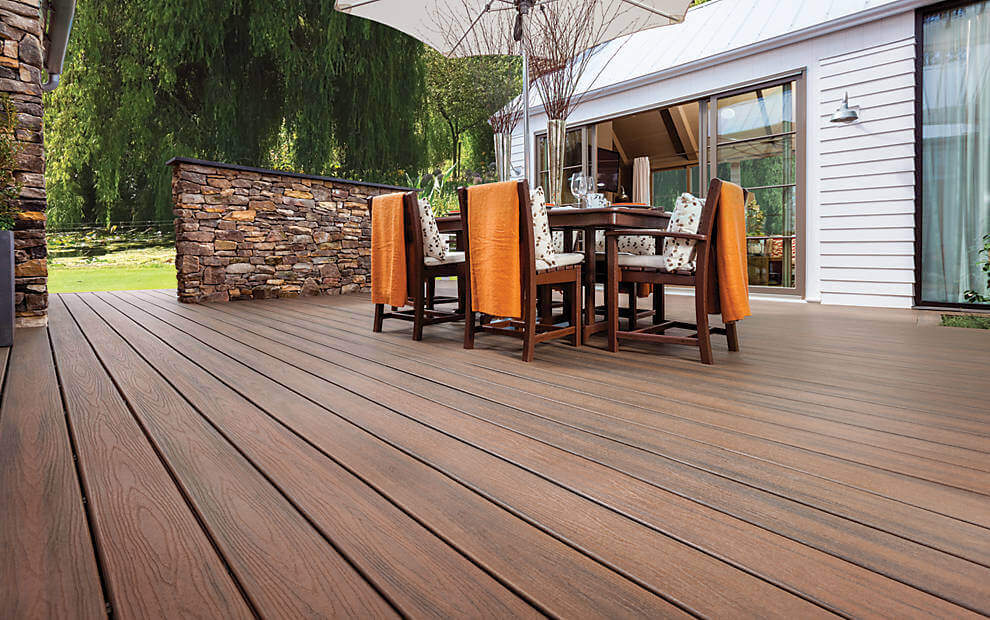 Today, there is such an awesome variety of decking materials, that it can be a challenge to decide which would be right for your home. Across the US, the average cost to build a deck ranges from
$20 - 40 / sq.ft.
depending on the material you choose.
Choosing based on cost is one way to go, but each product has a unique set of features, as well as pros and cons.
Here are some tips to point you in the direction of a deck material that will enhance your outdoor living for many years to come.
1. How Much Maintenance Are You Willing To Do?
Different decking materials require varying levels of maintenance. For example, a wood deck is a material that requires the most maintenance, and it also needs to be done on a regular basis. You will need to clean it at least once a year, and treat/re-seal it every 2-3 years. If you are not into spending a lot of effort on upkeep, than PVC (AZEK) or composite decking is a better choice. These require almost no maintenance, just occasional washing to keep it looking nice and clean.
2. Long Lasting Value
Decks are not created equal in how long they will last. This feature is also reflected in their cost. The least durable and lasting are pressure treated wood decks. Therefore, they are also the cheapest. Other wood decking materials, such as cedar will last significantly longer, but they too will eventually be susceptible to rot, mold, moisture penetration and overall degradation.
Composite materials, such as Trex Deck, is the second best option in terms of longevity. They have a service life of 25-30, which is twice as long as that of most wood decks.
Finally, a PVC plastic deck will last the longest and is the most weather and rot resistant. Hence, its on the highest end of the price spectrum. A state-of-the-art synthetic deck can last 40 years or more. Some manufacturers even offer "Lifetime" warranties on these materials.
3. Your Home Style And Personal Taste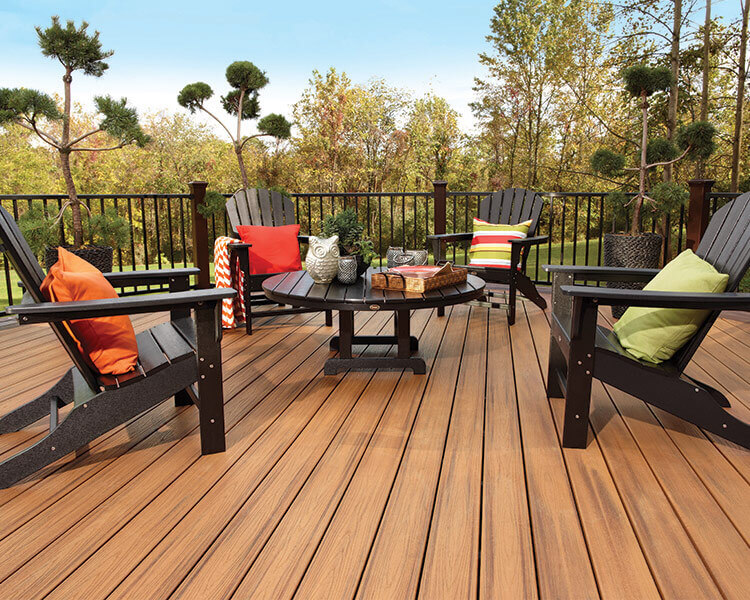 When searching for a perfect deck, its important to consider aesthetics. First and foremost, it should complement the overall architectural style and color of your home. A beautiful deck can add some serious curb appeal. This is a nice bonus, if you are planning to sell your house in the near future.
Moreover, keep in mind what type of building material you are drawn to. Some people absolutely love the natural look of wood, and do not enjoy anything else, regardless of the amount of maintenance it requires.
At the same time, technology has made leaps in terms of creating composite and synthetic decking materials that come pretty close to the warm look of real wood. Additionally, there are colors and styles that would look great with modern architecture.
4. DIY Friendly
If you want to build a deck yourself, wood materials are your best option. Whether you go for pressure treated wood, cedar, Ipe or any other species, it easy to purchase all required materials and construct the deck on your own. Similarly, you can do all maintenance, painting, and repairs yourself without spending money on professional contractors. On the other hand, synthetic and composite decks are not considered DIY friendly.