Need to know how much your remodel will cost?
This Home Remodel Cost Calculator will estimate the cost of the most popular remodeling projects, such as Bathrooms, Kitchens, Windows, Siding, Roofing, Flooring, New Heating, etc. Simply enter the type of project you are looking to do in your house, (you can estimate multiple projects at once), and the calculator will produce an approximate quote, based on the location and level of quality you select.
Calculate Your Home Remodel Cost Now!
Home Remodel Cost Calculator Updates
Updated on April 13, 2016
- Massive improvements to our Remodeling Cost Calculator. Now you can estimate prices for Kitchen, Bathroom, Kitchen Countertops, Flooring, Replacement Windows, Painting, Roofing and Siding - all within one easy to use tool. The algorithm is extremely intelligent - it emulates real estimates from local contractors.
You can also change a multitude of additional settings for each remodel project. Additionally, you can calculate prices for Basic, Mid-Range, High End and Luxury "budgets".
Another option you can select is whether your project is "New Construction" or "Renovation". Finally, you can add Demolition work to the cost estimate.
See our
2017 Remodeling Prices Guide
to find prices for projects not yet included in our remodeling cost estimator.
This Remodeling Cost Calculator estimates approximate price quotes based on the information you enter. If you want a more detailed calculation for each type of remodeling projects above, please use the appropriate calculator below: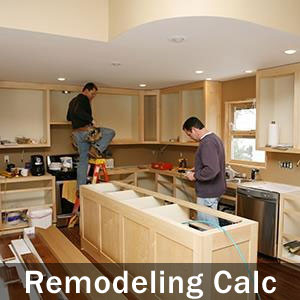 How to use this Remodeling Calculator:
Bathroom Remodel Cost
- select the type of bathroom remodel "quality" you are looking to do - Low End (typically in a rental property), Mid-Range (most projects), and High End bathroom remodel.
Low End and Mid Range presume the bathroom size around 5x8 feet, with a new tub, vanity sink and cabinets, new toilet, tile floors and shower / bath-tub enclosure, and wall-paper on the walls.
High-End presumes a 10x10 luxury bathroom, with a modern corner shower, whirlpool Jacuzzi tub, marble vanity sink, and tiles on floors and walls.
Kitchen Remodel Cost:
Select Low End, Mid Range (most homes) or High End - luxury kitchen remodel. This includes ripping out existing kitchen cabinets and appliances, and installing new cabinets, laminated counter tops (granite counters for High End), stainless steel double sink with new faucets, garbage disposal, dishwasher, stove and refrigerator, as well as new tile flooring.
Check out our
Bathroom Material Prices Guide
New Flooring
Enter total square footage of new flooring to be installed and choose the flooring material - Laminate, Carpets, Tile or Hardwoods (standard quality level). Optionally you can choose Hardwood refinishing, which includes stripping existing hardwoods, and applying two coats of Urethane or Water-Based stain / clear coat.
Installation of new flooring DOES NOT include removing old flooring material. For a more detailed cost estimate, use our long-form Flooring Calculator.
Replacement Windows
Enter the number of new windows to be installed and select the type of new windows - Vinyl, Wood, Fiberglass or Aluminum. Windows prices include Low-E / Argon gas, insulation around window frame and re-installing existing stops (inside trim). For vinyl windows, the prices are calculated for mid-range window quality, which includes welded frame and sashes.
New Siding
Estimate installation cost on new siding, be it Vinyl, Wood, Hardie/Fiber Cement siding or other - enter the size of your house exterior walls (approximate amount) as sq. footage for new installation. To calculate size of your siding job, take ground measurements of your home , add each side together, multiply by 2, and multiply by wall height (typically 9.5 ft. per level) and multiply by 1.05 if you have gable ends.
Example: If your home is a 1 story ranch, 46*28 ft, the size of your siding job will be:
1: (46 + 28) * 2 = 148
2: 148 * 9.5 * 1.05 = 1476.3 sq. ft. of new siding.
This is an approximate calculation - if you need more accurate results, use our dedicated siding calculator tool.