Roofing shingles continue to be a leading material in residential construction. When choosing a product, it is important to know that roofing shingles are not all created equal. They can be made from asphalt, metal, cedar or a synthetic material. If you are looking to install a new shingle roof, you should get a sense of what different types of shingles have to offer in terms of cost, quality, durability, longevity and protection for your home.
Roofing shingles also vary in color and architectural style, which means that you have a wide variety of choices to create a custom look that suits your preferences and complements the design of your home. Be aware that some contractors may insist that you buy a specific type of shingle. To avoid being scammed or getting a low quality roofing material, you need to do your own research to figure out what shingle type may best meet your demands for quality, style and cost.
Different Types of Roofing Shingles
Asphalt Roofing Shingles (Cost per Sq. Ft. – $3-4.50)
Asphalt roofing shingles are the most commonly installed shingles on residential homes across the US. They offer a variety of style choices at a budget price. It is the combination of looks and affordability that makes asphalt shingles the top choice for many homeowners, who are looking to either do a re-roof or install a brand new roof on a budget.
Asphalt shingles are made from a base material, which may either be a fiberglass mat (most common today) or an organic felt, covered with asphalt coating and a top layer of mineral granules for additional protection. These shingles are relatively lightweight and are easy to install and repair; handy homeowners can even do the work themselves, without hiring a professional contractor. Typically, asphalt roof shingles have a service life of 25-30 years. One of the biggest downsides to using this material is that this it is not an environmentally friendly: it cannot be recycled at the end of its service life, and has to go into our landfills.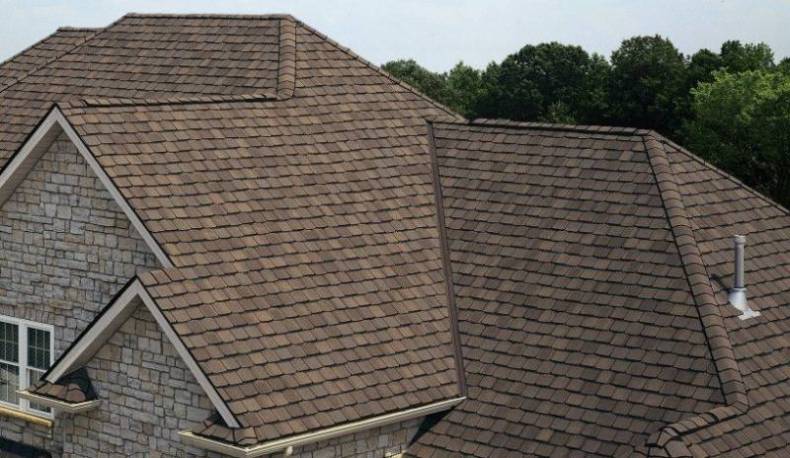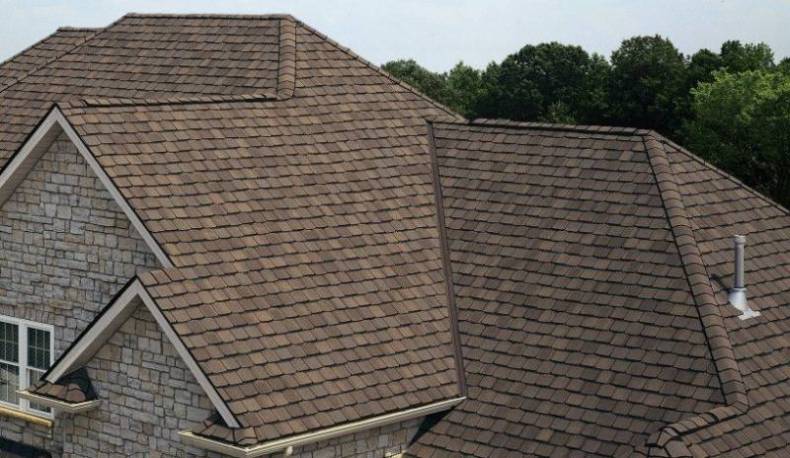 You can either choose the economical three – dimensional asphalt shingles, which are lightweight and provide a flat look, or go with more expensive laminated (architectural) roofing shingles, which are heavier and can give your roof a more sophisticated look, that will have depth and dimension. Overall, there are many colors, styles and textures to choose from in the family of asphalt shingles, with laminated shingles providing more options and better curb appeal than three-dimensional ones.
Metal Roofing Shingles (Cost per Sq. Ft. – $7.50-9.50)
Metal roofing shingles are a major upgrade from asphalt. They are built to last a lifetime, offer superior durability and protection, require virtually no maintenance and offer great curb appeal, increasing the real estate value of your home. These shingles come in many styles, colors, and metal options. Two of the most common types are interlocking shingles and overlapping tiles. Metal shingles can provide you with looks of natural slate, clay tiles or cedar shingles at a fraction of the cost of the original material and a much longer service life.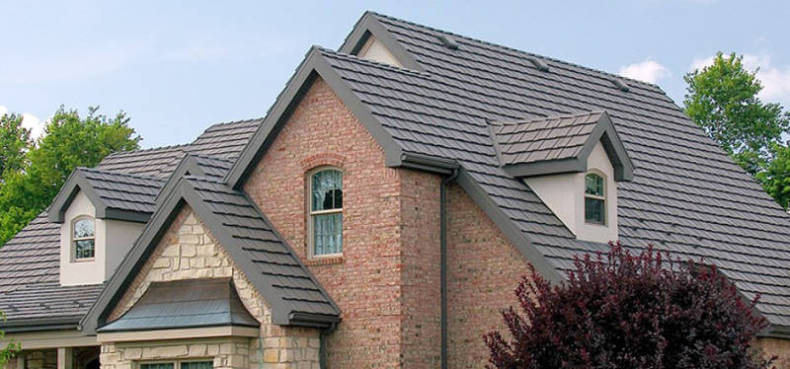 Metal shingles are made in factory settings, using a stamping manufacturing process on an industrial size press. They are stamped from steel, aluminum or copper coils of certain thickness. These shingles are also extremely durable and are made to withstand severe weather, such as hurricanes, hail and snow storms. Metal shingles roofs are also insect, mold, rust, and fire resistant, providing greater protection and health benefits to the inhabitants of the home. Moreover, it is an eco-friendly roofing material, because 95 % of it can be recycled at the end of its service life.
One of the biggest factors that deters more homeowners from installing metal shingles on their roofs is the initial high price. However, a metal shingles roof is a smart long-term financial investment; it does not need to be replaced and requires minimal repair over its lifetime. A metal shingles roof also provides higher energy efficiency, all of which translates into major savings over the long haul.
Cedar Roofing Shingles (Cost per Sq. Ft. – $8-10.50)
Cedar shingles is one of the few natural, green roofing materials on the market. Cedar is an even-grained wood that ranges in color from light blond to deep chocolate brown, and weathers gracefully to shades of gray. Cedar roof shingles are sawn on both sides for a tailored appearance. They are available in several sizes: 16 inches or Fivex; 18 inches or Perfection; and 24 inches or Royal nominal lengths.
Cedar shingles cost more than most other roofing materials, however they offer homeowners a beautiful natural look, as well as longevity, durability and increased energy savings. These shingles have exceptional insulation properties, which means that you can heat and cool your home for less. Moreover, cedar shingles are heavy, so they actually act as a second insulation layer for your home. These properties are particularly advantageous for homeowners who live in colder climates, as your house will lose a lot less heat through a cedar shingle roof, saving you money on your heating bills.
Cedar is considered to be the toughest wood in the world. This means that a cedar shingles roof is extremely strong and durable. In fact, it is the only roofing material that actually adds strength to the structure. Cedar shingles can produce a gain in absolute strength, adding about 4 lbs per sq foot. Moreover, they have natural preservatives that resist moisture, decay, insect damage, and can withstand tough weather conditions and temperature fluctuations.
Synthetic Slate Roofing Shingles (Cost per Sq. Ft. – $7-8.50)
Synthetic shingles are made of highly durable plastic and other synthetic materials and fillers, such as wood dust, that are molded to look like slate or cedar shingle impression. Many of these materials are also impact and heat resistant. Synthetic shingles are installed in the same manner as real slate roofs, but offer the benefits of being much lighter, easier to install and nail down, as well as being non-brittle.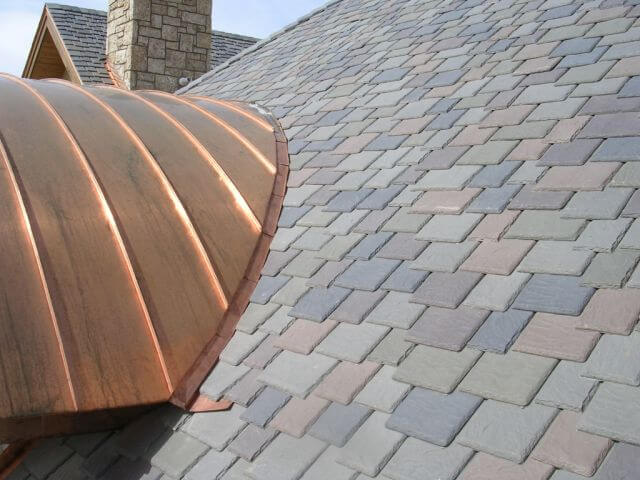 Compared to natural slate roofing, synthetic roof shingles provide unsurpassed durability and a life cycle savings of up to 50%. Synthetic shingles come in a variety of sizes, colors and styles, offering a wide range of design possibilities. This material offers many other benefits, such as excellent protection against water leaks, freeze/thaw resistance, Class A fire rating, and wind resistance up to 110 mph. Also, many synthetic shingles are manufactured with recycled rubber and plastics, which makes them flexible, sustainable and environmentally friendly.