Home Building Calculator helps you estimate the cost of building a New Construction House, with different options for trim, quality, and other amenities such as garage and deck.
The estimated price includes excavation and erection of a concrete foundation, prices of all materials and overhead + profit of your builder / general contractor. Land, as well as permits, architect / design fees and other miscellaneous expenses are not included in this estimate.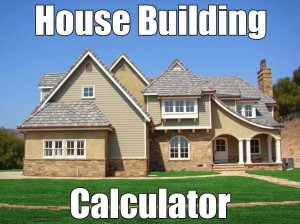 Building a home is the best option for those looking to have the design of their dream (which is usually hard to find in the secondary home market), and is typically less expensive than buying an existing home.
This Home Building Calculator provides a variety of options for you to choose from. You can customize Flooring options, number of bathrooms, Roofing and Siding materials, type of Windows, add a Garage or Deck, etc.
The calculator also has a progressive cost per sq. ft. calculation, so you can get the most accurate house building cost estimate. This means that when your Total square footage is LESS than 1,500, the cost / foot gradually increases to account for additional costs incurred by the builder, with fewer "billable" square feet.
How To Use the Home Building Calculator:
1) Enter the Foundation Size of your home (do not include garage)
2) Enter the number of bathrooms. Note that each additional bathroom requires additional plumbing and materials.
3) Choose build quality. This includes your kitchen, HVAC system, insulation, framing, and other options that you "cannot" select in the calculator.
4) Select the number of levels (floors). Note that living area as well as the amount of siding and the number of windows will proportionately increase with the number of additional floors.
5) Select your roofing and siding (exterior) materials.
6) Extra Options:You can select Garage and Deck size as well as windows options.
7) Choose your Location. Note that construction prices vary greatly depending on your region, and this includes both labor and materials. The difference can be between +11% for Pacific region to -5% for East South Atlantic region.
Click calculate, and you will have your personalized estimate!
Note that this estimated house building cost does not include the following:
- Land
- Demolition or land clearing
- Plot leveling / site work
- Architect / house plans fees
- Permits, engineering reports, and other paperwork
On average these misc costs can range between $15,000-30,000, excluding land and demo works. Published/updated on: July 24, 2014