Estimate the cost of installing new seamless gutters and downspout for your home. Seamless aluminum gutters are the most popular type of rain gutter in US and Canada. Many roofing and construction companies install gutters, but most homeowners are unaware of how much they should cost.
This tool will give you an instant price quote for your project, which would be 95% in line with prices offered by local gutter companies.
Before you begin:
You need to measure the total length of all horizontal (eave) edges of your roof that will receive new gutters. You also need to count all Inside and Outside corners and Downspouts (drain pipes).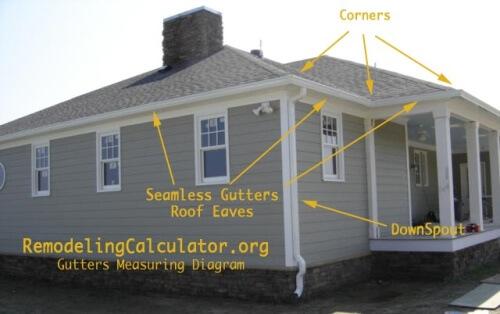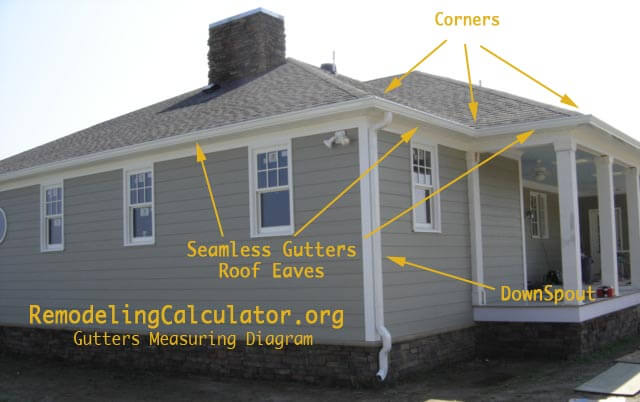 The average price for removing old gutters and installing new 5" K-type (residential) seamless aluminum gutters on a one story house is about $12 per linear foot. This includes both sides of the house and downspouts on each end of the gutter for proper drainage.
However, there are many options that will change this cost / linear foot. That is why it's best to use this calculator to get the most accurate estimate for your
project cost
.
* Note that if the total cost is less than $425, a minimum charge will be provided, as most contractors will not work for less. Example - if you needed 5 feet and 1 downspout installed, you would still pay a minimum of around $400.
How to use this calculator


To accurately estimate job cost, you will need to measure the length of ALL horizontal (eave) ends of your roof. This is where new gutters will be installed. If you have a gable roof - you will be installing on the front and back (2 sides) of your roof. If you have a HIP roof type, then you will be installing gutters on all 4 sides.


If your roof overhangs the house exterior wall, add overhang lengths to to your measurements.


Count all corners, and downspouts (drain pipes). Do not worry about elbows on downspouts.


Select the number of floors below the roof line.


Select if you need to remove old (aluminum or plastic) gutters, and if you need new leaf guards installed.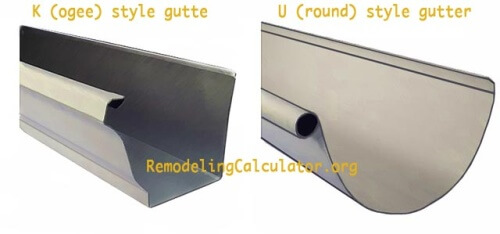 NOTE:
All aluminum seamless gutters have an "ogee" or a so-called K-style profile. If you want round, box or other type of gutter, it will not be seamless. It will be a custom job and will cost significantly more than regular K-style.
Copper
- Copper gutters can be both seamless (K-Style) or 10 foot sections with soldered seams, made in either half-round shape or box shape.
Inside and outside corners of copper gutters should be soldered (whereas for aluminum and zinc, they are caulked with special "gutter seal".
Copper gutters also use special round or box copper drain pipes, and custom-made elbows. Because of much higher materials cost and a lot of custom labor, the cost of installing copper gutters starts at $40 per linear foot and goes up from there with complexity of the job.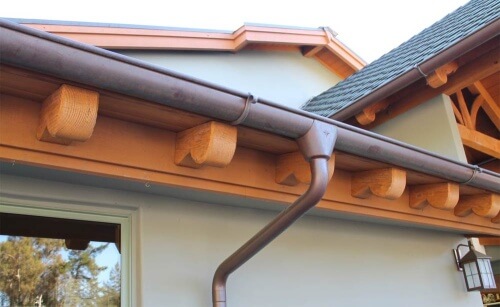 Zinc
- Zinc gutters are pre-made, and come is 10 foot sections - usually half round profile.
RheinZink
is on of the biggest zinc gutters and roofing manufacturers in the world, and offers a complete set of accessories - hangers, drain outlets, downspouts, end-caps, corners, etc. These are only accessible for purchase via special order, through roofing suppliers such as ABC, Beacon, Bradco, Harvey, Heritage, and other building materials and roofing suppliers.
Other manufacturers of zinc gutters include
OrnaMetals
and some smaller, less known firms. Zinc cannot be produced on site, unlike aluminum and copper, because zinc is a very hard metal, and requires special machinery to bend and form. Zink also cannot be seamless.
Zinc gutter costs start at about $45-50 per linear foot, installed. Price increases as job complexity goes up.
Taking precautions before installing gutters
Optional leaf guards are installed after section is attached to the roof edge. Downspouts are added in the end.
If you are replacing your old gutters and have had some roof leaks / water damage in the past, or if you are suspecting that your fascia boards might have water damage / rot, it is best to replace these boards with new wood or PVC / AZEK boards. If you do not replace rotted fascias, your new gutters can fall off long before they reach end of life.
Installation Process
Most new seamless gutters are made on site or in shop and delivered to the job site. If the length of each run is over 30 feet, the product will be formed on site, as it's virtually impossible to transport such long sections without doing any damage.
Once section is rolled out of the machine, it is measured and cut to exact length, which is about 2 inches longer than roof edge, to capture water that comes off roof sides.
Once section is cut, end caps are installed. Holes are punched or cut about 6-8" from each end or were needed, outlets are installed and all penetrations are sealed with gutter seal caulk. Then hangers with self-tapping screws are installed every 18" - 24". Other types of hangers can also be used, but not recommended for K-Style.
Once all accessories are installed, a complete section is lifted by 1, 2 or 3 installers and is screwed to the fascia board, making sure that outlets are pitched slightly down from the rest of the gutter to create positive slope for better drainage. Published/updated on: January 19, 2016