Estimate the cost of installing new seamless gutters and downspouts for your home.
Select various sizes, gutter materials (aluminum, zinc, copper), as well as optional accessories.
Before You Begin
You need to measure the total length of all horizontal (eave) edges of your roof that will receive new gutters. You also need to count all Inside and Outside corners and Downspouts (drain pipes).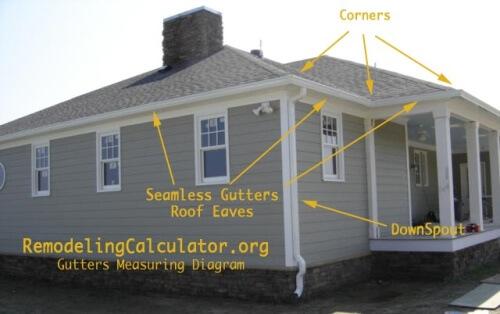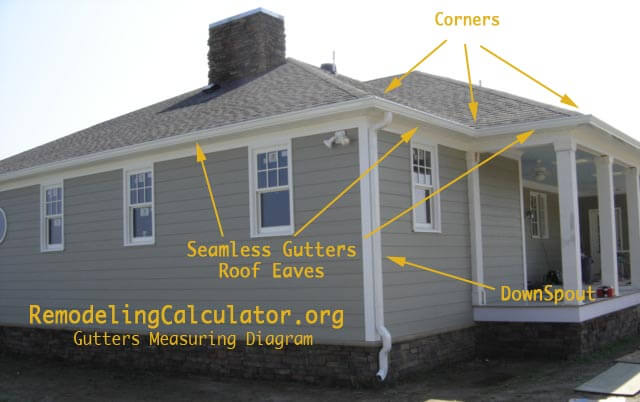 How To Use This Calculator


To accurately estimate your total cost, you will need to measure the length of ALL horizontal (eave) ends of your roof. This is where new gutters will be installed. If you have a gable roof - you will be installing on the front and back (2 sides) of your roof. If you have a HIP roof type, then you will be installing gutters on all 4 sides.


If your roof overhangs the house exterior wall, add overhang lengths to to your measurements.


Count all corners, and downspouts (drain pipes). Do not worry about elbows on downspouts.


Select the number of floors below the roof line.


Select if you need to remove old (aluminum or plastic) gutters, and if you need new leaf guards installed.


Installation Tips
This advice can help you save money on your new gutters, as well as ensure that installation is properly done.
1.
The average cost to install seamless gutters is around
$10-12 per linear foot
. Regardless of where in the US you live, most contractors will charge in this ball park. If you are getting pricing over
$17 per linear foot
, you are most likely being ripped off and should stay away from this company.
2.
We recommend getting
3-4 free estimates
from local reputable contractors. This will help you compare pricing and find a pro with the best references.
3.
You can get a small discount of around
5-7%
from a company that has their own roll forming machine. They will come in and manufacturer your gutters right on site.
4.
Make sure that your contractor installs gutters with proper slope. This is one of things that can go wrong with installation. The drains should be BELOW the low point of your gutters; otherwise water will stand there, contributing to rot and mold growth.
5.
It is very important to replace any broken or rotted fascia boards behind the gutters. This is their nailing surface, and if the boards are falling apart, your new gutters will simply not stay in their place.
6.
If you live in an area that gets a lot of snow and ice dams, it is best to install leaf guards. These will help minimize the damage that ice dams cause.
7.
You really don't need to spend money on "premium" leaf guard systems. Simple options sold in big box home improvement stores cost a lot less, work just as well, and are much easier to clean and remove.
Published/updated on: November 6, 2017