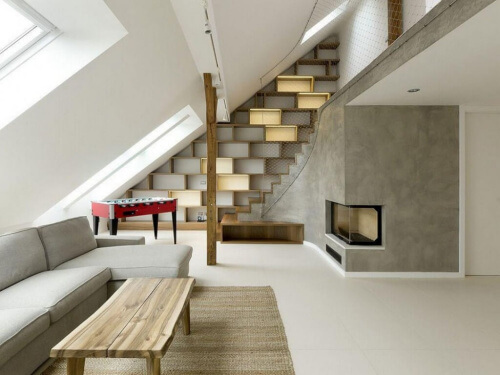 While an attic conversion is one of the more expensive home improvement projects, it also boasts one of the highest ROI's.
According to the latest National Association of Realtors report, you can expect to recoup up to 62% of your investment.
Here is a detailed break down of the various projects involved in converting an attic into living space.
How Much Does an Attic Conversion Cost?
On average, homeowners across the US spend around $64,000 to covert their attic into a bedroom, or office with a bathroom.
In terms of cost per sq.foot. you can expect to spend about $192/sq.ft (materials and professional labor). Note that professional labor typically accounts for about 40% of the total cost. This means that you can save thousands of dollars if you are able to DIY some of the work.
Typically, this figure includes working with a completely unfinished space, and installing the following components:
– Proper Insulation
– Ventilation
– Heating and Cooling Systems (HVAC)
– Interior walls, ceiling and trim (includes drywall and paint)
– Electric work
– Flooring
– Stairway for easy access from the floor below
– Windows for air flow, light and emergency egress
– Bathroom (includes plumbing work)
Before you start planning this remodel, make sure that your attic meets the requirements set out by building codes to turn it into a legal living space.
When planning your budget, its advisable to include an extra 10% for unforeseen material expenses and labor costs. Also, your contractor may need to pull special permits, which will also cost extra. It is best to discuss this with him before starting your project, so you are not slammed with bills you didn't expect.
As a rule of thumb, you should not spend more than 15% of your home's value to remodel the attic.
Cost of Different Attic Finishing Projects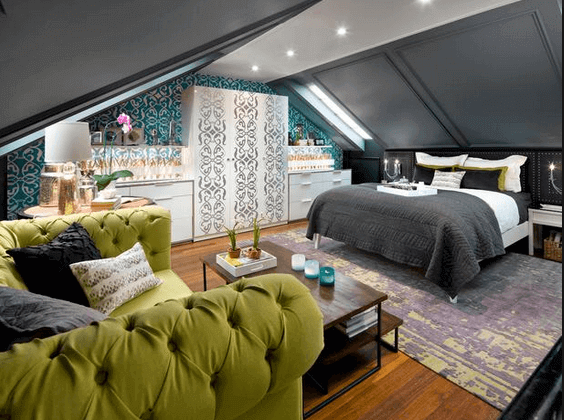 Depending on the current condition of the space, as well as the level of comfort and convenience you want to enjoy, you can undertake some or all of the remodels listed below:
1. Repair Your Roof
Because the roof is effectively the ceiling of your attic, it is the Number 1 priority to ensure that it is watertight. Otherwise, you will be dealing with constant leaks and mold issues in your new bedroom, which will render the space basically useless.
It is recommended to conduct a thorough roof inspection to make sure that it is in good condition. Expect to pay $250-350
If leaks are found, a contractor will typically charge $40-60/hr for repair. The total cost to repair an asphalt shingles roof will be between $350-600. You can use this calculator to estimate roof replacement cost.
Average Roofing Costs:

See costs in your area Start Here - Enter Your Zip Code
Install Proper Ventilation
Quality ventilation is key to ensure that excess moisture and heat can escape the attic. Roof, gable, soffit ventilation or some combination of these may be required.
Expect to spend $350 -1,200 for most jobs. The price may be closer to $3,000 if you will need new soffits and a ridge vent.
Take Care of Mold
If your roof has been leaking for some time, it is likely that mold issues developed in your attic. It is critical to do mold remediation before moving on to the finishing phase of the remodel.
Budget for $1000-$3000 or more if you have a particularly severe problem.
Install Proper Insulation
Quality insulation is a must. Without it, the space will be too hot in the summers and too cold in the winters. Be sure to get insulation that has an R-value that will keep the space properly insulated in the particular climate you live in.
The most common type of insulation is blown-in (fiberglass or cellulose). Expect to pay between $600-1,800 for 2,000 sq.ft. The low-end pricing is for a DIY job, whereas high-end is for professional labor.
Put in a Heating and Cooling System
Insulation alone is not going to solve temperature control issues in your attic. To make it a comfortable space all year around, you will need to put in an HVAC system (includes a heat pump, AC unit and duct work). Depending on the size of the space, you may need to run one or two ducts, which will impact the total price.
Budget at least $6,000 for this project. Get free HVAC estimates from local pros.
How much water heater costs?
Water Heater Repair
$250 - $350
40 Ga. Water Heater
$850 - $1100
Tankless Water Heater
$1200 - $3500

See costs in your area Start Here - Enter Your Zip Code
Air Seal the Space
Before you can move on to finishing work, you need to air seal the attic. The complexity of what you have there (ducts, house or bathroom fans, recessed lighting, ceiling fixtures, chimney through the attic, etc), will determine the cost.
Expect to spend $350-1,500.
Put in Windows/Skylights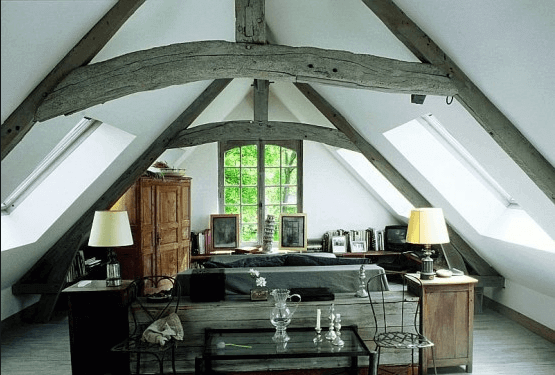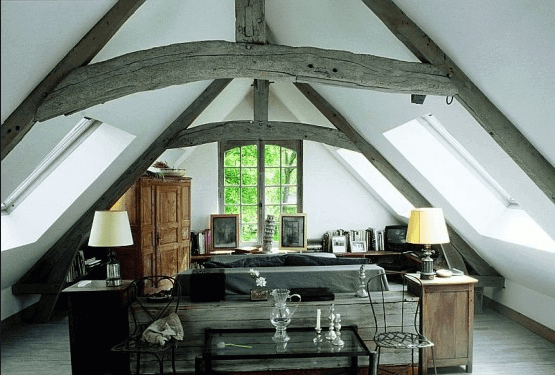 Egress windows are required to turn your attic into a bedroom compliant with building codes. In addition to providing an emergency exit in case of fire, windows will add more light and ventilation to the space. Be aware that the structural limitations of the roof will affect the size and placement of your dormer.
This is one of the most complex and expensive parts of the remodel. You may need to hire an architect to help plan the most effective dormer design and placement. Your contractor will also need to pull permits for this job.
Depending on the number and size of dormers, roof steepness, quality of windows and finishes, you can expect to pay $3,000-18,000.
To add extra natural lighting and design flair, you can install skylights. While the skylight itself is not very expensive, labor costs may be. Roof structure will determine the complexity of work required.
Budget for $700-3,500/skylight (materials and installation).
Construct a Stairway
For the attic to be converted into a livable space, proper stairway access from the floor below is required.
The most budget friendly option is a straight run staircase, but the downside is that it takes up the most space (around 40 sq.ft). Depending on the materials and finishes you choose (newel posts, hardware, etc), expect to spend $550-2,800
A more expensive, but space-saving stair design is the spiral. A wood or metal-wood staircase kit ranges in price from $2,000-6000
Professional installation of a new staircase will cost between $580-1,300.
Install Lighting and Electric Outlets
The cost to install electric wiring, outlets and lighting to code will depend on the amount of work required. Licensed electricians charge from $65-85/hr
Finish Interior Walls and Ceiling
Average Interior Painting Costs:

See costs in your area Start Here - Enter Your Zip Code
The final steps of turning an unfinished attic into a usable room is to finish the walls and ceiling. This includes putting in drywall, painting, trim and moldings and other finishing touches.
Depending on the size of the space and quality of finish you are looking for, expect to spend between $900-2,800
Install New Flooring
A good, soundproof floor is an important element of a finished attic. You don't want the people downstairs to hear annoying sounds of a squeaking floor coming from upstairs. The most popular and budget friendly flooring options for this space are laminate tile and carpet.
Installers typically charge $3-7 depending on the size of the room, flooring material and job complexity.
Expect to pay $1,300-2,600 for carpet and $2,400-3,500 for laminate tile.
Put in a Bathroom
Average Bathroom Remodel Costs:

See costs in your areaStart Here - Enter Your Zip Code
Adding a bathroom turns your attic into a fully functional, comfortable room. This is a particularly important addition if you plan to use it as a bedroom.
Plumbing will be one of the greatest expenses, and the cost will depend on how far away the new bathroom is located from the existing water and sewer lines. Licensed plumbers charge $45-65/hr. To keep costs down, try to situate it above an existing bathroom or kitchen.
Other costs will depend on the quality of materials and finishes you want to have.
A basic, no frills bathroom will cost around $3,000-6,000. However, you can spend as much as $25,000 if you are looking to create a luxury spa retreat.
Published/updated on: March 29, 2016