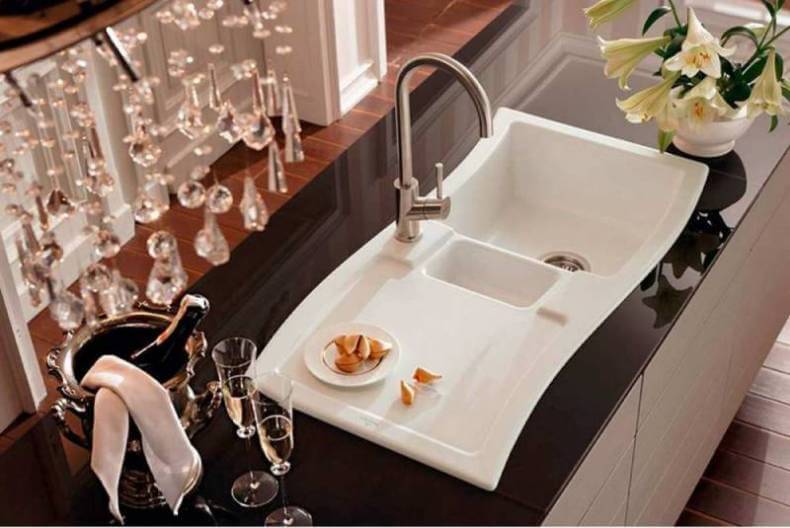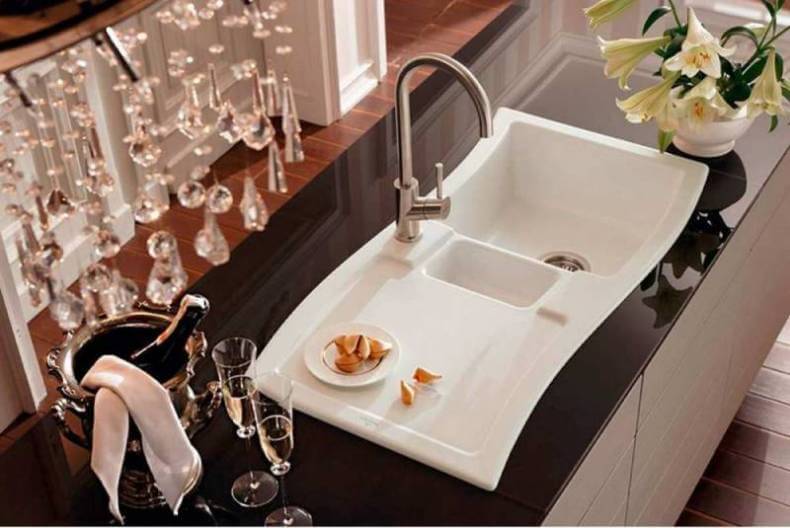 How many times over the course of a day do you reach for the kitchen sink?
Chances are, that number is much higher than you realize 🙂
The workhorse of your kitchen doesn't have to be a purely functional piece, though.
Here are 9 top kitchen sink materials suitable for any kitchen remodel from budget to high-end.
You may be surprised by just how significant an impact a kitchen sink made of the right materials can have on the overall look of one of your home's most vital rooms.
Average Kitchen Remodel Cost:

See costs in your areaStart Here - Enter Your Zip Code
9 Best Kitchen Sink Materials
Remember, every element in your kitchen remodel makes a difference, both in terms of style and cost. Before you make a choice, take the time to consider the benefits and drawbacks of each of these kitchen sink materials:
Select the material that interests you most, to go straight to that section.
1. Get Scientific with a Soapstone Sink
Whether you're a sucker for science or just want to take design cues from the brainiacs of the world, soapstone is the go-to choice for laboratory sinks and countertops. Because this stone is naturally resistant to staining and bacterial growth and is non-reactive, it offers a host of benefits for kitchen applications as well. Certainly a high-end option, a soapstone sink has a price tag to match. Starting prices for a soapstone sink will typically be around $1,000, going up from there depending on a wide range of factors.
Pros of a Soapstone Sink:
– Non-reactive material means soapstone won't be affected by acids or chemicals
– Natural microbial growth resistance can reduce bacterial presence
– No two soapstone sinks will look exactly the same, as each one is unique
Cons of a Soapstone Sink:
– The price point can be prohibitive
– While durable and dense, soapstone has a soft feel which can make it more susceptible to scratches
– Over time, soapstone will develop a patina, which can be a drawback for homeowners who want an unchanging surface for their kitchen sink
2. Go Sleek and Clean with a Stainless Steel Sink
Average Kitchen Remodel Cost:

See costs in your areaStart Here - Enter Your Zip Code
Hands down, one of the most popular kitchen sink materials is stainless steel. Resistant to both heat and stains, a stainless steel kitchen sink offers a surprising number of finish and style options. It is also available at different price points to suit any budget. The gauge, or thickness of material you choose for a stainless steel sink will be a deciding factor in the total price. Sink sizing and how its mounted will also come into play. Be prepared to spend anywhere from $100, all the way up to $600 for a stainless kitchen sink.
Pros of Stainless Steel Sink:
– Highly durable
– Can be an affordable option
– Versatile in terms of decor
Cons of Stainless Steel Sink:
– Can be noisy if sound-absorbing pads aren't installed
– May scratch or dent
– Watermarks and fingerprints can be quite noticeable
3. Enameled Cast Iron Sink for a Perennial Kitchen Favorite
Enameled cast iron should earn a spot near the top of your short-list if you want to add a vintage flair to your kitchen. Still, it's not just for retro throwback kitchens anymore. These days, iron alloy sinks coated with enamel are available in a wide range of colors and styles to play well with almost any overall design.The broad price range of enameled cast iron means it can suit a variety of budgets. In most cases, a cast iron sink will cost somewhere between $300 and $900.
Pros of an Enameled Cast Iron Sink:
– Can easily last a lifetime, making cast iron a solid investment
– Seamlessly pairs form with function as a beautiful option which doesn't require a sacrifice in terms of durability.
Cons of an Enameled Cast Iron Sink:
– A cast iron sink is very heavy, and may require cabinetry modifications
– Due to weight and difficulty of handling, installation can be more involved for an enameled cast iron sink.
4. Get Classy with a Durable Composite Granite Sink
When you want the look of granite but aren't wild about the price point, a composite granite kitchen sink may be your best choice. Offering exceptional durability, composite granite is a man-made material capable of mimicking the look of granite beautifully, since the material does contain a substantial amount of genuine granite stone. The price point of a composite granite sink lies somewhere along the middle of the spectrum. This makes it ideal for kitchen projects with a moderate budget, since typical costs range between $250 and $550.
Pros of a Composite Granite Sink:
– Capable of withstanding exposure to household acids with no affect
– Resistant to chipping and scratching
– More affordable than many other options
– Impressive heat resistance
– Looks and feels like natural stone
Cons of a Composite Granite Sink:
– Porous materials can be susceptible to certain types of stains
– Only available in matte finishes
– Requires more daily maintenance than other kitchen sink materials
5. Durability and Style with a Fireclay Sink
Fireclay is one of the least known kitchen sink materials. It offers solid character, ideal for people who love farmhouse style sinks. If you're in the market for a heavy, practically indestructible kitchen sink, fireclay fits the bill. Made of clay fired at temperatures of over 1,800F, fireclay kitchen sinks are then coated with a special glaze for even more durability.You should look to spend anywhere from $450 to $1,000 on your new fireclay kitchen sink.
Pros of a Fireclay Sink:
– The ideal style choice for farmhouse kitchens
– Will not react to acids
– Won't chip, scratch or stain
Cons of a Fireclay Sink:
– Excessive weight of the material may require special cabinet support and construction
– Faucet options may be limited to wall-mounted or counter-mounted choices
6. A Quartz Sink for Continuity
Have you decided on quartz countertops for your kitchen? If so, and you're interested in creating continuity with your kitchen sink, a quartz option might be your best bet. On the higher end of the price spectrum, a quartz kitchen sink will usually cost between $800 and $1,200 installed.
Pros of a Quartz Sink:
– Matched sinks and countertops create a seamless look throughout the kitchen
– Lighter quartz sinks with patterns will provide natural camouflage for scratches and nicks
Cons of a Quartz Sink:
– Dark colors with a solid finish will make signs of wear more apparent
7. Keep Counters Flowing with a Solid Surface Sink
When you want the same continuous look offered by quartz or natural stone but aren't wild about those materials, solid surface countertops and sinks are another option. The cost of solid state countertops usually starts at around $50 per square foot installed, with increases in pricing to fabricate and install a matching sink.
Pros of a Solid Surface Sink:
– Seamless construction makes solid state sinks easy to clean
Cons of a Solid Surface Sink:
– Durability varies depending upon color and style
– May show scratches easily
8. A Copper Sink for Character and Visual Interest
One of the higher-end kitchen sink materials on our list is copper. When you want a kitchen sink capable of standing out from the crowd while providing superior visual interest in the space, copper just might be the way to go. This living surface will develop a patina and colors will evolve over time, providing unparalleled character. Depending on your specifications, copper kitchen sinks can run anywhere from $500 up to $1,200. Prices increase with heavier gauges and added customization.
Pros of a Copper Sink:
– Ease of shaping makes copper a versatile option in terms of style and fabrication
– Copper is naturally resistant to microbial growth, making it ideal as an antibacterial surface for kitchens
Cons of a Copper Sink:
– Durability will depend on material thickness; cheaper, thinner sinks will dent or be scratched more easily than thicker options
– Acids, cleaning chemicals and heat will affect patina
– Will require treatment on a regular basis to prevent patina development
9. Classic and Timeless Porcelain / Ceramic Sink
Similar to enameled cast iron, porcelain kitchen sinks are coated after fabrication with a baked-on porcelain finish. This can provide a classic look to any kitchen, as porcelain has been used in sink and bathtub applications for more than a century. Another kitchen sink option spans the price spectrum, you can expect to pay as little as $250 for a porcelain sink, or as much as $2,000.
IKEA DOMSJO Farmhouse Sink is a great example of inexpensive (~ $315 US), yet beautiful and very practical ceramic sink that can be installed in most kitchen cabinets (even non-IKEA cabinets) and make your kitchen very unique.

This is a true example of quality on the budget – something you cannot say about many other IKEA products!
Pros of a Porcelain Sink:
– Classic styling makes porcelain an ideal fit in farmhouse, rustic and country kitchens
– Thermal properties allow hot water collected inside a porcelain sink to stay hot longer, which can be a plus for washing dishes
Cons of a Porcelain Sink:
– Like other heavy kitchen sink materials, porcelain will often require extra stabilization of base cabinetry to accommodate the weight
– Porcelain is somewhat susceptible to scratches, which can lead to rusting of the underlying metal
– Chipping is a concern if objects are dropped from significant height onto a porcelain surface
In the end, choosing the right kitchen sink material for your space means balancing a number of factors. You should look for an option which suits your décor, needs and budget, tying together your personal space. Remember, there's no one-size-fits-all option; your kitchen, and the right sink for the room, is as unique as you are.
Related Kitchen Remodel Articles:
Kitchen Remodeling Ideas – get inspired with these unique kitchen designs and styles and start remodeling!
Remodeling Costs Guide for 2017 – if kitchen is not the only project on your plate, check out our complete prices guide to different renovation, remodeling and construction projects around the house.
Wood and Marble Kitchen Island – can these two materials play nice together? You be the judge.
Published/updated on: May 8, 2015