If you want to re-invent the exterior of your house, wood siding is one material that will turn heads for many years to come.
Here is an overview of the 7 most popular wood siding types, how much they cost, and which manufacturers offer the best products.
Prices
Low End
Mid Range
High End
Materials
$5262
$6048
$7681
Total Cost
$12069
$13872
$17617
See Costs in Your Area!
Start Here - Enter your zip
This beautiful siding is highly versatile, offering a wide range of profiles, from rustic shakes, and traditional planks, to ultra modern architectural panels. Wood siding can also be stained and painted in a wide range of colors, to create a truly custom look for your house.
Also, you can use our Siding Calculator to get an instant price estimate on your siding project, using materials of your choice.
Click to learn about each siding type:
1. Traditional Lap Siding
2. Shingles and Shakes Siding
3. Vertical Wood Siding (Board and Batten)
4. Channel Rustic Siding
5. Log Wood Siding
6. Tongue and Groove Siding
7. Decorative Shingle Siding
Get started on your project by requesting free estimates from your local siding pros.
Average Siding Costs:

See costs in your area Start Here - Enter Your Zip Code
1. Traditional Wood Lap Siding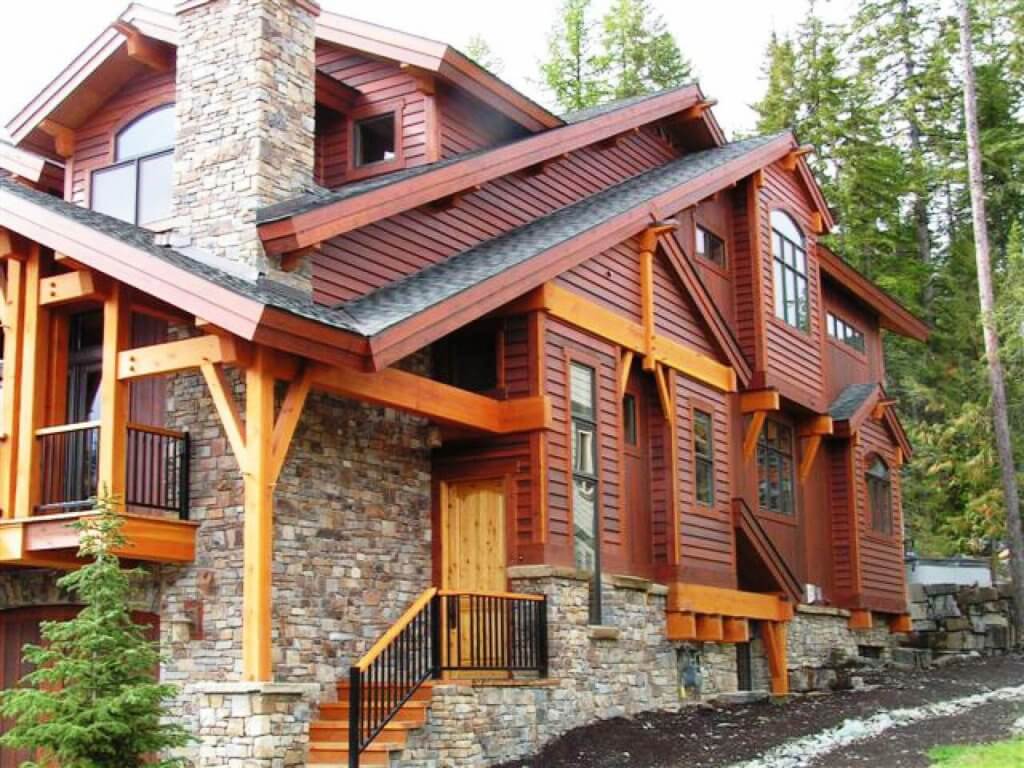 The classic look of horizontal or Dutch lap wood siding has been gracing the exteriors of homes across the US for many decades. You can cover your entire home with lap siding, or use it in combination with other types of siding to achieve a more unique and decorative look. Lap siding fits well with pretty much any home style, shape and size. In fact, this is why it is the most popular style of siding. It is available in a number of other quality siding materials in addition to real wood.
Material Cost: $1.99-3.00 per square foot
Where To Buy Cedar Lap Siding?
If you are interested in installing natural cedar wood siding, you can get the best deals on BuildDirect.com. Unfortunately, there will not be many options in terms of sizing or wood grade, but you can save up to 20-30% off compared to other suppliers. They sell both Red and Eastern White Cedar wood lap siding.
2. Real Cedar
For greater variety in terms of grades and sizes consider RealCedar, which specializes in outdoor and indoor cedar building products.
2. Shingles and Shakes Wood Siding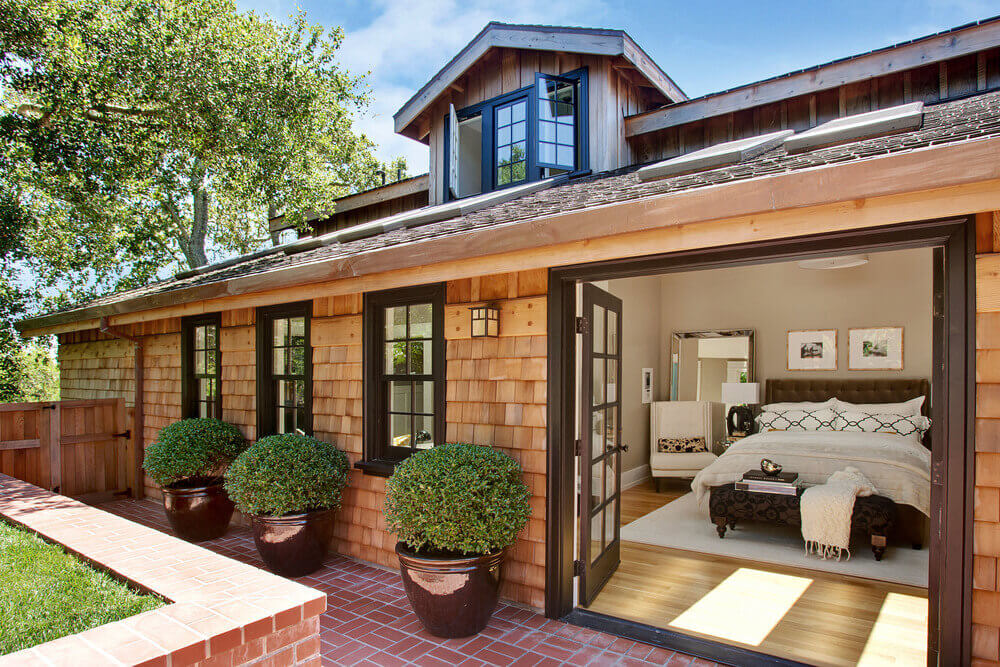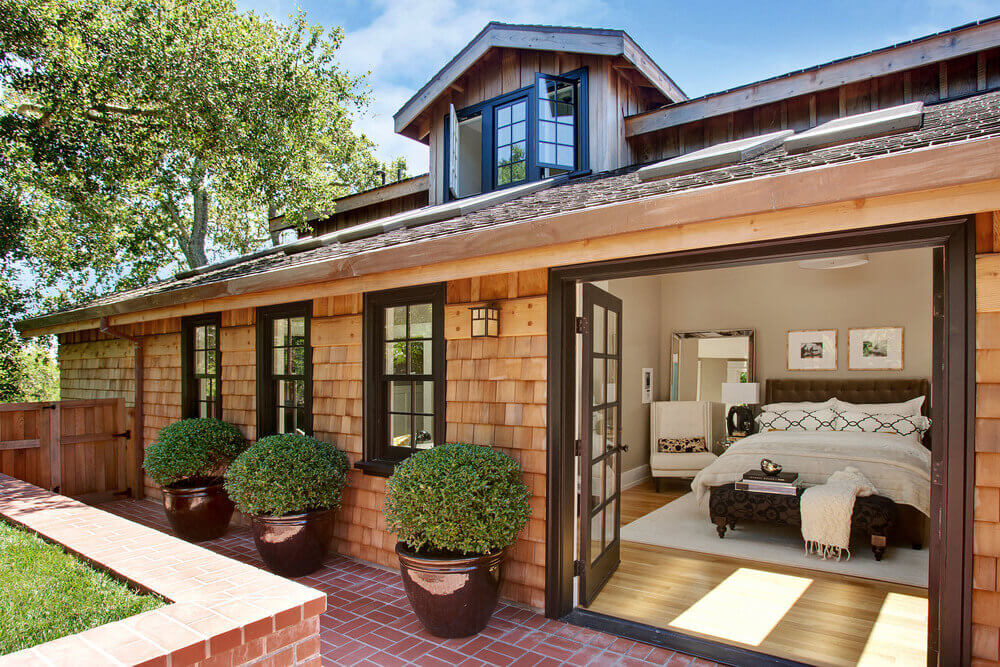 When your home design calls for a more rustic look, wood shingles or shakes are the ideal choice. Wood shingles can give your home a truly custom look, because they come is such great variety of shapes, sizes and thicknesses. Popular edges are either straight or staggered. You can use wood shingles to either cover your entire home, or only portions, to add more visual interest to an otherwise bland siding design.
Keep in mind that if you install natural cedar shingles or shakes you will have greater risk of blow off, rot, mold, insect and moisture infiltration. Real wood siding is also more difficult, time consuming and costly to maintain and replace. To avoid this hassle, you can get the look of wood shakes in a number of synthetic materials, such as vinyl and fiber cement.
However, you should keep in mind that the gorgeous silver grey shades of aged unpainted cedar are not possible to replicate using synthetic materials. So if this is the look you ultimately want for your house, you need to install real cedar shakes.
Material Cost: $2-5/sq.ft
Depending on the shake size, thickness and style, prices may vary greatly. Overall, shingle and shake siding is 15-30% more expensive than other types of wood siding. This is especially true, when it comes to hand cut, natural wood shakes. However, you get what you pay for, as this is a truly one of a kind look, that cannot be replicated.
Where To Get Natural Wood Shingle Siding?
1. Dow's Eastern White Cedar Shingles
For high quality natural cedar wood shingles or shakes take a look at the products offered by Dow's Eastern White Cedar Shingles. There are two wood grade options: almost clear and knotty. You can also order custom sizes of length up to 24" long, and any thickness desired. Dow's also offers an authentic hand-split shingle, which can be custom made in any size and thickness according to your specifications.
Average Siding Costs:

See costs in your area Start Here - Enter Your Zip Code
If you are looking for more color or stain options in your cedar shingle siding, you can find a great product selection at Cedar Shingles Direct. You can choose from PreFinished Solid Color White Cedar Shingles (virtually any custom color can be matched), PreFinished Semi-transparent Western Red Cedar Shingles. There are 18 Semi-transparent colors to choose from, and a staggering 123 solid colors to consider!
3. Vertical Wood Siding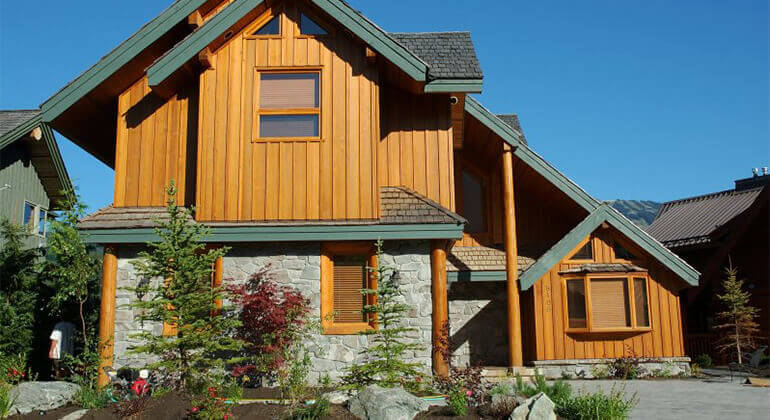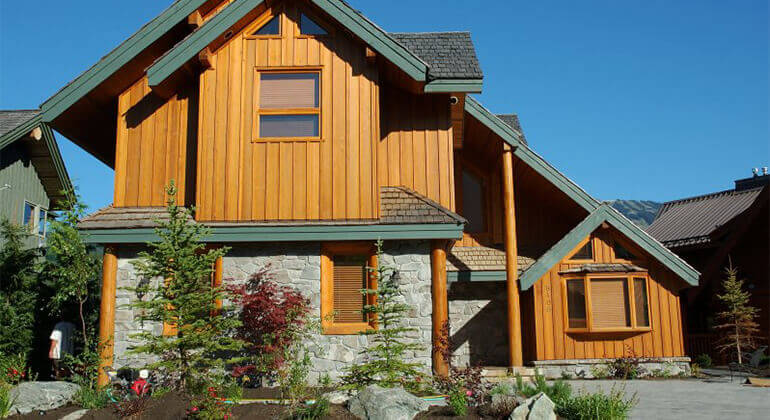 Vertical plank or board and batten wood siding offers a rustic modern look, which has been gaining popularity in recent years. Initially popular along the West Coast, today houses clad with board and batten siding can be seen everywhere across the US.
The board and batten profile has a lot of dimension. It looks stunning on beach front, country, and barn style houses. At the same time, the crisp and clean vertical lines add a flair of sophisticated simplicity to contemporary style homes as well. You can pair a section of board and batten siding with a horizontal lap panels for a uniquely personal look. Typically, homeowners play around with the size of the battens to achieve the look they want. Lastly, vertical panels also made a great accent on the second floor of a house.
Material cost:$1.99-3/sq.ft
By and large, material costs for board and batten siding are similar to horizontal lap boards. If you want custom sizes for boards and/or battens your cost can increase up to 50%
Where To Purchase Vertical Wood Siding?
One of the biggest advantages of using real wood for this type of siding, is that it can be custom cut in to any size.
If you are after natural cedar board and batten siding, consider Cedar Channel Rustic
Vertical Siding Boards from Cedar Shingles Direct. In this siding style, the boards partially overlap one-another,creating a channel between each board. Aesthetically, these channels produce very attractive shadow lines. More importantly, they also enable the siding to withstand a diverse range of tough weather conditions. In addition to vertical panels, channel siding can also be installed horizontally, or diagonally, which greatly expands custom design options.
In regions that experience seasonal high moisture and humidity fluctuations, these boards are able to have breathing room and adjust accordingly, ensuring their longevity and durability. The channel cedar boards are available in clear and knotty grades. Many people prefer the knotty grade, because it gives siding a very rustic character. Lastly, you will have over 100 stain options to choose from to create a head-turning finish.
2. Real Cedar
Real Cedar Co specializes if natural wood siding. It provides a wide range of board and batten options made from Western Red Cedar. They boast a large selection of boards and battens, as well as all wood grade levels to choose from. This selection is great, because it fits a variety of budgets and project needs.
4. Channel Rustic Siding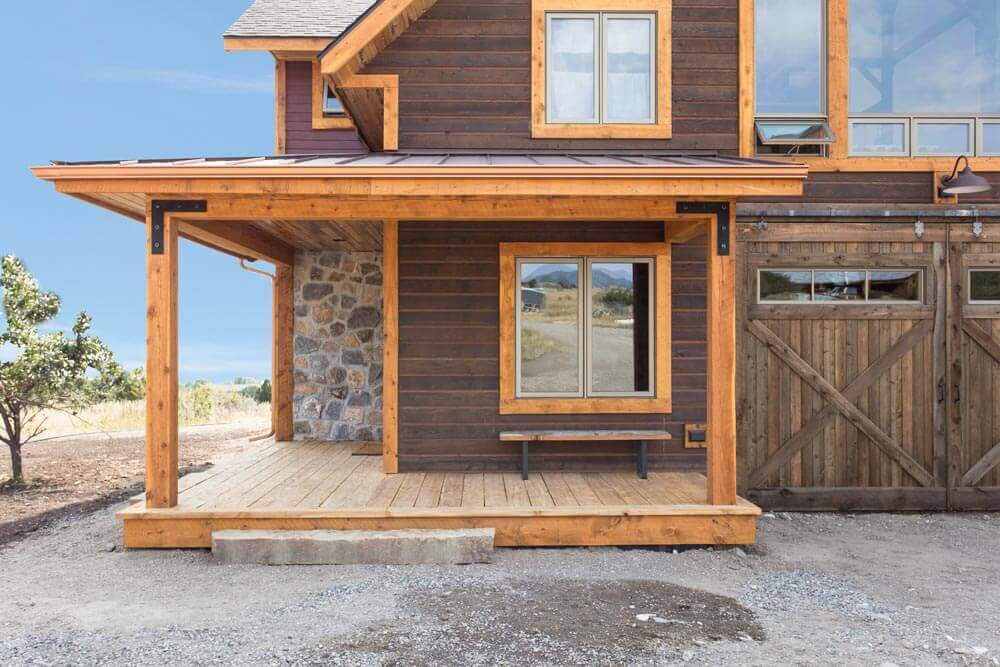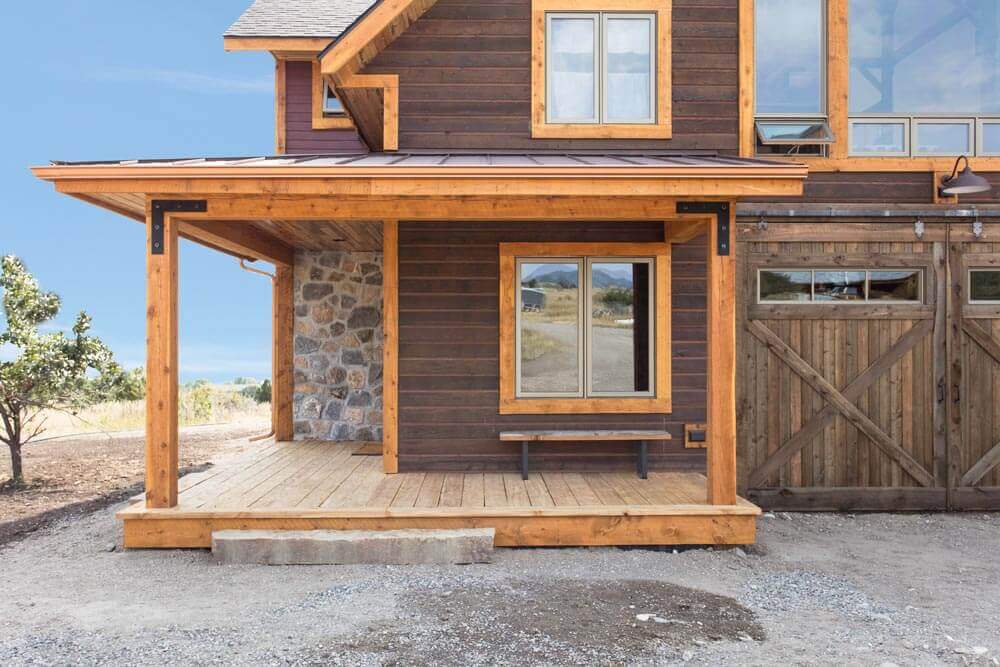 Homeowners who love a more rustic look and feel, often for Channel Rustic siding; also known as channel lap siding. This unique profile is characterized by a rough saw texture. Channel Rustic profile is typically characterized by having an 1/2" overlap and a 1" to 1 1/4" inch "reveal". Thus, a channel effect is created between the boards.
This siding can be made from a variety of wood species, including: pine, cypress and cedar. It offers a wide range of design possibilities, as it can be installed both vertically and horizontally. There are also multiple board sizes available, ranging from 6 to 10 feet long. Another great benefit is that it is very easy to install and there is minimal waste. Overall, channel rustic siding offers good weather protection in a wide range of climates.
Material Cost: $2.10-2.90 per square foot.
Where To Get Channel Rustic Siding
The owner of Ghent Wood Products, Emil Melts, started his first lumber company all the way back in 1946. Currently, the company annually manufactures over 2 million board feet of soft woods, pine and hemlock. You will find both standard and custom size pine and hemlock boards and beams, finished lumber including S4S in various sizes. Custom orders are also available, so you can order channel rustic siding in the size and finish you desire.
2. Twin Creeks
If you want your channel rustic siding to made of Red Cedar, Twin Creeks is the place to get it. It is available in a variety of lengths: 8′, 10', 12', 14', and 16′. There is only one grade: STK (Sound Tight Knot). Cedar is one of the best wood siding materials due to exceptional durability, low maintenance and natural beauty. While you can stain and paint cedar wood siding, it is not a requirement.
5. Log Siding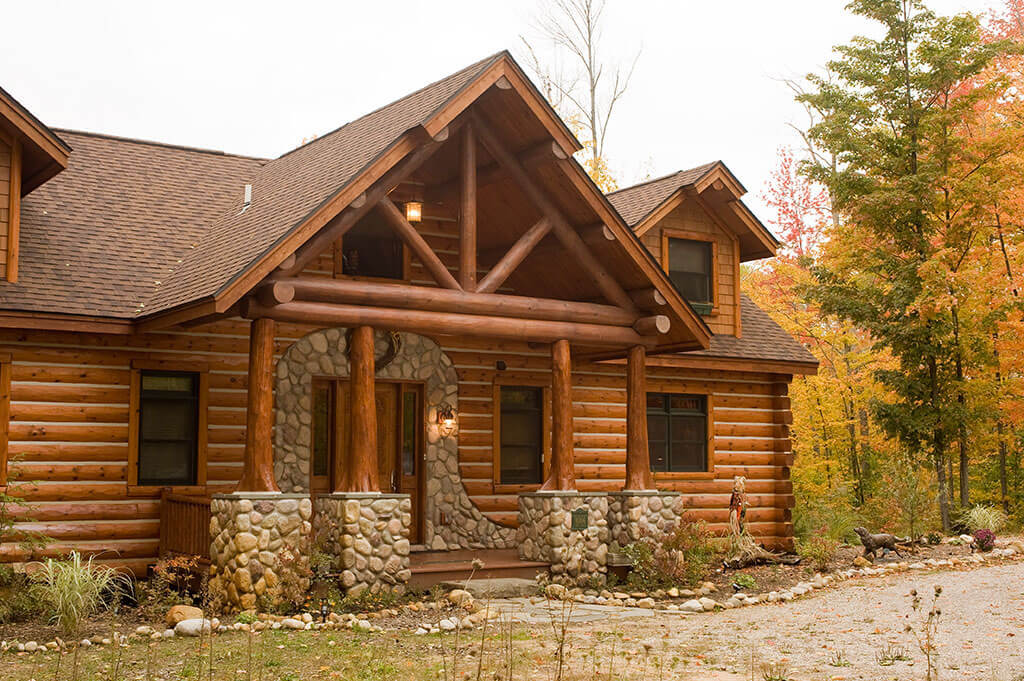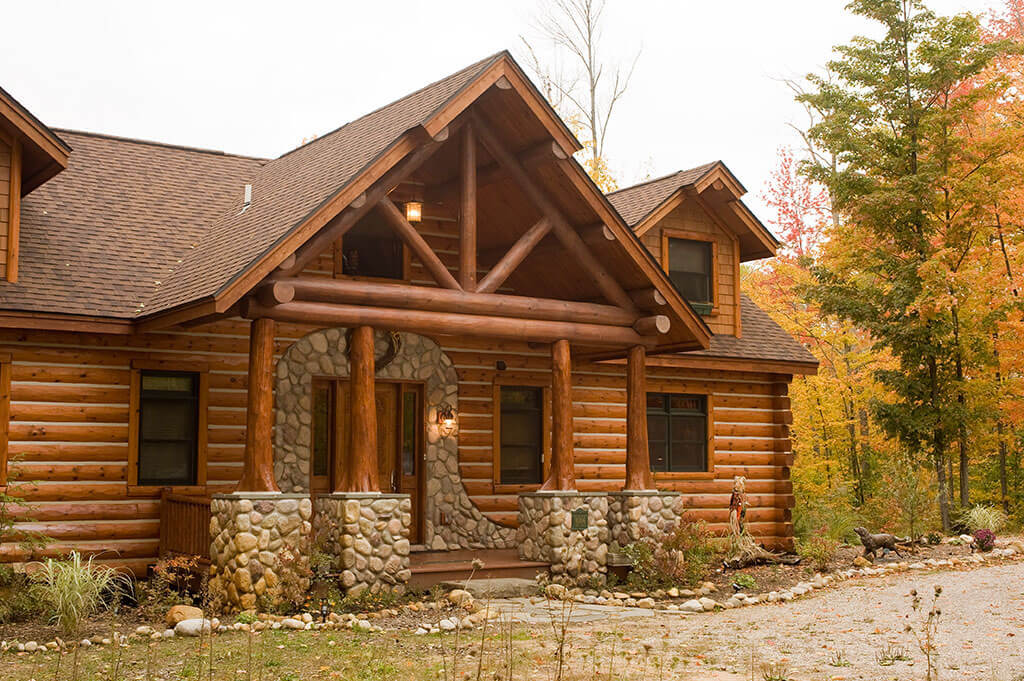 If you want to update the exterior of a cabin or another type of a rustic style home, log siding is a perfect fit. The natural beauty and charm of wood logs will look wonderful for many years to come. This siding type is traditionally made of real wood, but vinyl and concrete siding alternatives are also available.
Keep in mind that log wood siding will have the same high maintenance needs and costs as any other type of natural wood siding. However, it will also be more susceptible to rot, moisture infiltration and mold.
Typically logs are left unpainted, but need to be stained for extra protection against inclement weather, moisture and termites. However, if you take proper care of your log siding, it can last well over 100 years!
Material Costs
Log wood costs more than any other wood siding type. Prices vary greatly depend on the wood you select, with pine being about 50% cheaper than cedar. On average, expect to pay $2.25-4 per sq. ft for 2 inch thick pine log siding. 3 inch pine logs are $3.50-5 per sq.ft. 2 inch thick cedar log siding costs $3.50-6 per sq.ft. 3" inch cedar logs cost $5.50-8.5 per sq.ft.
Where To Buy Natural Log Siding?
This is a rather specialized material, so you will not find it in big box home improvement stores, such as Home Depot.
If you are looking for high quality logs, consider Buffalo Lumber Co. The company specializes in wood siding, offering great craftsmanship and high quality wood logs. They offer 2×8 Quarter Log siding, which enables you to integrate the look of a log home with conventional frame construction. The siding looks exactly like logs, but it actually requires 75% less wood to be manufactured. The logs are custom milled and finished based on your specific project specifications. You can choose from stained or primed pine or cedar log siding, which saves you time and money during installation. Also, factory applied stains and finishes are usually higher quality and will last longer than what you or a contractor would be able to do.
If you are looking for more options, consider log siding manufactured by the Woodworkers Shoppe. This company offers cedar, pine and barnwood log siding that is either tongue and grove, or end matched, so you have more design possibilities. Depending on your budget you can choose from three log siding sizes: 1. quarter log (budget option), 2. half-log and 3. premier log. Furthermore, you can choose from smooth, finished, unfinished, and hand hewn (hand-scraped look) finish options.
6. Tongue and Groove Siding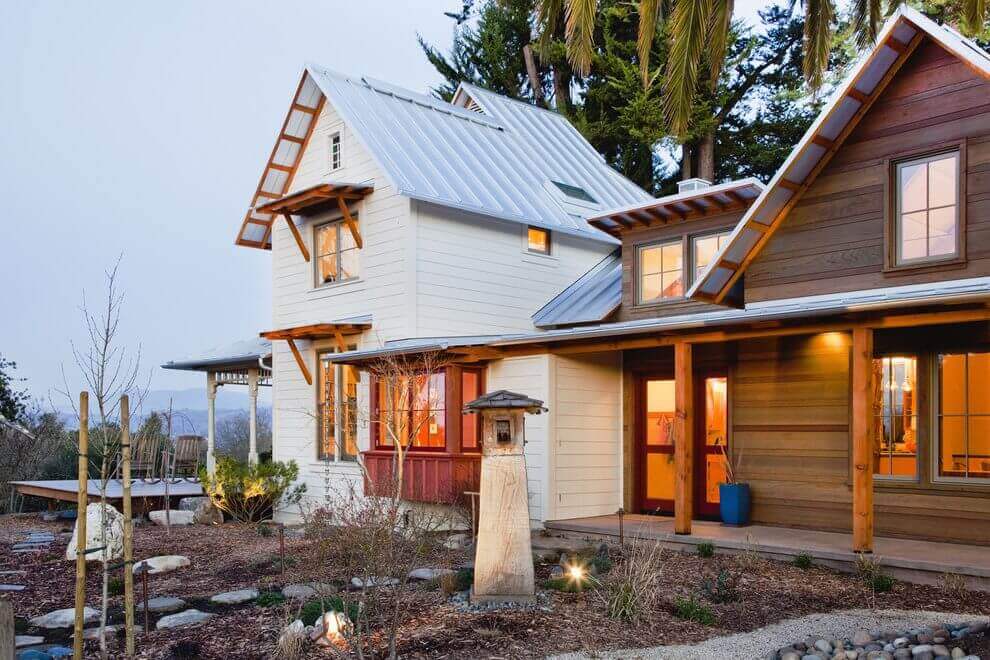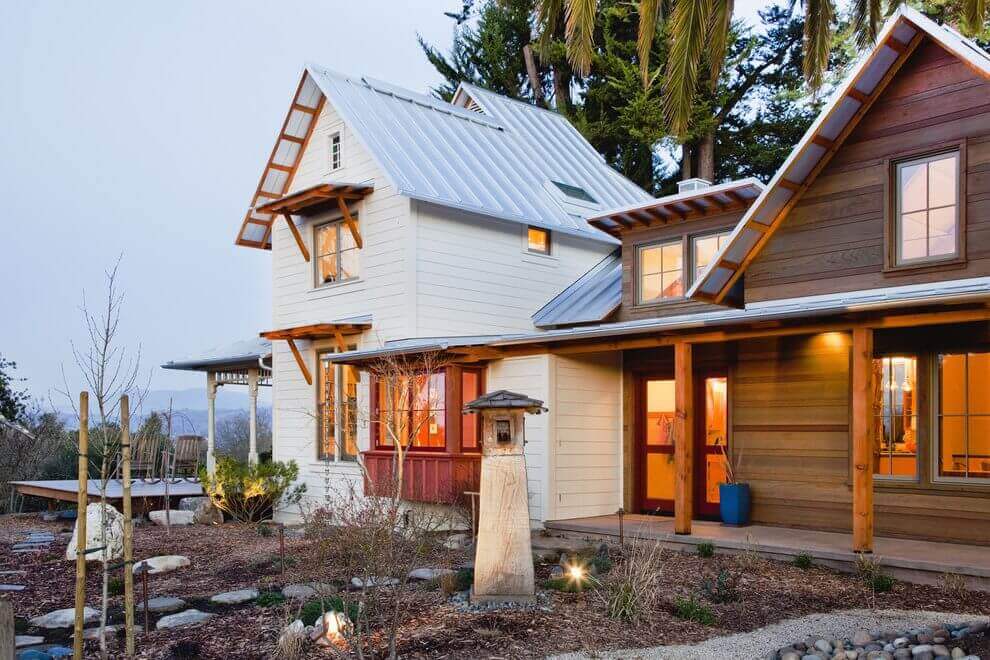 Tongue and groove siding style is characterized by the boards fitting together, edge to edge, creating a single flat surface. This look is ideal for contemporary homes, but also looks great as an accent, combined with other more traditional siding styles.
A huge advantage of tongue and groove siding is that it offers many customization options, based on the wide array of joints, or how they boards fit together. Each type of joint produces unique shadow lines and a distinctive look. Currently, V-groove joint profile is the most popular. However, there are many others to choose from. Traditionally, this siding is installed horizontally, but it can just as easily be installed vertically or diagonally.
Real wood tongue and groove siding is manufactured either in clear or knotty grades. Clear wood boards create a more formal, high-end look, while knotty grades are in demand for their more casual and rustic curb appeal.
Material Cost: $2-16 per sq.ft.
Prices for tongue and groove wood siding can vary greatly, depending on the material you use. Pine boards are the cheapest, but the least durable option, while exotic wood species are most expensive and long lasting. Fiber cement and engineered wood tongue and groove boards fall somewhere in the middle, depending on the manufacturer.
Where To Get Wood Tongue and Groove Siding?
When it comes to this wood siding type, you have many options to consider. There are a number of companies that specialize in tongue groove siding made from real wood, offering a range of good quality panels:
1. East Tennessee Building Supply
If you are on a very tight budget, your best bet would be tongue and groove wood panels from East Tennessee Building Supply. You can choose from a number of different wood species, including: Eastern White Pine, Ponderosa Pine, Spruce, Cypress, Western and Eastern Red Cedar. Their prices on pine boards are as low as $1.35/sq.ft. Moreover, all their products are reversible, which gives you additional design options.
If you are looking for a higher quality wood for a premium siding remodel, Buffalo Lumber offers beautifully crafted tongue and groove wood siding in a cedar, pine, and redwood. You can select from 4 different joint profiles. However, they can also mill and size any pattern you want.
7. Decorative Wood Siding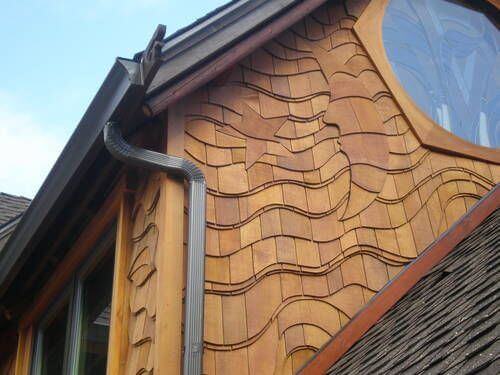 If you are looking to add a unique flare to your exterior home design, decorative wood shingles will work great. They are often seen on sections of Victorian or Tudor style homes. However, many other traditional and modern architectural styles also make great use of decorative wood shingles. They are often manufactured as round, half, round, hexagon, and other custom shapes.
Also, you can use decorative shingles on gable ends, dormers, around windows and entry ways, as well as other architectural features of your home. In addition to natural wood shingles, you can find decorative wood shingle replicas in fiber cement, and vinyl.
Material Cost: $5-9/sq.ft.
Where To Get Decorative Wood Siding?
If you want to create a really unique wood siding accent on one or more parts of your house, consider decorative cedar shingles from Vintage Woodworks. This company offers a beautiful array of 8 shingle patterns: arrow, dimaond, fishscale, half-cove, hexagon, round, octagon and square. You can either order a bundle of a particular pattern, or custom order individual cut shingles in the patterns that you want.
If you are looking for even more head-turning shingle design options, you will love the variety produced by a small New England Company, Fancy Shingles. They have 16 gorgeous patterns of decorative cedar shingles to choose from, and are also happy to custom make any other design you have in mind. Moreover, these shingles come in all grades of Eastern White or Western Red Cedar.
Average Siding Costs:

See costs in your area Start Here - Enter Your Zip Code
Published/updated on: November 22, 2017