Across the US, homeowners report that bathroom remodel cost is around $8,000-15,000 for an 8×10 space, and depends on the quality of materials you use.
A complete renovation involves replacing old fixtures (sink, faucet, shower, tub), installing new countertops, vanity, flooring, wall tile or paint, and new lighting.
Average Bathroom Remodel Costs:

See costs in your areaStart Here - Enter Your Zip Code
Updating a bathroom can be the best investment of your remodeling dollars in terms of both your personal enjoyment and resale value.
Lets take a look at the cost of materials for a standard size bathroom. We will exclude luxury items, as these largely depend on personal taste, as well as where you buy them.
Average Cost Of A Bathroom Remodel
Here is an estimate to fully update a typical 5×8 feet full bathroom, with a standard bathtub, toilet and sink. We go through three project types:
1) Higher End (not luxury by any means) – typical (middle class) single family house.
2) Middle of the Road – first home for a young family on a budget / high end rental property.
3) Low End – rental property.
Prices are for two different renovation options:
1. Tile on walls
2. Painted walls with bathtub liner
Of course, there are many more combinations that you can do, but for the purpose of simplicity, we will stick to these two.
Also, note that all price quotes are sourced from Home Depot in MA, so they will be very close to those that you would pay at this store in NH, TX or OR, or almost anywhere in US.
Keep in mind, that since there are so many suppliers and brands, prices for the items we list can vary greatly. That's why we chose the big home improvement store (Lowe's too) as our price source.
One last thing – this is a remodeling scenario – not new construction, so all plumbing and electrical connections are already in place, and will not be calculated! Tools, and labor required for installation are not included.
| Item | Low | Middle | High |
| --- | --- | --- | --- |
| TOTALS: | $1,013.00 | $2,895.00 | $5,142.00 |
| Bathtub | $119.00 | $209.00 | $379.00 |
| Bathtub Drain | $20.00 | $56.00 | $85.00 |
| Bathtub Liner / Tile | $140.00 | $370.00 | $650.00 |
| Shower Assembly | $45.00 | $136.00 | $229.00 |
| Shower Door / Curtain | $35.00 | $199.00 | $391.00 |
| Sink * | $55.00 | $250.00 | $550.00 |
| Sink Plumbing | $35.00 | $55.00 | $70.00 |
| Faucet | $30.00 | $88.00 | $160.00 |
| Mirror / Cabinet | $30.00 | $59.00 | $89.00 |
| Toilet ** | $98.00 | $228.00 | $368.00 |
| Towel Hangers | $19.00 | $49.00 | $89.00 |
| Tile Floor | $140.00 | $300.00 | $450.00 |
| Bathroom Light | $27.00 | $76.00 | $142.00 |
| Miscellaneous Items *** | $150.00 | $250.00 | $400.00 |
| Walls (Paint / Tile) | $70.00 | $570.00 | $1090.00 |
If you need to hire a professional contractor, you can request free estimates from local pros. This will allow you to find the best deal, instead of signing the contract with the first guy who gives you a quote.
Cost Of A Budget vs Upscale Renovation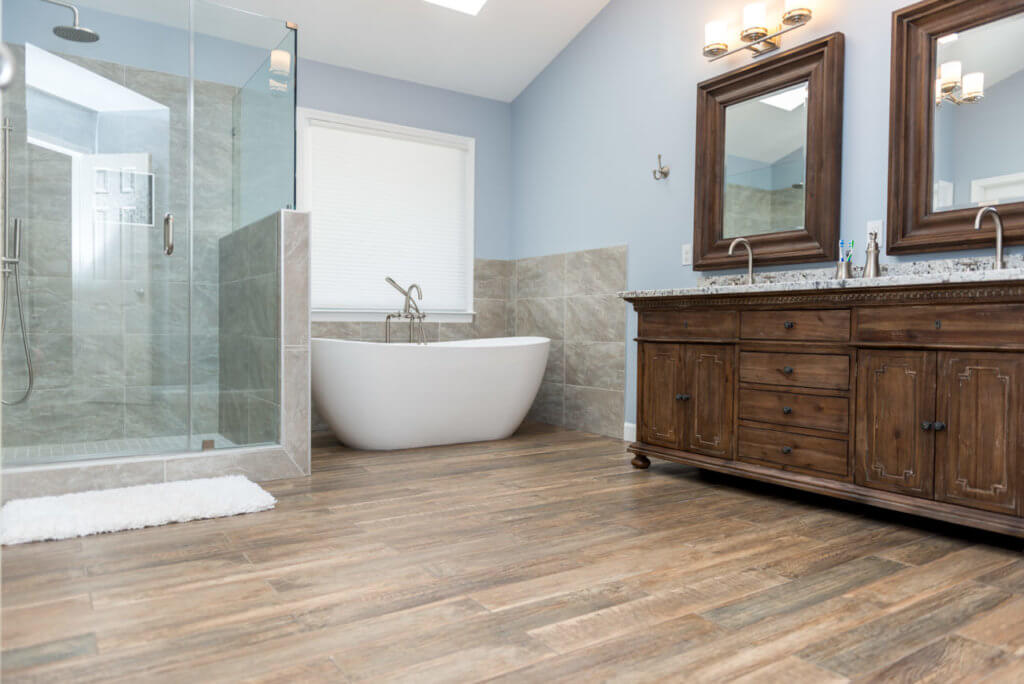 As you can see, there are three quality tiers in the table above. Here is a more detailed break down of the materials that go into each renovation type.
1. Sink: a pedestal sink is used for a low-end remodel. A vanity with a sink top is used for a Mid and High-end job.
2. Toilet: the mid-range toilet is good enough for the "high end". We just included a more expensive model for those who feel that the more expensive an item is, the better is the quality (not always true).
3. Wall tile: this is for Mid-range and High-end remodels only. Low-end option uses painted walls and bathtub liner. For Mid-range walls, we used $4 per sq.ft. tile with minimal use of "trim" tiles. For High-end, we used $9 per sq.ft. tiles, also with minimal use of trim tiles. Moderate and heavy use of trim pieces can easily add $300-500 to the total price.
4. Misc items: these are the small things that you can find around the bathroom, but which are not required. An example is a built – in soap holder, and toothbrush holder, etc.
As you can see, there is about a $2,000 difference between each "level". In most cases however, the mid -range is a pretty good choice for most people and offers adequate value. Some items can be swapped back and forth, but these are the real world prices that you will buy at a local big-box home improvement store.
How To Get The Best Value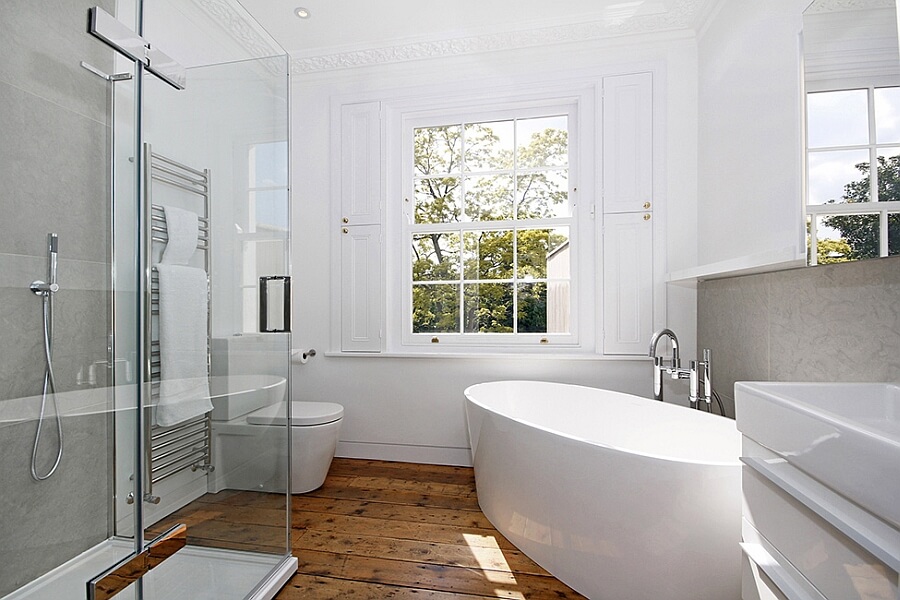 If you are remodeling a bathroom in preparation for selling your house, you should know that the average return on investment on this project is about 60-65% This should help you spend your budget on the updates that make the best impression on prospective buyers.
Don't waste money and time on making expensive improvements or purchasing over the top items that may only impress a few individuals. Most people can't tell a difference between a sink that costs $350 vs $1,000, and the same is true for most other bathroom fixtures.
Here are the updates that will give you the most bang for your buck:
1. Ample lights
Most people's bathroom routine's (especially women's) require good lighting at all times of the day. This is especially important, if your bathroom has no source of natural light, such as window or skylight. Its best to put a variety of different light sources, such as main overhead light, one above the sink/vanity, one in the shower/tub, etc.
2. Adequate shelving
Make sure your bathroom has some storage solution, whether floating shelves, cabinets, built-in shelving, etc. This will make the space functional, which is a big requirement for most people.
3. Don't mix old and new fixtures
If you are replacing a very old, ugly fixture, it is best to replace all the others as well (unless they are relatively new). This way you can get items that match, and have a "designer" high-end appeal. Otherwise, the space will look dated, with some fixtures that are sparkling new and others that are in an ok condition.
4. New mirror
If you can't afford to spend a lot of money on major updates, putting in a large mirror or even two on the walls will do the trick. People love mirrors, both for the looks and functionality. They also brighten up the space and can make it seem bigger.
5. Accent tile
Tile is one of the most noticeable and attractive features in a bathroom. Putting tile on all walls and flooring can become very expensive, so instead you can just do an accent wall. It can be installed either in the shower or a as a backsplash behind the vanity.
Average Bathroom Remodel Costs:

See costs in your areaStart Here - Enter Your Zip Code