Calculate Deck Building Prices
This year, the cost to build a new deck averages
$5,000-8,500
, depending on complexity of design, size and materials you use.
This Deck Building Guide will cover everything you need to know to plan a perfect deck for your home:
Average deck cost
Labor costs for construction
Most popular deck designs
Pricing for deck materials
Which is the best deck: composite vs wood
Additional building material costs
Deck accessories, luxury features and prices
Should you invest into installing a deck?
How much does it cost to build a deck?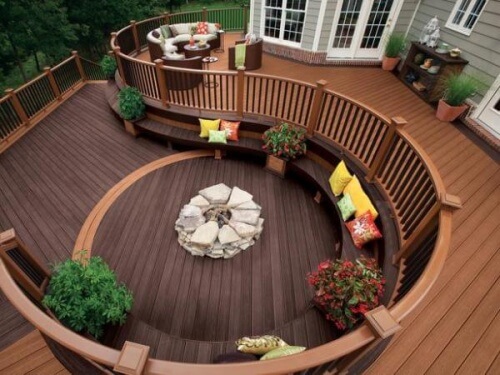 Homeowners across the US, report spending $4,500-8,000 to build a deck.
Deck cost per square foot is about $20-40 It is important to note that the total cost may vary greatly depending on a number of factors, such as complexity of design, quality of materials and accessories, contractor labor and your location.
Here is a quick reference chart to give you a sense of how much you can expect to spend on deck construction. Keep in mind that these prices are for a deck of basic design (materials and labor ONLY).
Any additional materials, sealants, stains, etc. are not included. Moreover, there will also be additional expenses for building permits and blueprints, if you choose to custom design a deck.
| Deck Size | Average Price | Price Range (Low to High) |
| --- | --- | --- |
| | | |
| Less than 200 sq.ft. | $4,836 | $2,888 – $6,870 |
| Between 200 – 500 sq.ft. | $8,142 | $5,169 – $11,139 |
| More than 500 sq.ft. | $14,504 | $8,532 – $20,605 |
It is important to note that your location can have a major impact on the total price you will pay for an average size deck.
If you live in one of the cities on either East or West coast with a high cost of living (ex. New York), you can expect to pay as much as $14,000. The same deck will cost you around $6,800 if you live in a city like Austin, Texas, and as little as $4,350 if you live in a town like Little Rock, Arkansas.
You can get free estimates for your project from local construction pros.
Labor cost to build a deck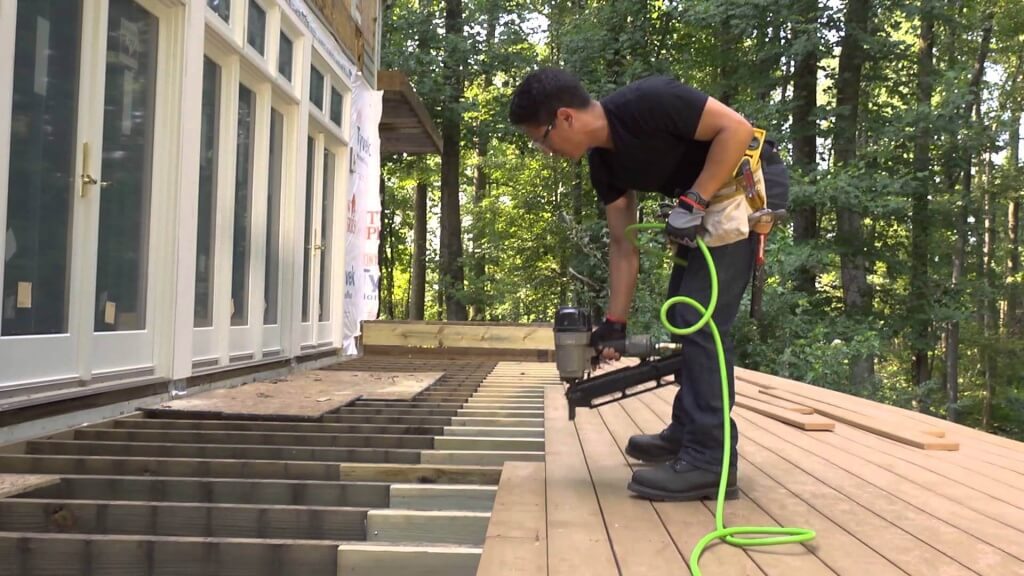 When it comes to pricing the cost of labor to construct a deck, complexity of design and functionality are key factors.
The average deck size is 10×12 feet (basic rectangular design), and you can expect to pay $35 per sq. ft. for construction. This price includes excavation and site preparation. However, if you want a different design, you can expect to pay a premium price for construction.
Note, that all deck building projects require leveling and insertion of fiber form tubes for the concrete footings.
Deck Design Options
There are four common deck designs to consider:
1. Platform Deck (cheapest option): this deck typically sits low on the ground, adjacent to the house. This location allows for easy and convenient access, and is fast and relatively easy to construct. With this design, it is important to ensure that all materials are treated for direct exposure to the ground to prevent rot and decay.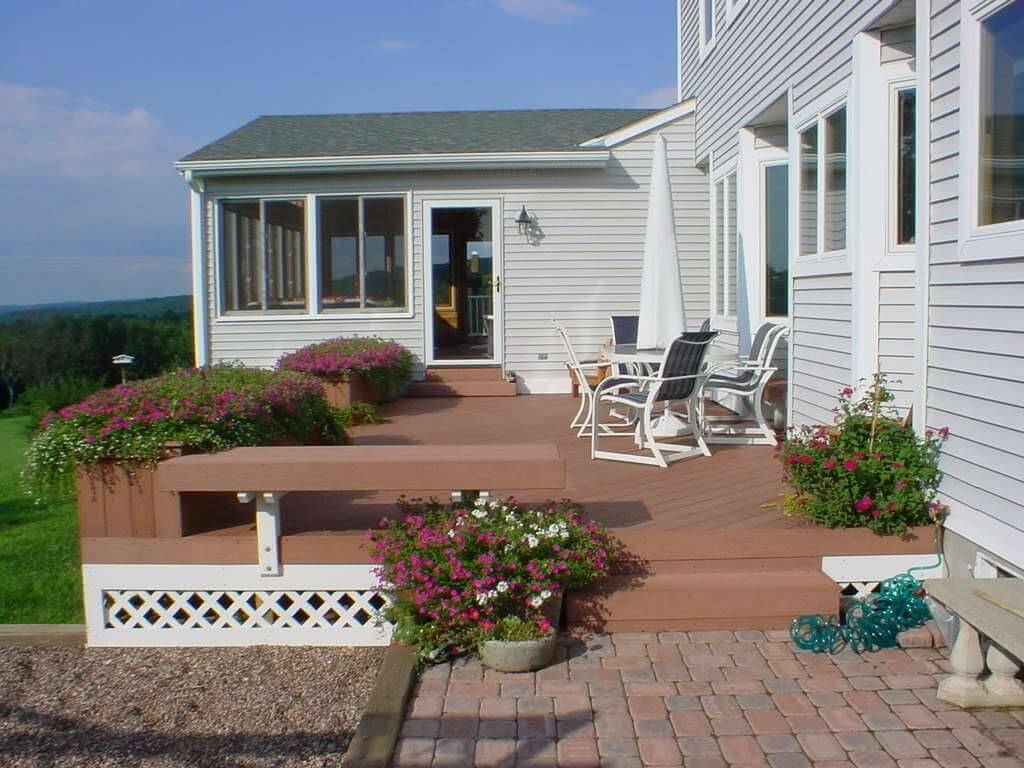 2. Tiered or Raised Deck (more expensive): this deck is also usually built adjacent to the house. It is ideal for a location with different ground heights, so it can conform to the ground's contours. This deck is more complex to build and needs to incorporate a number of safety features, including railings.
3. Two-Story Deck (very expensive): this deck works best for a location with an easy access to the second story of the house, while the bottom portion allows entry to the first floor. Because of the complexity of the structure and additional supports needed for safety, this type of deck can be very expensive to construct.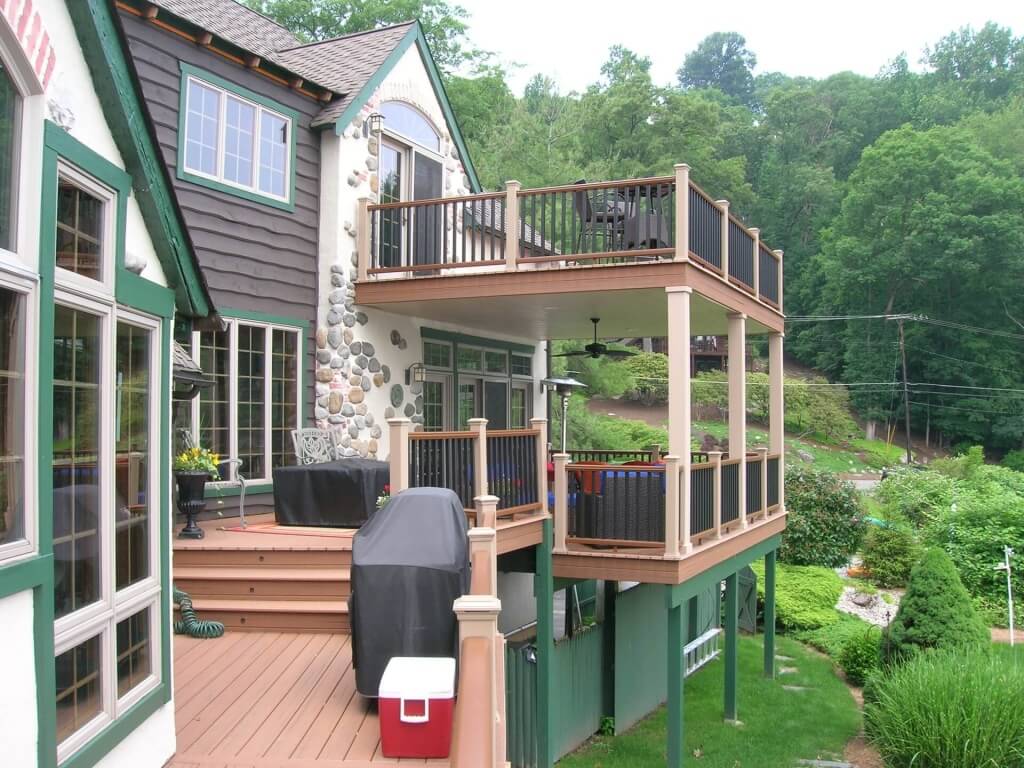 4. Free-standing (detached) Deck (cost varies based on complexity of design): this design is ideal, if your home does not have a natural location for an adjacent deck. Construction requires sufficient outdoor space, but it can include features, such as: multiple levels, storage units, gazebos, etc. For example, a free-standing deck with varying elevations, a hot tub and a porch, or pavilion can cost $50,000 to $60,000.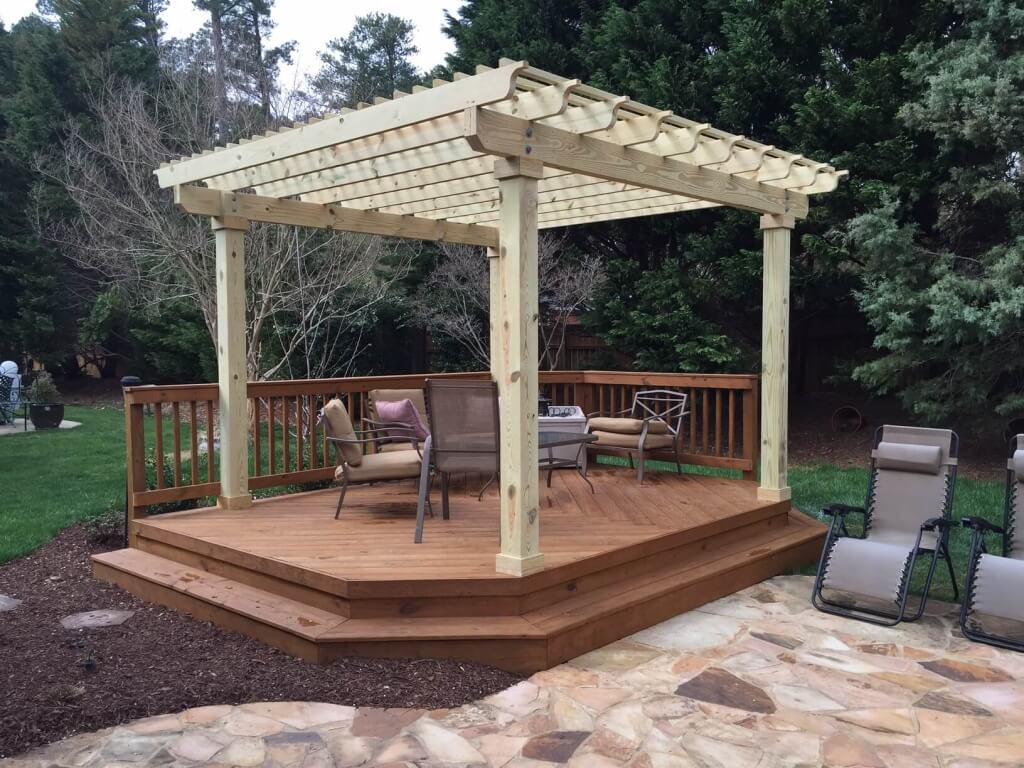 Cost Of Decking Materials
Here is a detailed price breakdown for different deck materials. Note, that these prices are for materials ONLY, and do not include installation and other extras. Also, keep in mind that the final cost of natural wood species will depend on the wood's grade and board thickness (thicker boards will cost more).
| DECKING MATERIAL | AVERAGE PRICE PER SQ.FT. |
| --- | --- |
| Composite Options | |
| Polyethylene | $7.82 |
| Polypropylene | $8.68 |
| PVC (hollow-core) | $7.50 |
| PVC (solid-core) | $9.48 |
| Natural Wood Options | |
| Pressure Treated Lumber (Pine) | $1.00 |
| Bamboo | $3-4 |
| Cedar | $3.75 |
| Redwood | $7.75 |
| Tigerwood | $20 |
| Ipe | $22.50 |
Best Deck Material
One of the biggest factors that impacts the total cost, longevity and durability of your deck is the material you choose. An average deck is made up of three parts: planks, framework and railings.
The two most popular deck material options are composites and natural wood (different species).
Composite Deck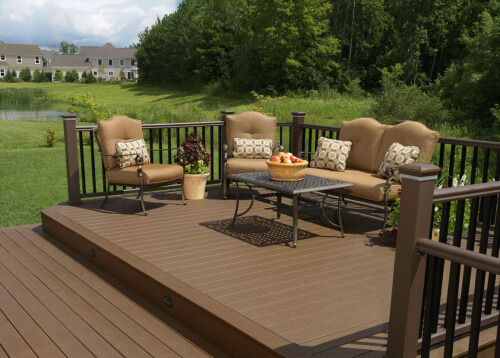 This virtually indestructible material is made from a blend of 30 to 50 percent recycled plastic with real wood fibers. Composite decks are growing in popularity because of superior durability and resistance to warping, rot, mold and UV rays. Materials are available in a variety of colors and some can be manufactured to replicate the look of natural wood.
Many can be installed with concealed fasteners, similar to dense hardwoods. Popular composite decking manufacturers include Trex, Timbertech, and Fiberon.


On the down side, these decks will release highly toxic chemicals in the event of a fire. If you select hollow-core decking, it is will be more prone to deterioration over time, than solid-core.
Lastly, if you live in a hot climate, composite materials may not be the best for comfort, as they tend to trap and emit heat when the ambient temperature is high.
Wood Decks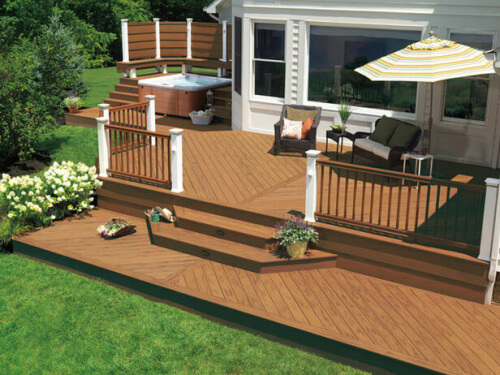 A wood deck is a classic option with a wide range of species, at different price points.
Budget species include Bamboo and Cedar. Popular species, which are average price, include Redwood and Douglas Fir.
Exotic species that are most expensive include Ipe, Tigerwood, Lacewood, and Cumaru. If you are on a very tight budget, you can consider building your deck out of Pressure Treated Wood(PT), most commonly Southern Yellow Pine.
On the downside, deck wood requires staining, weatherproofing, sealing and regular maintenance to maintain both their looks and durability. You need to factor in these additional costs into your budget.
Additionally, wood that is not properly treated is susceptible to rot and mold. You should be especially careful with Pressure Treated Wood. Since it is wood of the lowest quality, it will tend to warp, crack and split much faster than other types of wood.
Cost of additional materials
In addition to the material and labor costs we have already listed, you need to budget for other common materials required for successful construction of a safe and functional deck. Here is a quick rundown:
| Material | Average Cost |
| --- | --- |
| | |
| Concrete | $75 per cubic yard. Typically 1-2 cubic yards are required to build an average size deck. |
| Standard Stairs (labor and materials) | $15 -18 / sq. ft. |
| Safety Railings (including pressure-treated wood posts and balusters) (labor and materials) | $14 -16 / ln.ft. |
| Build a flat bench (labor and materials) | $20 – 25 / ln.ft. |
| Build a bench with back (labor and materials) | $34-37 / ln.ft. |
| Seal a wood deck for waterproofing (250 sq.ft.) | $300 – 500 |
| Stain a wood deck (250 sq.ft.) | $150 – 350 |
| Pressure Washer | $50 – 200 |
| Removal of an old deck | $1,000 – 3,000 |
Deck accessories and luxury features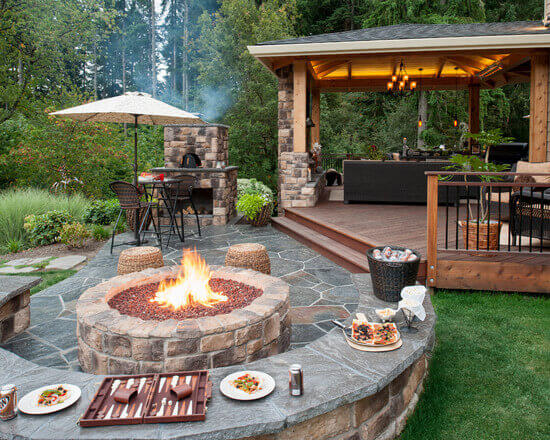 If you love to spend time outside with your family and friends, you may want to consider paying for additional deck accessories and features. These will make your deck a lot more fun to spend time on, both during day and night.
| Deck Accessory | Average Cost |
| --- | --- |
| | |
| Install electric outlet (requires licensed electrician) | $300-425 |
| Lighting | $175-460 |
| Gas line for barbeque | $300 |
| Built-in speakers | $250 |
| Pergola or Awning | $250-500 |
| Built-in seating and storage | $340-675 |
| Furniture | $200-500 |
| Misting System | $1,500-3,500 |
| | |
| Total | $3,065 – 6,610 |
Is A New Deck A Good Investment?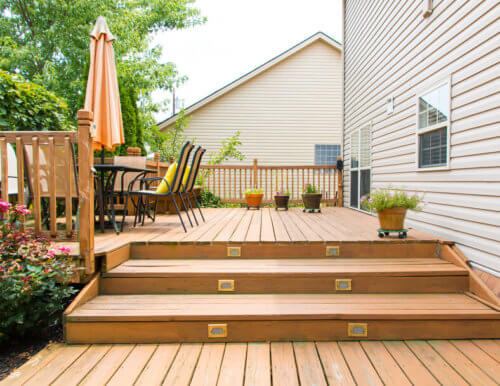 While offering all the benefits of expanded outdoor living space, a deck can actually increase your house value. On average, you can recoup about 70-80% of your investment into a high quality natural wood deck.
Despite the fact that there are other durable decking materials, real wood sill offers the best ROI. However, this figure largely depends on where you live, and how much time people in your area spend outdoors.
Most builders and realtors would advise against constructing a deck just to boost house value, as most homeowners view it as a nice extra, rather than a necessity. If you have an existing deck that is in poor condition and is not very user friendly, it is worth to remodel it. This type of update usually bodes well with prospective buyers.
However, if you do build a deck for your personal pleasure, you will likely get back a large chunk of the money you spent, if you decide to sell your home withing 3-5 years after completing this project.