If you are looking for a beautiful, budget friendly house siding option, vinyl is an ideal choice. With total installation costs averaging $4-7 per square foot, vinyl siding can boost the curb appeal of your home, without breaking their bank.
This complete Vinyl Siding Prices Guide will cover the cost of materials, accessories, professional installation, and factors that will can impact that total amount you will spend.
Prices
Low End
Mid Range
High End
Materials
$3096
$3559
$4520
Total Cost
$7102
$8164
$10368
See Costs in Your Area!
Start Here - Enter your zip
In this calculator, materials include siding panels, corner posts, j-channel trim, 3/8″ fanfold insulation (backer board) and all other necessary trim for lights, vents and water spigots.
Average Vinyl Siding Cost
For an average size, 1,600 ranch style home, homeowners across US report spending $6,000-11,000 to install new vinyl siding.
Material costs alone can be as low as $1 per square foot and as high as $7 per square foot, for premium quality, upscale looking vinyl siding. Most homeowners spend $4-5 per square foot.
You should also budget for the removal of old siding, which can run from $1,000-3,000, depending on the old siding being removed. If you have old asbestos siding, it can cost as much as $10,000+ to remove it.
Keep in mind that architectural design and complexity of your house will impact your total installation cost.
You can also use our comprehensive siding calculator to compare the cost of different siding types.
Vinyl Siding Prices Break Down
The cost of siding materials is calculated on a per square basis (one square is 100 sq. ft.). Square is a term in the construction industry that is used to simplify communication between contractors, suppliers and architects, and most contractors will use squares in their pricing.
Vinyl siding is typically sold in cardboard boxes – 2 squares in each box – 24 panels, 12.5 feet long, with 8″ exposure (D4 or double 4″ lap). Though you can buy individual siding panels, the cost will be higher than if you buy a whole box.
Prices for all white vinyl siding, trim and accessories: All trim (J-channel, F-channel, Inside and Outside Corner posts, starter and finish trim comes in 10 feet long sections. All prices for white color. Other colors typically cost 3-5% more.
2 square box of "big orange" D4 .042″ clapboard vinyl siding costs $154.00 or $78 / square.
3″ face (each side) corner post with 3/4″ channel is $18.98
Inside Corner – $12.78
5/8″ J-channel costs $6.40
Vinyl starter strip – $5.97
Finish trim (top lock) – $6.38
Soffit (12 inch exposure, 12″ long) – $14.81
8″ vinyl fascia – $15.96
Mounting block (for lights / electrical outlets) – $7.35
Recessed split mount (for water spigots and other wall protrusions) – $10.68
This list pretty much covers all vinyl siding prices. You will need to add you state or local sales tax to this price, at checkout.
There are a few additional items you will need to install your vinyl siding:
Loose roofing nails, and wall insulation (backer board) or house wrap. A bucket of 2″ loose roofing nails will cost about $25-30 and Fanfold Wall Insulation (Owens Corning Foamular 3/8 in. x 48 in. x 50 ft. – 2 square coverage) will cost $37.48.
List Of Materials And Trim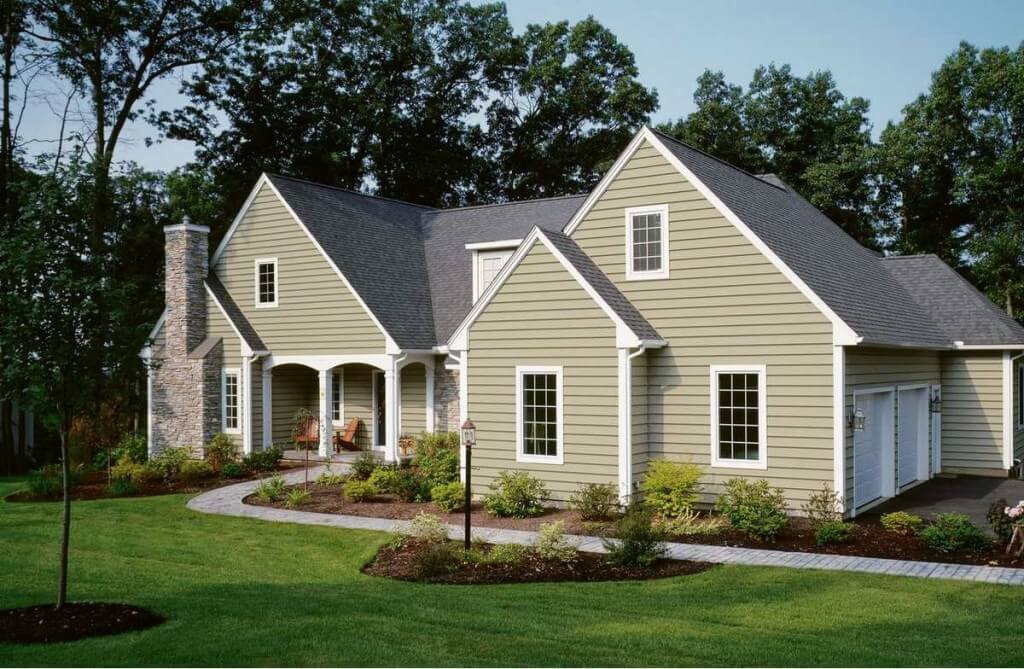 Typical vinyl siding thicknesses are .042″, .044″ and .046″ respectively. For the purposes of this guide we will use the basic clap-board .042″ thickness vinyl siding, with 1/2″ bump-out (how much it sticks out), and we will use publicly available vinyl siding prices from national home improvement chain's website (big orange box), which sells "generic" brand vinyl siding.
In addition to the siding panels, you would also need certain accessories to complete the installation and make your home look beautiful. These accessories are:
Outside Corner posts
Inside Corner posts
J-channel
Light/electrical box mounts
Water spigot and other wall protrusion mounts (split mounts)
Soffit
Fascia
Insulation / house wrap (for new construction)
Starter and finish strips
All these accessories are needed to complete a vinyl siding installation, though they might not be needed for every house. Still, you will always need J-channel and corner posts to conceal the edges of the siding panels.
All window and door casings need J-channel trim (unless it is a new construction window or door, with a built-in J-channel).
Soffit and fascia might not be necessary if you have a PVC trim on your house, but most vinyl siding jobs include these. Also, unless you are OK with having ugly holes in your siding, you probably want light and water mounts.
Cost Of Vinyl Siding Accessories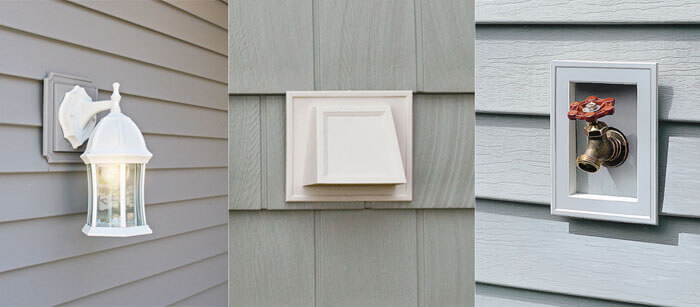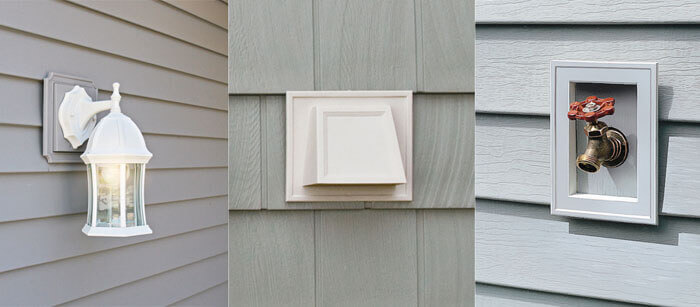 In addition to the cost of siding itself, you also need to factor in the price of accessories. Depending on what you need and the quality you choose, accessories can significantly increase your total install price.
Accessories you will most likely need are trim, soffits, moldings, corners and vents.
Typically, contractors charge $3-6/ln.ft. for the cost of accessories and installation.
When you get free quotes from different siding contractors, be sure to ask if the cost of accessories is included. If it is, find out exactly what is included, and what extras you may need to budget for.
How Do Siding Contractors Come Up With Their Estimates?
Siding installation can be very simple and very complicated at the same time. Basically, most contractors will charge a set amount per square of siding installed.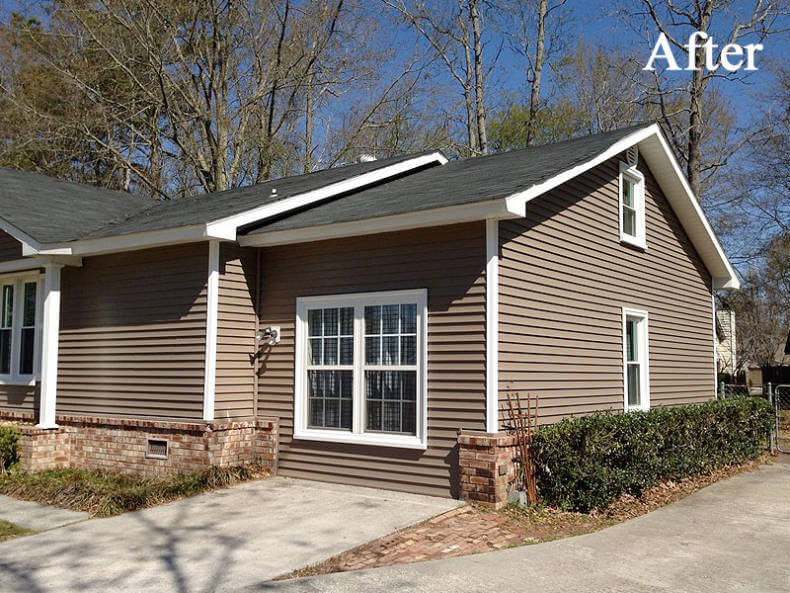 In a nutshell, a typical siding contractor will charge somewhere between $450-550 per square installed (more for premium siding, difficult installation and other extras).
Also, you need to account for tear-off (typically old plastic siding, wood shingles / clapboard or aluminum siding), though if you have wooden siding, it really makes no sense to remove it.
You should just install insulation over wood siding and apply vinyl siding on top. Also, the number of window and door wraps will make a difference in the overall cost.
Unlike roofing installation, where your roof can leak and cause tons of damages, siding can only buckle when installed incorrectly. For example, if siding is nailed too tight, when a panel expands, it cannot slide/move left or right, it buckles. There is also some really crappy installation work, which you as a homeowner will notice before you issue the last payment for the job. Just make sure your contractor caulks the window copping when they install your siding (if of course you are paying them for window metal trim).
Average Siding Costs:

See costs in your area Start Here - Enter Your Zip Code
Avoid Hiring Big Home Improvement Chains To Install Your Siding
Many homeowners feel more comfortable getting their siding installed by a contractor from a big home improvement store, such as such as Sears, Home Depot, Lowe's, Bil-Ray (markets at BJ's Club now) and other local "premium" siding joints.
These "premium siding places" make a killing on your siding installation by up-selling you into almost $1000 per square territory, telling you how they stand behind their work and so on and so forth.
In reality – these stores employ your typical siding contractor (from above) who does the same work for just over half the cost, pay them peanuts, and there is really nothing to stand behind!!!
Bottom line – whether you hire Joe Shmo Siding Company or a "premium joint siding company" it will be Joe Shmo or guys like him, installing your vinyl siding. Big companies do no not hire installers – they work with sub-contractors to install their siding, windows, doors, etc., and pay them on a per-square basis.
And the faster the sub-contractor finishes the work (which in return, makes quality go down), the faster they can start another project.
So it actually is in your interest to hire local guys vs. a big name company, because then the quality will be better (most of the time at least).
How Do I Know?
I was that Joe Shmo siding guy working for Bil-Ray – a Queens, NY Company that at the time had a Sears contract to do siding, doors and windows installation in New England, and (possibly) other regions of US.
Bil-Ray lost that Sears contract around 2006-2007 due to (in my opinion) mismanagement, theft, drug abuse by management, bad overall performance, complaints, etc. Actually, they did not tell us the exact reason why Sears did not renew their contract with Bil-Ray Aluminum, but I saw what was going on in our office (Pawtucket, RI), and I've seen how this business works from the inside, and yes – we got peanuts for our work (very little money that is). And oh boy, do I have some stories to tell 😀 …
But these are not my stories to tell – just search for "Bil-Ray Aluminum Siding Corp" and read multiple RipOffReport and ScamBook reports about them.
I want to also make 1 point – Bill Ray has done some good installs as well. And they are not the only company which is like what I describe above. I just happened to work for them – I'm sure every big company listed above (and others) has similar problems with sub-quality work (pun intended).
Bottom line – this is not about Bil-Ray or any other of those big guys. This is about homeowners NOT getting ripped off!
Factors That Impact Vinyl Siding Cost
Most homeowners are not aware of important factors that will impact your total vinyl siding replacement cost. Here they are:
1. Siding quality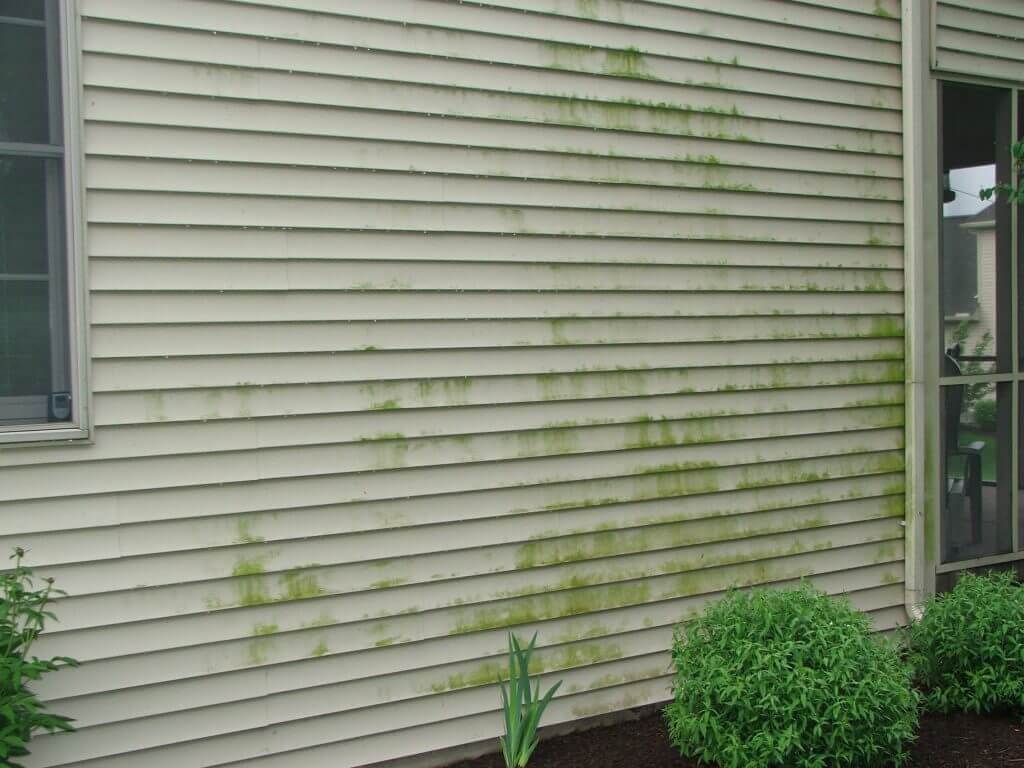 Not all vinyl panels are created equal. You get what you pay for. Cheaper siding is lower in quality and is less durable. It will chip, warp and get blown off a lot easier than more expensive vinyl siding products. Low-end siding is also more likely to fade quickly in the sun. We recommend getting the most expensive vinyl product that you can afford, to ensure that it lasts.
2. Cost of labor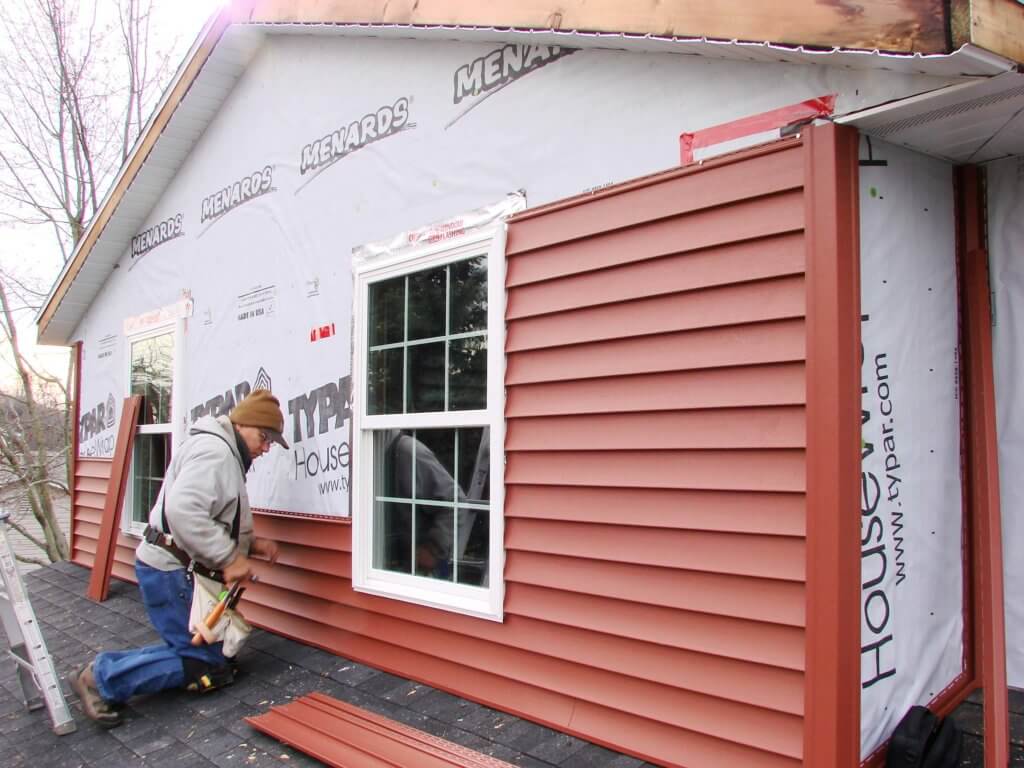 Another reason for the affordable price of vinyl is the relatively low installation price. This is because vinyl siding is fairly easy to install. Even a handy homeowner can DIY the install. Consequently, contractors that install vinyl siding do not need any special equipment or much expertise. Therefore, they charge less for vinyl than for any other siding material.
3. Variety of profiles, from cheap to upscale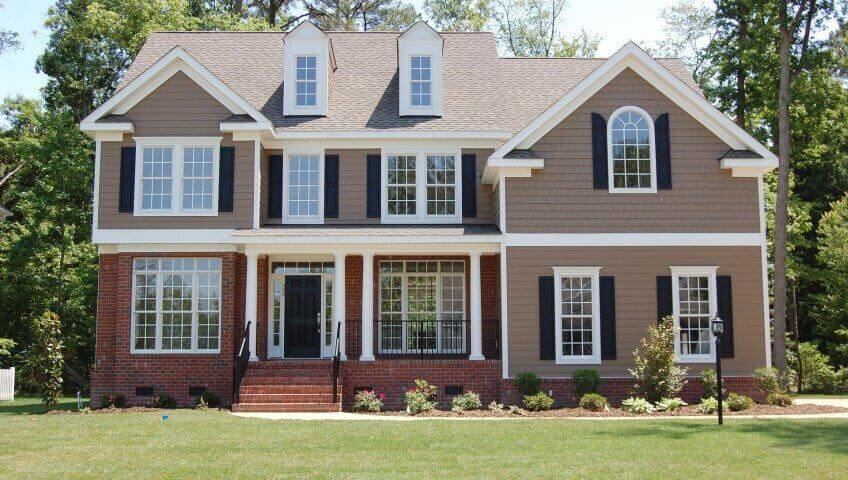 Depending on how much you are willing to spend, vinyl siding can look very different! More expensive, thicker panels replicate the look of wood or Hardie siding. They are available in different textures, colors and styles. However, cheaper, thinner panels will not look as good. Standard vinyl siding usually overlaps and creates very noticeable seams. Many homeowners do not find this attractive, and opt for more expensive vinyl boards, if they can afford it.
Average Siding Costs:

See costs in your area Start Here - Enter Your Zip Code