A shed dormer is a smart way to add extra space and headroom to your house, without expanding its footprint. This tool will help you to quickly estimate the cost of building a shed dormer on your roof or unused attic.
The price quote includes: cutting out a roof section, dormer framing, building the dormer, installing new windows, insulation, roof, and a bedroom + bath / shower room.
How to use the calculator
A
"Medium Quality"
addition includes the following:
New hardwood floors in the bedroom
5x8' Standard bathroom with shower, and tiled floor / shower surround
Spray foam insulated ceilings and walls, with a sheetrock / plaster finish
4 new construction windows and 2 Velux skylights
Existing stairs leading up to the attic with new railings (does not include building new stairs)
New electrical wiring and HVAC (Radiators or Air Ducts)
"Luxury"
makes use of higher quality, premium looking materials.
"Basic"
will have materials suitable for a rental property. This includes: carpet floors, standard ceramic tile and an acrylic shower in the bathroom.
For a more accurate price estimate, use the "Regional" setting to choose in which part of the US you live.
Otherwise, use the "National Average". This unique feature allows you to get a truly custom estimate for your project.
How much does it cost to dormer a roof?
On average, it costs about
$125-140 per square foot
to build a shed dormer room without a bathroom.
Adding a bathroom
will significantly increase your total, with prices averaging
$160 - 170 per sq.ft
. Thus, an average size dormer of 240 sq.ft. (15x16) will run
$30,000-34,000
without a bathroom, and
$38,400 - 41,000
if you add a bathroom.
However, the final budget can vary based on some of the following factors:
You may need to hire an architect to evaluate whether or not its feasible to build a dormer and how big it could be. Some
roof structures
, like those that have trusses, render the construction of a real dormer room impossible.
If you live in a cold climate, the roof of your dormer will be susceptible to ice dams. This happens because in order to build it, you have to increase the ceiling height to at least 8 ft., making its roof almost flat.
This flat or low slope roof increases the chance of ice dam leaks. To avoid this problem, we recommend using a single ply membrane for low slope roofs, such as EPDM Rubber or PVC. This can increase your total by
$1,400-2,500
on average.
In some cases, unexpected HVAC issues, such as difficulty in connecting existing system ducts / pipes to the attic, can also increase costs.
If you use luxury quality materials, expect to pay at least a 20% premium. Also, contractors charge more for labor when they are asked to work on a high-end project.
To save money, its best to do this addition at the same time that you are replacing your roof.
Design considerations
Many homeowners avoid putting in a shed dormer, because it is often perceived as an ugly structure that ruins the curb appeal of the house. Unfortunately, there is some truth to this. A poorly designed and positioned dormer can indeed look like an eye sore on the roof.
However, if you plan everything correctly, it can actually enhance the beauty and functionality of your home. Keep in mind that there are numerous type of dormers, each with a distinct look and structure. However, out of all of them, a shed dormer
maximizes
living space. It is therefore the most popular style for people who want to have an extra room in their house.
Consider the following design tips:
- The dormer should look like its a section of the main roof. Build it with just enough space for windows and headroom to avoid having an oversized, protruding structure.
- Ideally, the structure should spring from a line that is below the primary roof ridge.
- The roof slope of your dormer should be minimum 4-in-12. If its flatter, the wall of the dormer will appear disproportionately tall, creating a highly unbalanced design.
- It is best to avoid building something than runs the whole length of the house. These types of additions look strange, because they are mistaken for being the main roof. Instead, nest the dormer within the eaves of the main roof, so it clearly looks like a subordinate structure.
- Contact 3-4 local pros to get
free estimates
and design suggestions. This way you will be able to choose the best price and a contractor who you feel comfortable entrusting such a huge project.
Benefits of a shed dormer addition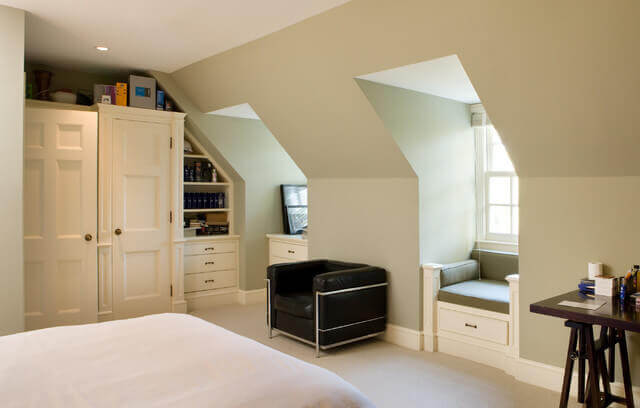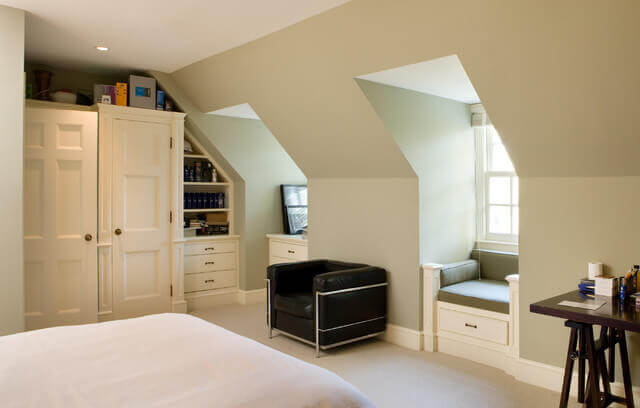 Here are the biggest advantages homeowners enjoy when they decide to add a dormer on their roof or unused attic.
1. More living space:
on average, a shed dormer can add about 200-250 sq. ft. of living space to your house. The beauty hear that you are not only adding more width, but height as well. This is ideal if your family is expanding, or you need a guest room. Most people choose to build a dormer with a bathroom, so this new room becomes completely functional and convenient for all types of uses.
2. Extra light:
a dormer is a relatively small space with windows and skylights. Therefore, its becomes one of the brightest areas of the home, perfect for a small library, home office, or bedroom.
3. Boost curb appeal:
a well designed shed dormer can actually add a lot of visual interest to an otherwise dull and boring roof line of a gable or cape style home. This can make a big difference if you ever plan to sell your house, as first impressions can make or break a sale.
4. Good return on investment:
home additions in general over a pretty handsome return on investment and shed dormers are no exception. This project's resale value is around
84.3%
, which is one of the highest in the remodeling industry. Keep in mind that your return with also depend on the overall value of your house as well as the size and interior design of your dormer. Having a bathroom can significantly increase your ROI.
5. Emergency exist:
having a shed dormer offers a much needed additional emergency exit in case of a fire, or another life threatening situation.
Cost to build 420 sq. ft. Addition:

See costs in your areaStart Here - Enter Your Zip Code