The siding estimator will help you calculate siding replacement cost, for Vinyl, Wood (cedar), or Hardie siding (composite) materials, as well as removal of old siding, adding insulation, wrapping window and door frames with flat-stock aluminum (copping).
Price estimates of this calculator include both Labor and Materials.
To calculate the cost of siding, enter your house ground measurements, number of levels, home type, number of doors & windows, old siding removal, house insulation type, and New Siding Material.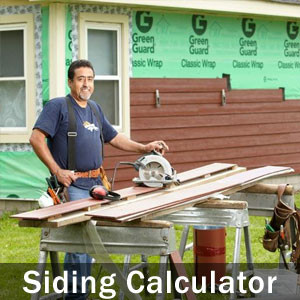 Update (March, 2016):
We've greatly improved the accuracy of calculation formula, made floor height 9 feet (average for most homes with 8' ceilings) and updated muterial prices to most current estimates, received in early march of 2016.
In previous update, we added more "roof slope" settings to make the calculator even more accurate. Now the gables are calculated precisely and include materials waste of 15%, which is typical, and is indicated in total price (but not included in House Size result).
Local Siding Prices:
Lastly, we've added more accurate location based calculation, which takes in account where you live, and adjusts cost based on your region.
Check out our
vinyl siding prices
guide to learn how contractors price their work, how much the materials costs, and why it is best to work with a smaller contractor VS "big box" companies.
Also check out the result of our detailed investigation of
Hardie siding costs
, where we got multiple quotes from building materials suppliers, and list every item and color.
How to calculate siding prices accurately:
To get an accurate price quote for your siding project, it is important that you take your time measuring the house and entering correct information into the calculator. Go from corner to corner with a tape measure, and get Length and Width of your house. If you get sizes like 26' 7", it is best to round it up to 27', otherwise the quote will be less than what contractor will give you.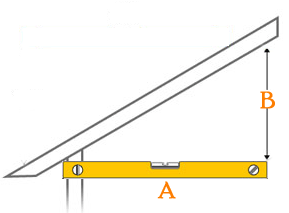 Roof Slope:
When measuring / estimating roof slope, you can either use your judgement or use a 2' level + tape measure to get accurate reading. Go into your attic, position the level horizontally, one end against the rafter. Then measure the distance from the opposite end of the level, up to the rafter. Divide this distance by 2. This will be your slope.
Example: If your distance is 14", the slope is 7 over 12 or just 7. Follow the provided diagram.
Roof Types:
If you have a FLAT or HIP roof, select "FLAT" option for Roof Slope. In either case, your house does not have gables, so now siding will be installed above roof base.
Gable Side (roof width):
Make sure when entering house dimensions that Gable Side is entered into appropriate field. Your gables will be calculated base on this dimension and roof slope. If you enter wrong measurement into this field, the calculation will be off.
Other options:
Select number of floor in your home, job complexity (use your judgement, but if you have multiple bump-outs / built in bays, etc, of if your house is victorian style with all kinds of decorative pieces, use medium or difficult option). Select new insulation type, and number of windows / doors to be wrapped with flat stock aluminum.
Removal of old materials:
Note that old plastic / vinyl / aluminum siding must always be removed, before new VINYL siding is installed. Vinyl CAN be installed over wood siding. For other materials, you must always remove old siding down to wall flat boards.
Asbestos siding:
If you have old asbestos shingles on your walls it is best to install new (vinyl) siding on top, without removing asbestos. Otherwise your cost will be 3 times more that is estimated by our calculator. Removing asbestos is VERY expensive and can only be done by certified contractors. The whole area should be then concealed to minimize / eliminate asbestos dust. Never let regular siding contractor remove asbestos shingles.