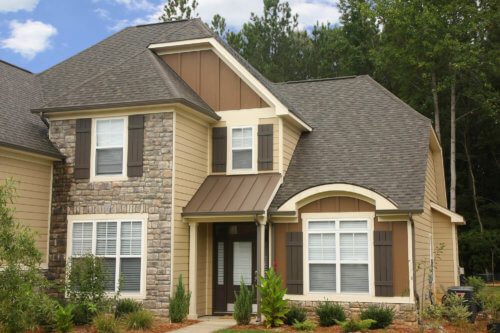 Whether you are building a brand new house or doing a major renovation for your existing home, having a durable roof that can stand up to the elements is essential. Doing a re-roof can be draining on the wallet, and most homeowners like to plan their budget before starting such a big project.
The average reported cost to replace a 1,500 sq.ft. roof is $4,500-12,000, depending on the material you select. Other factors that may impact the final price tag are: complexity of installation, the roofer your hire, as well as your geographic location.
When researching different material options and costs, keep in mind that the quality of the installation is what ultimately counts and ensures that your roof will be leak-free. While you may want to save and get a budget-friendly roof, its best to hire a licensed, experienced roofing pro, who will stand behind his work.
Average Roofing Costs:

See costs in your area Start Here - Enter Your Zip Code
How much does a new roof cost?
Asphalt shingles is the most popular and economical roof, installed on millions of homes across the US. The average price for 3-tab shingles is $2.25 – 3 per sq.ft., including labor and materials. Longer lasting and more attractive architectural shingles cost $2.80 – 4 per sq.ft.
This translates into $3,850 – 6,500 for a new 1,500 sq.ft. roof on a simple one story ranch or cape style home. (the estimate includes 1 layer of tear-off of old shingles).
If you are willing to spend more, you can go for premium shingles, such as Certainteed Landmark or Malarkey Highlander. They offer stronger protection against the elements, increased longevity, and better curb appeal.
(Note, shingles are sold in bundles. 3 bundles cover a roof area of 100 sq.ft.)
Standard Architectural/Laminated Shingles: $28 – 32 / bundle
Premium Architectural/Laminated Shingles: $45 + / bundle
Energy-Efficient/Cool Shingles: $40 + / bundle
Installation charges
Once you start requesting roofing quotes, you will discover the cost of professional labor is at least half, if not more of the total.
The biggest factors that determine how much an installer will charge, is the complexity of your roof and the material you want. Composite shingles are the easiest and quickest to install, and you will find dozens of local roofing businesses who can do this job for a fairly low price.
In fact, shingles are one of the few roofs that a DIY savvy homeowner can install on their own. All the materials and tools you need are available at Home Depot or a roofing supply store, and you can slash the cost of your re-roof by 40-60% Homeowners, who install shingles without professional help, report spending about $1,600-2,000 to put up a roof. Typically, they purchase GAF Timberline or Royal Sovereign shingles, as these are not expensive and easy to find.
On the other hand, if you are considering a premium roof, such as metal, wood, clay or slate, you will need to hire a pro who specializes in this particular material. Every roofing type has its technical secrets and manufacturing specifications that must be followed to ensure that the roof is watertight. The install itself also takes 2 or 3 times longer, compared to shingles. All of this translates to much higher labor costs. For example, installing a metal roof can easily cost 50-60% more than asphalt.
So if you get a "jack of all trades" roofer who promises to install a premium roof for a rock bottom price, you are better off finding someone else, because this will turn out to be a hack job.
If you are spending money on an expensive roof, hire a pro who specializes in the material you have selected. All too often, $20,000-30,000 roofs start to leak and fail very fast due to installation mistakes made by a cheap contractor.
Roofing materials prices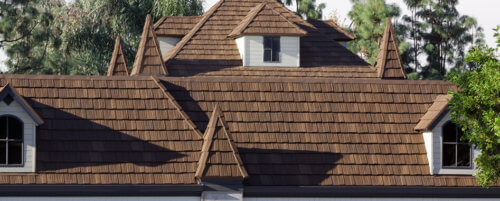 Today, there is no shortage of roofing options that can work for any home style and budget. In addition to shingles, popular materials include:
– metal (steel or aluminum shingles, corrugated panels, standing seam and stone-coated shingles)
– cedar shakes and shingles
– clay and concrete tile
– slate and synthetic slate shingles
Here is a breakdown of roofing costs per square foot for these materials.
| MATERIAL | COST / SQ.FT. INSTALLED | TOTAL COST FOR a 1,500 SQ.FT. ROOF |
| --- | --- | --- |
| Corrugated Steel | $4 – 5 | $6,000 – 7,500 |
| Synthetic Slate | $6.50 – 8.00 | $9,750 – 12,000 |
| Metal Shingles | $7 – 9 | $10,500 – 13,500 |
| Stone-coated steel | $8 – 10 | $12,000 – 15,000 |
| Standing Seam Metal Panels | $7 – 13 | $10,500 – 19,500 |
| Cedar Shingles | $9 – 10 | $13,500 – 15,000 |
| Cedar Shakes | $10.5 – 12 | $15,750 – 18,000 |
| Clay Tile | $14 – 20 | $21,000 – 30,000 |
| Slate | $15 – 30 | $22,500 – 45,000 |
Note, estimates include materials and basic installation only. Tear off, insulation and ventilation are not included.
In recent years, the use of metal both for new construction and retrofit roofs has been steadily growing across the US. Metal roofs have shown spectacular performance and energy efficiency, pretty much in every corner of the US, from freezing cold and snow storms of the Northeast, to extreme heat and humidity of the southern states. Hail storms, ice dams, fire, and hurricane level winds are also no match for a quality metal shingle or standing seam roof.
Many people used to reject the idea of having a metal roof because of the perception that this "barn-style" roof will make their house look ugly. It has taken some time, but both architects and homeowners are realizing that metal can offer the same if not better curb appeal than other roofs. To keep up with growing interest, metal roofing manufacturers are continuously producing new designs and colors. A modern metal roof can sport the look of traditional asphalt, cedar shake, clay tile, or slate. So much so, that someone walking by your house would not be able to tell that the roof is made of metal.
If you are debating between installing shingles vs metal roofing, consider long terms costs. While initially, an asphalt roof is cheaper than metal, you will need to do at least 3 roofs in the time span of metal roof's life.
Additionally, you will incur regular repair and maintenance costs for shingles, while you really will not need to do much for the upkeep of a metal roof. This alone will add thousands of dollars of spending on shingles, when calculated over the 50 years of service life for a typical standing seam or metal shingle roof.
When it comes to other upscale roofing options, the logic is similar. You pay more upfront compared to shingles, but get to enjoy much better looks, durability and longevity for decades to come.
So for a new construction home or a place that you see yourself living in for the next 10-15 years, spending more money on a better quality roof may be a wise financial decision. On the other hand, if you intend to sell your house in the near future, a shingle roof is a good choice.
Enhancement and improvement costs
There are may be a number of additional expenditures you should budget for in your re-roofing project. Some of these may come up during the installation itself. For example, you contractor may remove the old roof and find that the decking underneath has been damaged, and will either need to be repaired or replaced.
| ITEM | COST |
| --- | --- |
| Chimney or Skylight Penetration Flashing | $250 – 400 per flashing |
| Small Piple Flashing | $20 per flashing |
| Large Pipe Flashing | $50 per flashing |
| Replace Damaged Plywood | $75 – 100 per sheet |
| Adding a Ridge Vent (it will not work by itself, and requires soffit vents and openings for proper air circulation) | $20 – 40 / ln.ft. |
| Cut in and Install Box Vent | $40 – 50 each |
| Install a Power Vent | $200 – 300 each depending on the type of the vent. May also need an electrical connection, if not solar |
| Install Ice and Water Barrier on eaves or in valleys (if not required by building code and is not part of the installation) | $7 – 10 / ln.ft. for a 3 foot wide ice and water shield |
| Synthetic roof underlayment upgrade (most roofs are installed with fiberglass, felt underlayment, which does not last) | $0.30 – 0.50 / sq.ft. |
Note, that in Northern states, ice and water shield is required by building code and should be included in the total cost of your roof.
Flat Roofing Materials
The most popular and cheapest flat roof is EPDM Rubber. More expensive and longer lasting alternatives are PVC and TPO roofing membranes. All three are available in different thicknesses that range from 45 to 90 mil. Thicker materials offer better protection against the elements and last longer, therefore they cost more.
Here is what you can expect to pay for each of these roofs. Note, estimates include material and installation only, and do not cover the cost of insulation.
| MATERIAL | COST / SQ.FT. INSTALLED | COST FOR A SIMPLE 1,500 SQ.FT. ROOF |
| --- | --- | --- |
| EPDM Rubber | $5.50 – 6.50 | $8,000 – 9, 750 |
| TPO | $6.00 – 7.00 | $9,000 – 10,500 |
| PVC | $6.50 – 7.50 | $9,500 – 11,250 |
Additional Costs
Similar to sloped roofing, you may need to spend extra to have a new flat roof installed. We recommend budgeting for the following items:
| ITEM | COST |
| --- | --- |
| PolyISO Rigid Foam Insulation | $45 – 50 / 100 sq.ft. for 1 inch thickness with a 6 R insulating value |
| Tear-off and removal of old roofing | $0.75 – 3.00 / sq.ft depending on the type of material and number of layers |
| Penetration Flashing (chimney, skylight) or curb | $250 – 500 each, depending on complexity |
| Small Piple Flashing | $50 each |
| Large Pipe Flashing | $75 – 100 each |
| Roof Drain | $180- 250 each |
| Replace Damaged Plywood | $75 – 90 for each 4×8 sheet |
| Install Stainless Steel PVC Clad Edge Metal | $7 – 8 / ln.ft. Recommended on roofs of homes located within 1 mile from the ocean. |
Factors that influence roof installation costs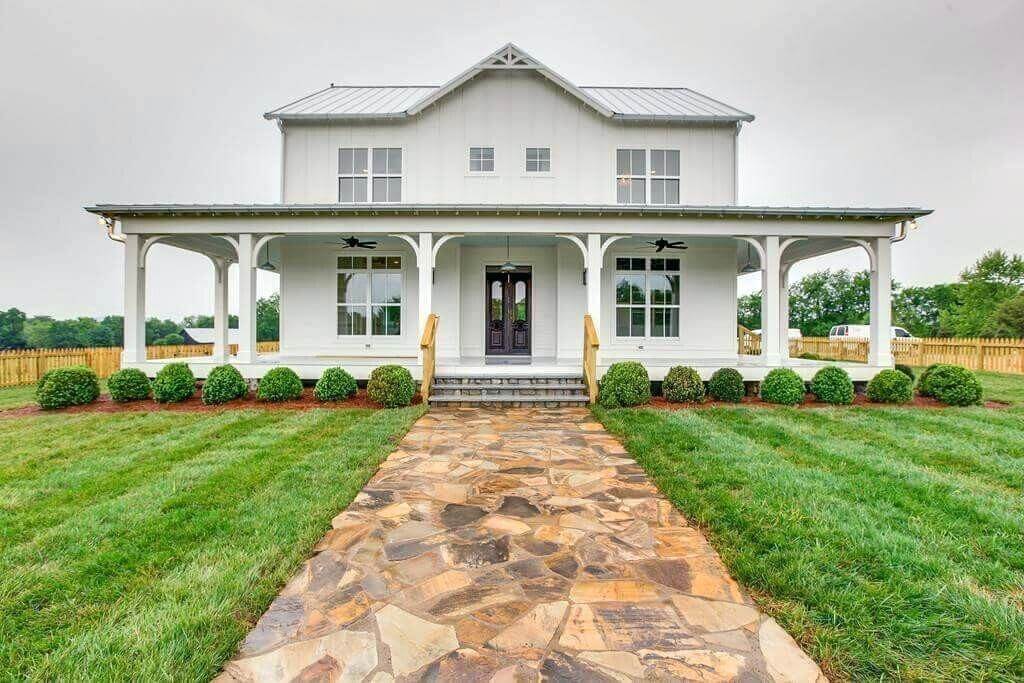 There are a number of things that can make a significant difference in the final price quote you get from a contractor.
1. Roof size
The size of your roof will determine the amount of materials you need and the time it will take to complete the job. Typically, a larger roof will cost more than an small or average size one. However, if your roof is very big, you may get a 5-10% discount on the installation. On the other hand, many roofers charge more for very small jobs, because they still have to cover their prep time and overhead.
2. Pitch
The higher the pitch (slope) of you roof, the more expensive your installation will be. This is because high pitched roofs are more difficult and dangerous to work on, and may require special equipment. A roof with a pitch of 7:12 or greater is considered a steep roof. This is why flat roof installations are typically cheaper than most sloped roofs.
3. Roof penetrations
If you roof has many penetrations (chimney, skylights) and curbs, you will end up spending more money on materials and flashing. Also, it will take longer to finish and will be more complicated, because each penetration and curb needs to be properly flashed to stay watertight. Typically, contractors add an extra charge for each penetration that they need to work on.
4. Premium materials
High-end roofs are more complex and labor intensive to install than asphalt shingles. Each material, be it metal, slate or tile requires its own set of tools and equipment, training and knowledge. Consequently, a premium roof will cost at least 40-60% more than shingles.
5. Roofer you hire
Different contractors in your area will offer you price quotes, which will range from very low to unexpectedly high. In general, companies that have a solid reputation and have proper licensing will charge more for their services, compared to the ones that don't.
Be very cautious of companies that have NO insurance and workman compensation, as these are most likely hiring illegal workers to keep their costs low. While you might save money in the short term, you run the risk of getting poor installation quality and serious roofing problems down the line. Also, these "cheap" roofers often disappear on you after completing the project and will not take responsibility for their work, in case something goes wrong.
We recommend getting at least 3-4 quotes from local roofing businesses, and selecting a small to mid-size contractor who can produce good references from past clients, is bonded and insured. In many of these companies, the owner participates in and closely oversees the installation, and is very invested in making clients happy.
Your Estimated Roofing Cost
Roof Price:
Cost per sq. ft.
Roof Size:
Roofing Material:


See costs in your area Start Here - Enter Your Zip Code