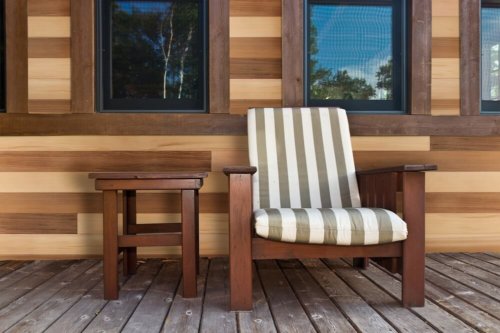 If you are looking to do a major upgrade to the exterior of your house, cedar siding is an ideal choice.
Cedar offers a naturally gorgeous wood look that fits many architectural house styles from Cape Cod to ultra modern. Cedar siding can also be painted, which greatly expands your style options. Moreover, cedar siding is a highly durable material, that also provides rot and termite resistance.
Use this calculator to quickly and accurately estimate cedar siding cost for materials and installations for your house.
Prices
Low End
Mid Range
High End
Materials
$5262
$6048
$7681
Total Cost
$12069
$13872
$17617
See Costs in Your Area!
Start Here - Enter your zip
Average Cedar Siding Cost
Cedar wood is a premium material, so it costs at least twice as much as budget siding materials, such as vinyl or aluminum.
On average, homeowners across the US report spending $5-7/sq.ft. on cedar siding, including materials and installation.
Low B grade cedar siding cost be as low as $3-4 sq.ft. for materials, while top grade cedar can cost $8-10/sq.ft. for materials.
Moreover, clapboard cedar siding tends to be more expensive than other styles, because of its unbeatable aesthetics. Red Cedar clapboard is the most pricey, costing $11-14/sq.ft. installed.
Contractors charge $45-65/hr to install cedar siding. Contractor rates vary greatly depending on location. If you live in a high-income area you may get price quotes that will be 15-25% higher than the national average. On the other hand, mid to low income areas have the advantage of lower contractor labor rates.
We recommend getting at least 3-4 quotes from your local siding contractors, to get the best deal.
You can also use our comprehensive siding calculator to compare the costs of different siding materials for your project.
Average Siding Costs:

See costs in your area Start Here - Enter Your Zip Code
Factors that Impact the Cost of Cedar Siding
There are a number of factors that will affect your total cedar siding cost of materials and installation.
1. Wood Grade: not all cedar is the same. Better grades of cedar can cost up to 50% more than lower grades. For example, the highest grade of cedar is Clear Vertical Grade Heart. This wood is completely free of knots, and is also naturally resistant to rot, decay and insect. . This grade of cedar is so naturally beautiful that you can just stain it with a clear coat for extra protection. This is an ideal material for a high-end home remodel.
As you go down in grades, the amount and size of knots as well as other blemishes increases, and the durability decreases. If you select a cedar wood with a lot of knots, you can paint it or stain it with a very dark stain, to hide the knots.
2. House Footprint: if your house has a simple rectangular or square shape with just four corners, you will save a lot of money on installation. This will be a quick and easy job. However, if your house has many corners, cut outs, and other ornate architectural details, the installation cost can go up significantly. Also, if your house has more than one storie, the installation price will increase by at least 25-35%.
3. Your location: if you live in the western part of the US, where cedar grows and is available in abundance, you can save hundreds of dollars on the cost of materials. However, if you love in other states, and especially in the North, you will pay as much as 30% more for cedar siding. Also, don't be surprised to find out that cedar siding cost also fluctuates from year to year depending on supply availability.
Cedar Siding Cost for Maintenance
Unlike many other siding materials, cedar along with other types of wood siding requires regular maintenance. This is because wood is more susceptible to moisture, rot and insect damage. While cedar siding is one of the most durable woods, it still requires maintenance, if you want it to last for many years.
For an average size house of about 1,500-1,800 sq.ft. you can expect to spend about $2,000-5,000, depending on the complexity of your house and the scope of work.
Maintenance should be performed every 2-5 years depending on the climate you live in. This can include repainting and/or restraining your siding with fire and insect resistant paints and stains. Not only will this protect the wood, it will also keep your siding looking new and fresh.
Typically, if your siding has a clear finish, you should reapply it every two years. You should reapply semi-transparent stains every 3 years, and regular paint, every 5 years.
If you properly care for your cedar siding, it can last 20-35 years or more.
Average Siding Costs:

See costs in your area Start Here - Enter Your Zip Code