Calculate Deck Building Prices
The average cost of a 300 sq.ft. cedar wood deck is
$7,450 – 9,600
, including framing.
The classic look and feel of wood is never out of style, which makes it the original and still highly popular decking material.
There are a number of options available, ranging from budget domestic wood species, to high-end exotic varieties.
A wood deck is a perfect choice for homes with traditional and classic architecture.
To make sure that you get sustainably harvested wood, it is best to source it from a Forest Stewardship Council (FSC) certified company.
Here are the most popular types of wood used for deck construction, along with installation and materials costs, as well as pros and cons.
How Much Does A Wood Deck Cost?
A wood deck costs $3.5 – 20 per square foot, depending on the kind of wood you choose. However, when calculating your total price you need to take into consideration more than just the cost of material itself.
On average, builders charge $35 per sq.ft. for constructing a standard size deck, without any extra features and functions. If your deck has an unusual shape or many levels, expect to pay 2-3 times more than the standard rates.
Labor charges for building a standard, rectangular wood deck (10×12) are around $1,500, while custom designs can easily reach $5,500 and up.
When you add the cost of materials, depending on the wood you select, you are looking to spend between $5,000-15,000.
Material Options
There are a number of wood decking materials you can choose from. Here are 6 species that are most commonly used in deck construction. You can compare their prices, as well as the pros and cons.
Cedar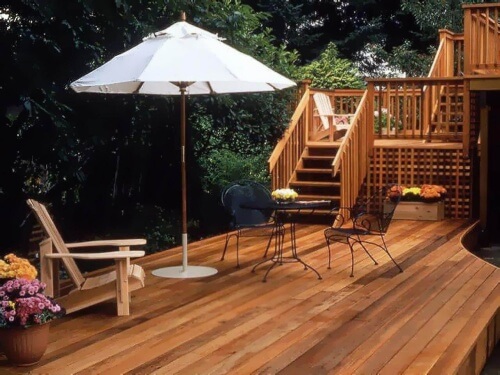 A soft species, cedar is one of the most popular and economical deck materials. It is available in a number of grades at various price points. There are 4 grades of cedar used for decking ( listed in order of most expensive and clear to least expensive and knotty):
1. Architect Clear
2. Custom Clear
3. Architect Knotty
4. Custom Knotty
For the best quality and durability, its recommended to purchase at least the Custom Clear Grade.
Regular grade cedar wood decking costs $3.75 per sq.ft. However, premium grades can cost 2-3 times as much.
Here are the pros and cons of using cedar wood for your deck.
PROS
CONS
1. Beautiful natural look of wood
1. Deteriorates faster than expected life span when used for ground level or shaded decks
2. Cedar heartwood (deeper part of the tree) is rot and insect resistant
2. Soft wood, which tends to get beat up on decks where furniture is frequently moved or on stairs.
3. Fairly resistant to moisture and consequently will not warp or split
"3. Requires routine maintenance, such as annual power washing
"
4. Life span: 15-20 years
4. Requires application of stain and sealant every 2-3 years
5. Contains no toxic chemicals or preservatives
5. Requires stripping and sanding every 6 years before stain is applied
6. Can be left unstained for a natural wood look
6. Cedar sapwood (more external part of the tree) are more susceptible to rot, decay and insects
7. Cedar sapwood breaks down quickly when exposed to moisture for a prolonged period
Bamboo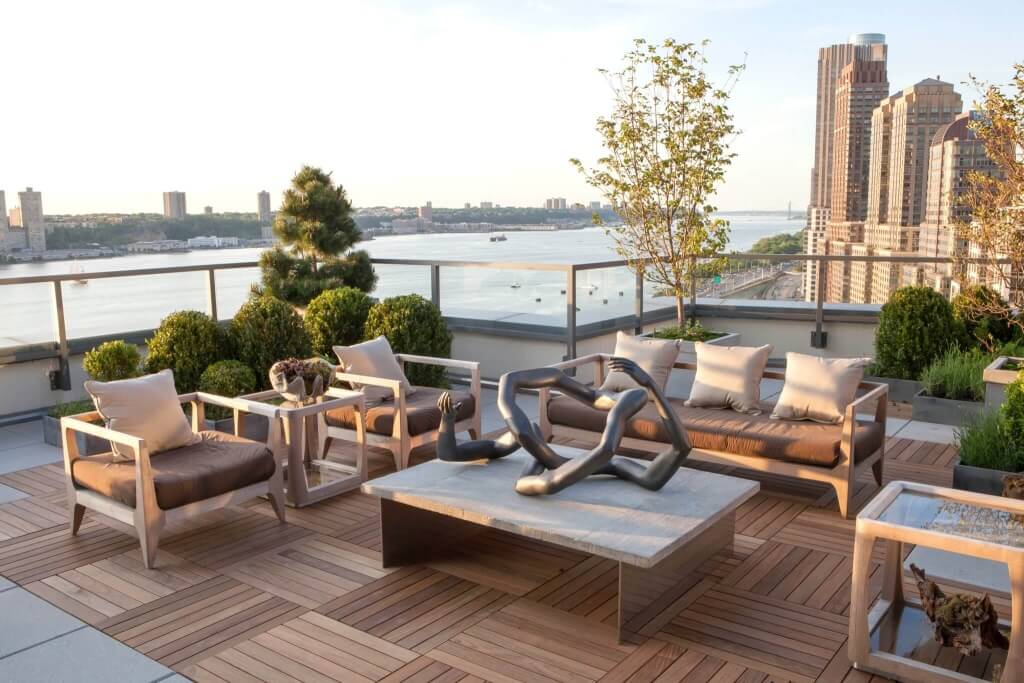 It is only in recent years that bamboo has started to gain popularity as a material for decks. Bamboo is a grass classified as hardwood, and offers all the benefits of natural hardwood for a reasonable price. It is important to ensure that you purchase only sustainably harvested bamboo.
Unfortunately, due to growing demand, there are many unscrupulous manufacturers (particularly in China or those working with Chinese manufacturers) that harvest bamboo in ways that damage and endanger wild natural habitats. Moreover, the quality of this unsustainable bamboo cannot be guaranteed.
Average prices for bamboo are $3-4 per sq.ft.
Here is a summary of the advantages and drawbacks of installing a bamboo deck.
| PROS | CONS |
| --- | --- |
| | |
| 1. Sturdy material | 1. No hard data about longevity is currently available |
| 2. Harder than oak or maple | 2. Does not perform well in regions with a lot of snow and ice |
| 3. Offers a consistently clear grain, with few knots and imperfections | 3. Requires annual sealing for optimal durability and aesthetics |
| 4. Easy to seal and stain | |
| 5. Environmentally friendly: absorbs 4x as much carbon dioxide as hardwoods | |
Redwood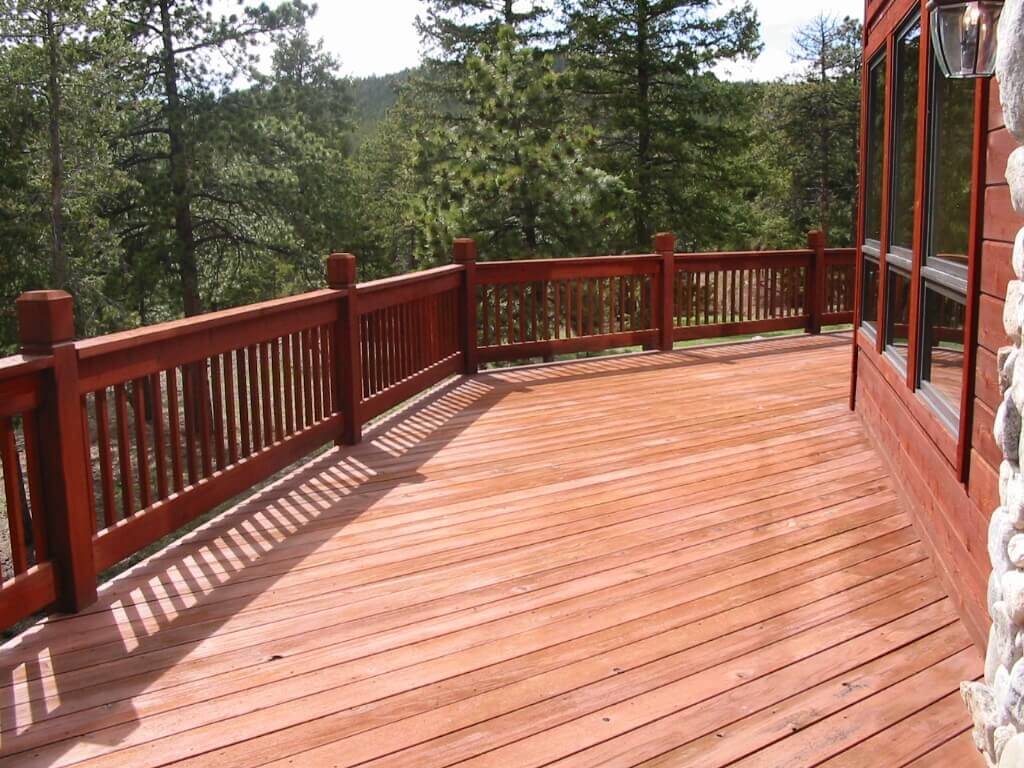 A softwood, native to California, redwood is a popular decking option among homeowners who love the stunning looks of this beautiful wood. To ensure optimal look and durability, we recommend purchasing B grade Redwood, which is almost all heartwood and is nearly clear of knots.
You can expect to pay an average of $5.00 – $7.75 per sq.ft. for redwood. Interestingly, in California due to abundant supply you can often get up to 50% off the cost of redwood, compared to other parts of the US.
Here are the top benefits and disadvantages of a redwood deck.
| PROS | CONS |
| --- | --- |
| | |
| 1. Naturally resistant to rot, decay, warping and insect infestation | 1. Often sourced from old growth forests |
| 2. Ages to a beautiful silver grey color | 2. Can cost significantly more if purchased outside of California |
| 3. Lasts for 20+ years with proper care | 3. Prone to mold and ultraviolet damage if untreated |
| 4. Accepts stains and paints very well | 4. Requires re-finishing every 3-4 years |
| 5. Contains no harmful chemicals or preservatives | 5. Soft wood that can easily be damaged by heavy foot traffic |
| 6. Lightweight and stiff material | |
Tigerwood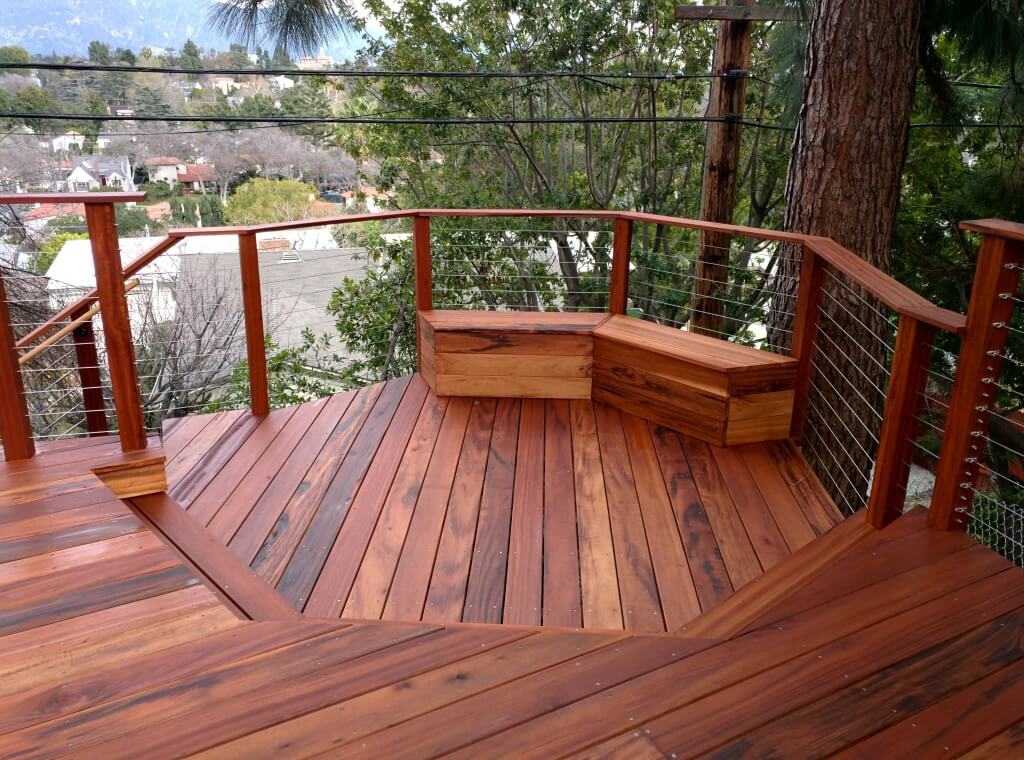 Tigerwood is an exotic hardwood species native to Brazil and Africa. This wood looks exactly like what it sounds: it has a beautiful reddish-orange color with black streaks. Homeowners who want a unique looking, extremely durable and long lasting deck, often choose Tigerwood.
This is one of the most expensive types of wood decking, with an average cost of at least $20 per square foot.
However, there are other exotic species available to use for decking, such as Cumaru (looks very similar to Ipe), Massaranduba, Garapa, Red Tauari and Philippine Mahogany. It is possible to get a better price on these exotic woods compared to the cost of Tigerwood, because they are less famous. Still, they offer similar looks and features.
Here are the main pros and cons of using this material for a deck.
| PROS | CONS |
| --- | --- |
| | |
| 1. As weather resistant as Ipe wood, but less expensive | 1. Because its so dense, its very heavy and difficult to cut and drill, increasing the cost of labor |
| 2. Beautiful, and unique look | 2. Does not accept stain very well |
| 3. Resistant to mold, rot, insects, scratches and weathering | 3. If the wood is not stained, its necessary to apply a UV-blocking clear wood preservative every 3-4 years |
| 4. With proper care, lasts 25+ years | 4. Requires use of more expensive stainless steel screws to avoid black oxidation stains on the wood |
| 5. Sustainably grown | 5. Requires special tools to be cut, which drives up the cost of labor |
| 6. Extremely hard and very durable | |
Ipe Wood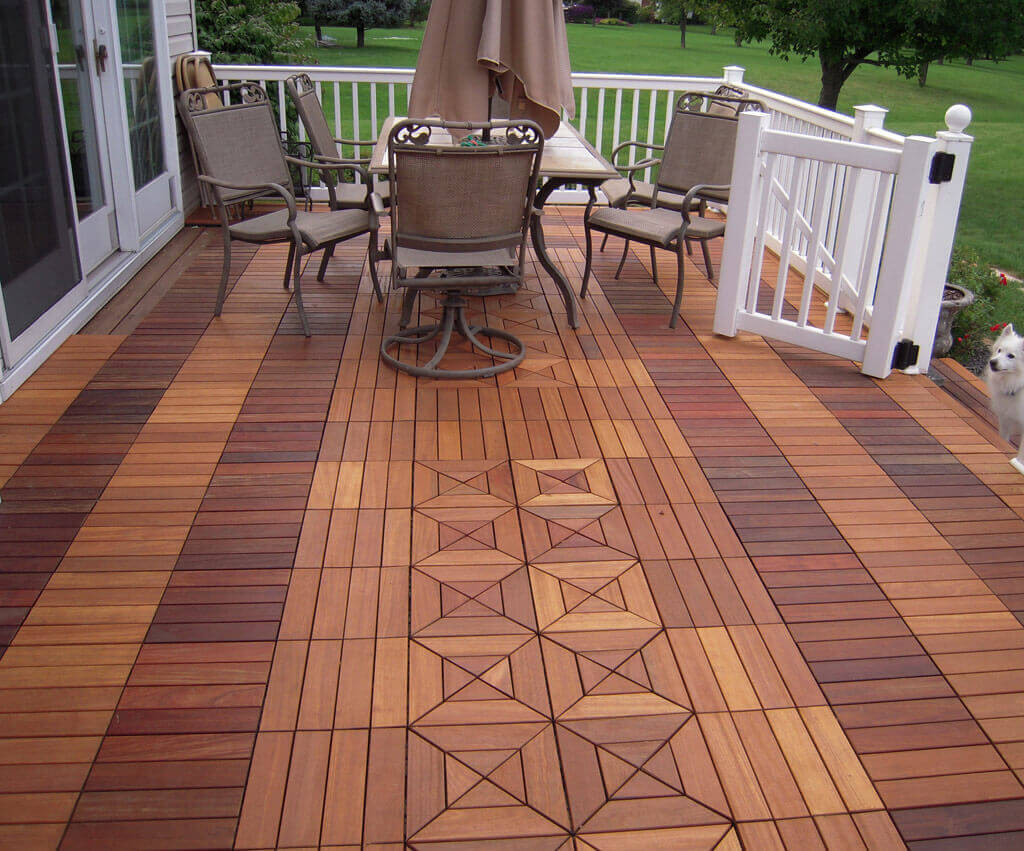 Ipe is the most well-known and expensive of all exotic woods. As a result it is in very high demand for upscale/luxury decks. Native to Brazil, this gorgeous hardwood is similar in appearance to Mahogany, but has a darker and richer crimson tone. All grades of Ipe wood are virtually knot free.
Pricing for Ipe wood starts at $22.50 per sq. ft.
Homeowners find that this decking has the following benefits and drawbacks:
| PROS | CONS |
| --- | --- |
| | |
| 1. Twice as strong as oak wood, and is often called Ironwood for its strength | 1. Because its so dense, its very heavy and difficult to cut and drill, increasing the cost of labor |
| 2. Can last 40+ years with proper care | 2. Does not accept stain very well |
| 3. Highly resistant to rot, mold, insects, and decay | 3. If the wood is not stained, its necessary to apply a UV-blocking clear wood preservative every 3-4 years |
| 4. Tight grain patterns in the wood make it impervious to water | 4. Requires use of more expensive stainless steel screws to avoid black oxidation stains on the wood |
| 5. Sustainably grown | 5. Requires special tools to be cut, which drives up the cost of labor |
| 6. Oiled Ipe has a lux shimmer, which no other wood can surpass | |
| 7. Will not crack or scratch | |
| 8. Performs well even in harsh coastal climates | |