The best Home Improvement, Remodeling and Tools Black Friday (and Cyber Monday) Sales & Deals of the Year, all in one place!
As it always happens in November – Thanksgiving and Black Friday are coming soon. And since this is a remodeling website, we are not interested in turkeys – we want the BEST BLACK FRIDAY DEALS of 2015, which we will list (and continually update) below. Here we will publish sales from the big boys like Home Depot, Lowe's, Sears, Harbor Freight Tools, Amazon, and other, smaller retailers of tools, and materials.
Save big bucks at Amazon.com on tools and Home Improvement Items
Get $25 OFF $100 purchase of MAKITA or BOSCH power tools purchase.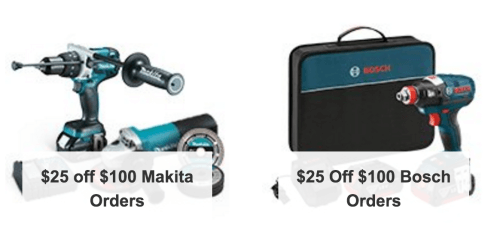 ---
DEWALT $25 Off $100 Holiday Promotion

Until December 22, 2015, get $25 off select DEWALT orders of $100 or more. All products must be shipped and sold by Amazon.com. Discount automatically applied at checkout.
Home Improvement Amazon.com CYBER MONDAY Deals – save as much as 55% on select items!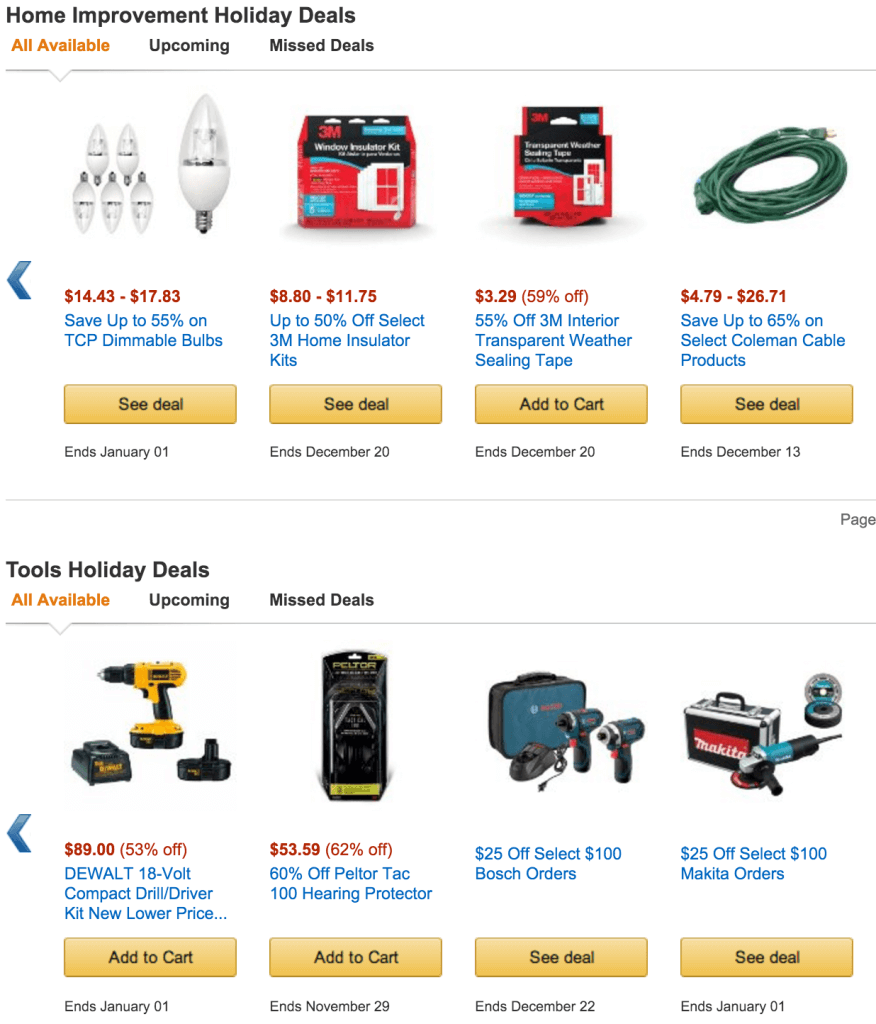 These deals include Home Winterizing products, Power tools by DeWalt, Makita, Bosch, etc., Christmas decorations, and other home improvement products, with savings of up-to 59% off.
Flooring and Tile online deals:
Floors to Your Home has a 72-hour Pre-Black Friday frenzy, where you can save $0.45 / sq. ft. off Hardwood and Laminate floors, and get Free Delivery (as well as save on sales tax) – deal ends Nov. 21 – details here.
Lumber Liquidators is already running its sale.
Laminate flooring from $0.39 / sq. ft.
Pre-Finished Hardwood flooring from $0.99 / sq. ft.
Bamboo flooring from $1.69 / sq. ft.
Many other deals with sale as much as 60% off their regular prices – details here
If you also need your floors new floors installed by a pro, use our Flooring Calculator to estimate installation costs.
Home Depot Black Friday 2014 Deals
Home Depot is running an early pre-sale, and here are some of the best deals as well as the leaked flyer below.
When Home Depot announces its Black Friday deals, they will be posted here.
The nature of the game here is that Home Depot / Lowe's will not run a special sale on 2×4 lumber, plywood or drywall. Most sales will be in the Appliances Dept. as well as some Kitchen items.
Here are some of Home Depot's hottest current Appliances deals:
45% off Samsung 25.5 cu. ft. French Door Refrigerator – $998.00 ($1799.99 regular price)
33% off Maytag Centennial 3.8 cu. ft. High-Efficiency Top Load Washer for $399.00 ($599.00 – reg. price)
36% off Whirlpool 7.0 cu. ft. Electric Dryer for $349.00 ($549.00 reg. price)
You can also save more, if you buy more than 1 appliance. Save $50 off two appliances. $100 off 3 appliances, $200 off 3 appliances, and $450 off 6 or more appliances!
Once again, this is only a Pre Sale – come back soon to see the actual Black Friday sales!
Harbor Freight Black Friday Deals
Harbor Freight has an actual (leaked) Black Friday ad, and this year you can save as much as 80% while average discount is around 65%, which is great considering their already VERY LOW everyday prices. Contractors and homeowners alike can take advantage of these well priced Tools – you can see a list of all deals on their website or see the ad scans below:
Harbor Freight sells a lot of tools and not much else for the remodeling industry. So lets look at some of the best tool sales going on (we will ignore automotive tools and other stuff, as it is unrelated).

40% off 17 ft. type 1A multi-task ladder (a Little Giant clone) is only $119 (reg.$199). Similar Little Giant ladder is on sale for $219, so you get a really good deal!
The 60″ wooden workbench is great for those that do a lot of wood-working and other custom stuff – on sale for $129 (reg $250).
Chicago Electric Chop (miter) saw is only $138 (reg. $299) – that is a whooping 56% off (however I think original price is a bit blown up – you can get similar DeWalt chop saw regular price for $299 as well. It will be on sale at Lowe's for $199 – see below.
There are MANY other good deals, so look at the ad included above.

Sears Black Friday Deals:
Sears ad has leaked out, while their official page says "deals coming soon" (link).
As usual, expect 50-60% off, plus additional 1-20% off for some special buys.
Most sales (related to home improvement are in the Appliances department, as well as some Craftsmen tools. We are posting the tools section of the leaked ad below.
Happy shopping, and don't get stomped by others – tools are not as hot as big screen TV, so you won't have to be there at 1 AM.
Also, remember that buying low quality products (what comes to mind first are those "cheap" cordless drills and tools, such as Craftsman as well as no name ones) are MORE expensive than brand-names such as Makitta, Hitachi, DeWalt, etc. This is because they only last a few months (if not weeks) and then you have to replace them, while good tools last for years. So don't be lured by low prices – it's not worth it.

I owned a Craftsmen 18 volt tool set with Nickel-Metal batteries (such as on page 1 of Sears ad) and it DID NOT last long – drill broke within 3 months of use.
I also own a Hitachi 18 volt Lithium batteries tools, and have had the for 7 years, with heavy use in roofing and construction, and they still work great! So don't waste your money.

Same goes for the cheap drill in the Harbor Freight ad.
Good luck and come back for more deals – we will update this page as more sales become available.