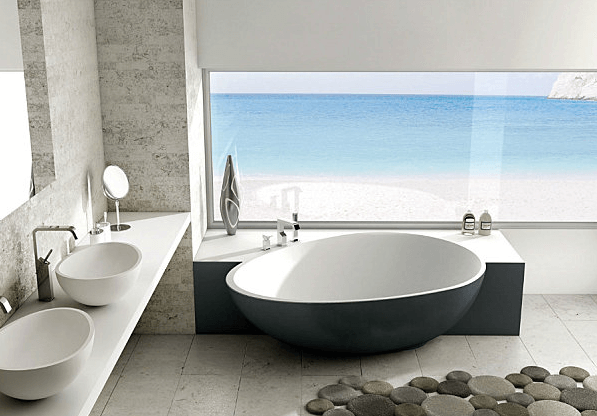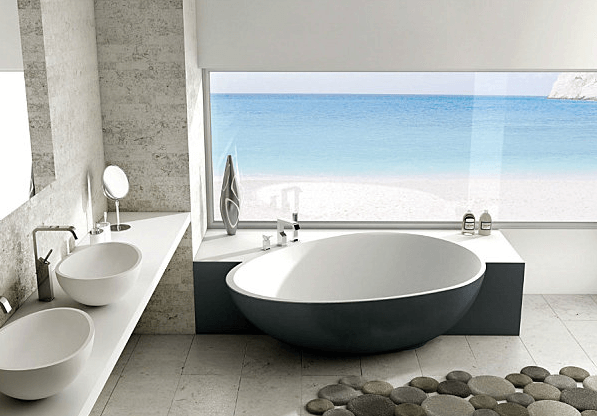 In the world of freestanding bathtubs, there is something for everyone!
You can spend just a few hundred on a simple, no frills tub…
Or a few thousand on a luxurious, hand-carved marble tub, and everything in between.
Each bathtub material comes with its own pros and cons, and needs to be taken care of in a particular way.
Here are the top 7 bathtub materials, from budget to high end, along with estimated costs for each material.
Which one of these beauties is the one for you?
Plastic Bathtub
This is a great choice if you are on a tight budget. The greatest thing about a plastic tub is that it holds heat fairly well, so you will be able to enjoy long soaks. Plastic is also less prone to chipping than an iron tub with enamel. On the down side, plastic is susceptible to scratches.
Care Tip: avoid harsh, abrasive cleaners.
Cost: $180-260
Acrylic Bathtub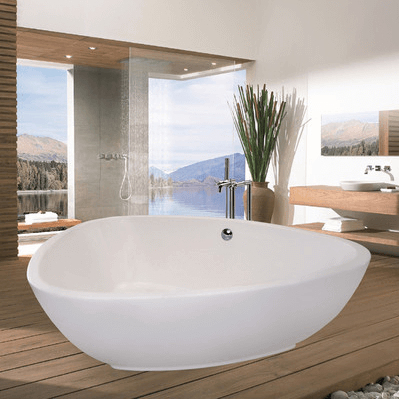 One of the most popular, versatile and affordable tub materials, that fits almost any style/tub, including whirlpool, is acrylic.
It has numerous advantages that make it pleasant to use and easy to clean, such as: beautiful high gloss finish and texture
-warm to the touch
-resists cracking and chipping
-stands up to high temperatures and ultraviolet light
-resists mildew and harsh chemicals
–available in a wide range of colors and shapes, including unique ones, since it can be easily molded.
Care Tip: Acrylic can be scratched, so its is best to wash your tub with a mild, liquid detergent, rather than an abrasive cleaner.
Cost: $290-500 and up
Gel-coated Fiberglass Bathtub
Another inexpensive, strong yet light-weight tub material, available in many shapes and sizes is gel-coated fiberglass.  The major downside of this material is that it is not long lasting, and is susceptible to stains, mold and mildew. Other issues with fiberglass tubs include color fading and spider cracking.
Care Tip: To avoid stains and mold, clean the tub regularly. If you don't, once the mold penetrates the material, it may be very difficult or impossible to remove.
Cost: $500+
Metal Bathtub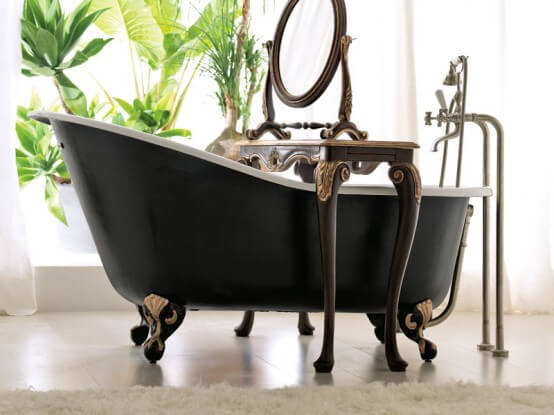 If your bathroom remodel calls for an old-world style, and money is not an issue, a metal bathtub is a perfect choice.
Enameled cast iron, also known as porcelain, is one of the classic freestanding bathtubs.
While absolutely charming, strong and durable, these tubs are very heavy, and may require extra flooring support.
Also, they are cold to the touch and do not retain heat. To remain warm, you will constantly need to keep adding hot water.
The baked-on enamel surface is resistant to cracks and chips. However, these will occur eventually, and will require expensive professional assistance to fix. Another thing that may not appeal to many people, is that porcelain tubs come in limited shapes and sizes. Many can only accommodate one person.
Also, a cast iron tub is not easy to clean; it has a special "non-skid" surface on the bottom, which can be very difficult to clean.
Other high-end metals for bathtubs that offer a unique look are copper, stainless steel (great sparkle), and nickel plated. They are often made double – walled to retain heat.
Cost: $700-2,000 and up
Stone Bathtub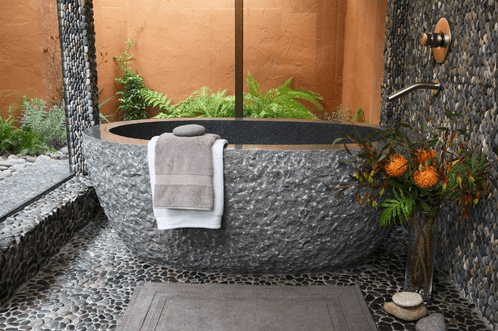 If you are looking to make a bold style statement, go for a stone tub.
While highly expensive, these tubs are often hand-carved and are a true work of art. There are a number of stones to choose from, such as marble, travertine and granite. Any of these will bring a sense of natural luxury to your bathroom space.
Note, that a freestanding stone bathtub is very heavy, so you need to make sure that your bathroom floor can support as much as 2000 lb.
A stone tub is very pleasant to the touch and retains heat better than most other materials. It is very long lasting and durable, and will not be susceptible to chips and cracking.
Care Tip: to maintain its natural beauty and longevity each type of stone requires its own special care and needs to cleaned regularly.
Cost: $5,000-16,000 and up
Wood Bathtub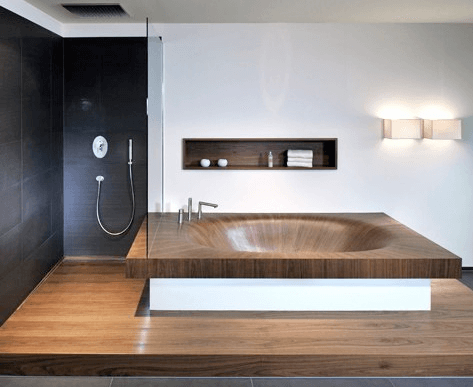 Wood bathtubs are making a huge comeback in the West because of their superior ability to keep heat longer than other materials. They are perfect for soaking and aroma therapy rituals.
You can custom order wood tubs to be any length, depth and stained to your color preferences.
For an ultimate bathing experience, consider a handmade Japanese soaking tub, made of coniferous wood, using special techniques that have been used in Japan for many centuries.
One major disadvantage of wooden tubs is that over a period of time, water may damage the wood, as exposure to moisture causes wood to rot, split, crack and warp. To protect wood from moisture, many manufacturers put a number of coats of sealer or clear fiberglass. Overall, this tub will not last as long as other materials.
Care Tip: avoid using harsh chemicals when cleaning the tub so that the sealer does not get scratched, exposing the wood. It is also recommended to use a wood tub at least once a week, to prevent it from drying out.
Cost: $1,500-4,500 and up
Resin Bathtub
If you love the look of a stone freestanding bathtub, but your bathroom floor cannot sustain the heavy weight, a resin tub is a perfect alternative.
Resin is a high quality composite material, that is very durable, yet lightweight, and can be formed into many different shapes and sizes.
These tubs are scratch and stain resistant, as well as easy to care for.
Cost: $2,500-9,000
Published/updated on: May 3, 2014