While many ladies would agree that there can never be enough shoes in our closets, most of us shoe junkies would consent that there may not be enough closets for our shoes. Closet space is often limited as is, and figuring out how to properly and neatly store different types of shoes can be a real challenge. If you love shoes, learn to organize them in ways that prolong their life and maintain their good looks. Follow these easy tips and discover that you no longer need to search every nook and cranny in your house to find your favorite pair.
Tip 1: Assess your collection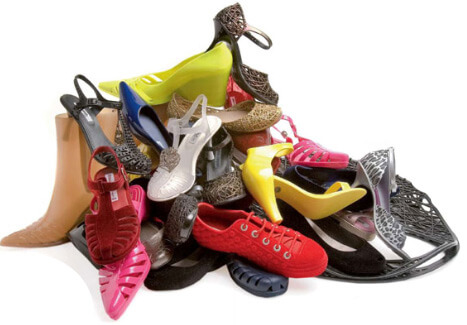 Before you can start organizing, figure out what you actually own. Gather all the shoes you have floating around your house, and sort them into categories: heels, flats, boots, sneakers, platforms, sandals, etc. Once you have them all laid out, it will be easier to figure out what you don't need. You may realize that you actually do not need all the 15 pairs of flats you have piled in front of you. Sorting will also help you figure out exactly the type and the amount of storage space you will need. Some shoes will require boxes, others, shelves or racks, etc.
Tip 2: De-clutter therapy
As exciting as it can be to snatch that new coveted pair of shoes, as unbearable it can be to get rid of old ones. However, this is a necessary step to organizing your shoe collection. To decide which shoes will stay, designate two piles: KEEP and LET GO.
This can be tough, especially if you have a tendency to buy really expensive, designer shoes. To make it easier on your psyche and your wallet, consign or resell the designer shoes you no longer wear- you will get some money back and free up much needed space in your closet.
Here is what you should consider when making your final verdict: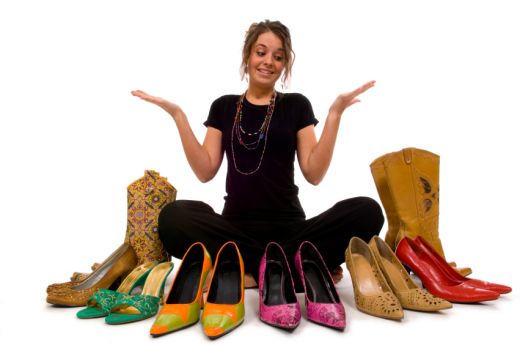 Do you love the way you look?
Try on each pair of shoes to see how they make you look and feel. If you do not feel like they add anything special, they are not worth keeping. This is particularly true for dressy, special occasion pairs; if they don't make you feel like a million bucks, it's time to part with them.
Do they coordinate well with your current style and wardrobe?
While there are essential classics, some shoes do go out of style. Also, if you have pairs that you have bought years ago, but your personal tastes have changed and you no longer wear them- say good bye. Similarly, if you have shoes that do not match any clothes you currently own, they are just wasting precious space in your closet.
Are they in good condition?
Let's face it: shoes get worn out and lose the original sleek look that once made them so attractive. If you are keeping shoes that are beyond repair and simply look old and drab, just get rid of them; they will not look any better no matter how much time they spend tucked away in your closet.
Are they comfortable? In addition to making you look great, it is essential for shoes to be comfortable. If you have bought shoes on a whim, but actually cannot walk in them, get blisters or your feet hurt afterwards, don't torture yourself and let them go. You will be doing yourself a big favor, since wearing uncomfortable shoes has a negative long term affect on your back and your whole body.
Tip 3: Count and Evaluate
Once you figure out what shoes you will keep, count the pairs in each category and also make sure that you have boxes or storage containers for each pair. The rule of thumb is one pair per container/box. After the final count you may find that you need to buy more containers, extra shelves or racks to store your shoes. Carefully evaluate which storage solutions you need, and be sure to measure your closet space before you go out and buy anything.
Tip 4: Find appropriate storage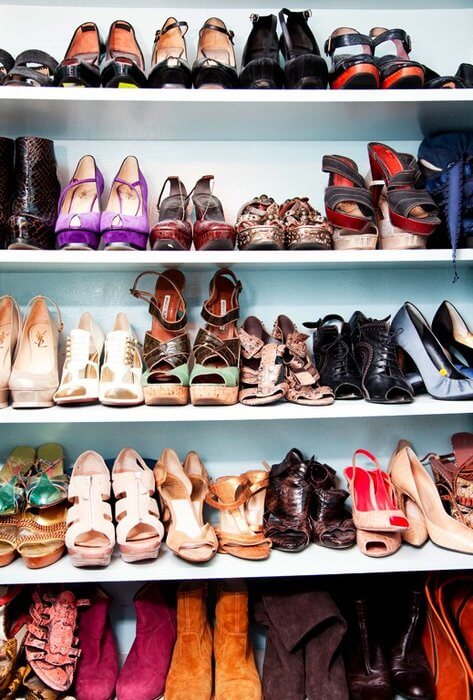 Do not try to store all of your shoes in one space. It creates clutter, makes it difficult to find what you need and simply does not work! Instead, depending on where in house you have free space; designate an appropriate storage area for the different types of shoes that you own:

Shoes for everyday: Whether it is a pair of heels, flats or sneakers that you wear all the time, leave them out near the door. You can keep them on a special mat or a shoe rack. This way you will not need to panic when you are running to work at have nothing on your feet. Another reason to keep them out of your closet is the fact that these shoes collect the most dust and dirt from the street, as well as are more likely to have an unpleasant smell.
Special occasion shoes: Your closet is the best place for your beautiful, special shoes. You can store them on the shelves of your closet, or hang them on a special shoe rack behind your closet door. This way they will be easily visible and accessible when you need to try on different pairs with different outfits. Hanging your shoes or keeping them on shelves or in boxes will also keep them protected and looking like new.
Out of season shoes: Ideally you should not be stumbling over your winter boots in the middle of June. When the shoe is out of season, it should also be out of sight. If you have different shoes for different seasons, store them in boxes or labeled containers on the upper shelves of your closet, under your bed, or in another available storage space in your home. Simply rotate them out when their season comes.
Tip 5: Shoe boxes are your friends
To organize and take care of your shoes, it is best to store the ones you do not frequently use in boxes. You can use original boxes of the shoes that already have the label on them. This way they can be easily stacked, they don't need to be labeled, and you will not need to spend money on buying separate storage containers.
Note about boots: It is especially important to store boots (especially high-end ones) in a box and stuff them with tissue paper. This will preserve the shaft of the boot. Unless it is for snow and rain boots, boot hooks are not a wise solution, as they will actually stretch out the boot shaft over time.
Published/updated on: April 29, 2014