Don't want to be a part of continuous destruction of our environment, and sweat the fact that your hardwood floors contributed to the near-extinction of tigers, orangutans, pandas, trees and plants on our planet?
You don't have to! Many flooring manufacturers have gone green to combat mounting concerns over global deforestation and devastation of natural habitats.
They now offer a number of sustainable wood flooring products. We will walk you through these, along with prices, leading brands and distributors.
Additionally, we provide some nominal prices for non-sustainable hardwoods, as well as its real environmental impact. This can help you become aware of what your hard earned dollars go to support.
FSC Certified Wood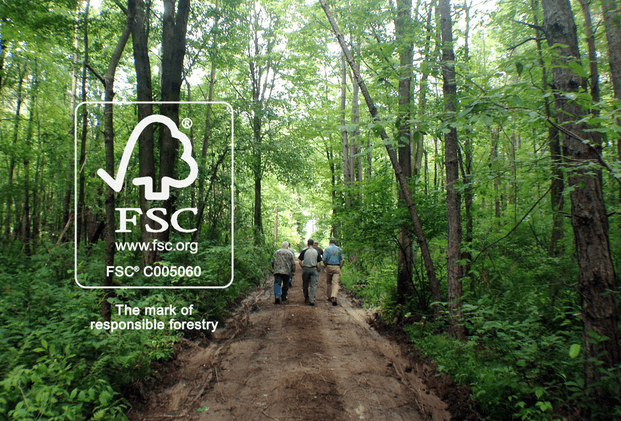 The simplest way to purchase eco-friendly flooring is to look for materials that are certified by FSC (Forest Stewardship Council).
FSC is an independent organization, established in 1993, to promote environmentally sustainable forest practices worldwide. Its main goal is to protect forests for future generations. It operates in 80 countries, where forests exist. Currently, 189,721,678 acres are certified in the US and Canada.
There is a huge selection of both domestic and exotic wood species that are certified. For example: white and red oak, cherry, black walnut, beach, hickory, ash, maple, acacia, Brazilian cherry, tigerwood, jatoba, Santos mahogany, madrone, pepperwood, orchard pecan, cumary, ipe.
Where to buy?
The following are leading companies that offer solid and engineered wood floors that are certified by FSC: EcoTimber (www.ecotimber.com)
Allegheny Mountain (www.alleghenymountainhardwoodflooring.com)
Armstrong (www.armstrong.com) AltruWood (www.altruwood.com).
Note that prices are not listed on their websites. You need to contact them directly for quotes.
Flooring Prices
Here are some sample prices for FSC Certified Flooring. All estimates are from EcoTimber.com
North American Cherry: $7.34/sq.ft
Natural American Maple: $7.34/sq.ft
Natural Red Oak: $7.04/sq.ft
Natural North American Walnut: $7.84/sq.ft
Brazilian Cherry: $6.84/sq.ft
Caribbean Rosewood $7.64/sq.ft
Royal Mahogany $6.84/sq.ft

Cost of none-sustainable wood floors
To compare, here are some sample prices for the most popular hardwoods, domestic and exotic, that have not been sustainably harvested.
Note, all prices are from www.Lumberliquadators.com
-Solid Red Oak: $2.66-5.69/sq.ft
-Solid Maple: $1.76 – 6.09/sq.ft
-Solid Ash: $3.99 – 5.29/sq.ft
-Natural American or Brazilian Walnut: $7.86 – 8.49/sq.ft
-Natural Brazilian or American Cherry: $4.16 – 6.18/sq.ft
-Rosewood(Patagonia and Bolivia): $6.47 – 7.88/sq.ft
-Mahogany: $4.89 – 8.69/sq.ft
-Tigerwood(Brazilian Koa): $5.18 – 6.18/sq.ft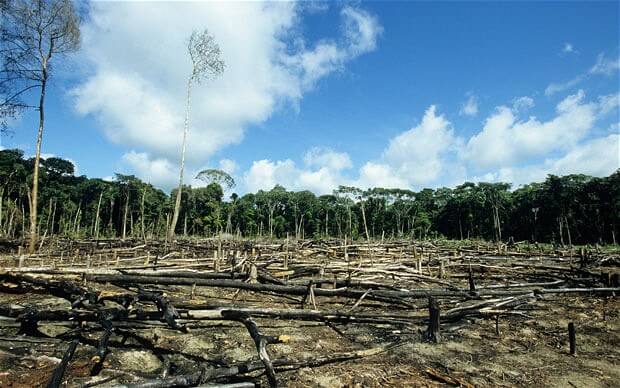 In the US, forests occupy approximately 751 million acres, or about one third of the country's total land area. At the current rate of deforestation, only 25% of the forests that exist today will be standing in 70 years.
In the tropical forests, where most exotic wood species come from, logging is particularly devastating. Already, about half of the world's tropical forests have been cleared! While more sustainable selective logging practices exist, lack of regulation and oversight from local governments in countries like Brazil, Patagonia, Bolivia, Indonesia, enables multinational corporations to come in with their own logging crews and destroy the forests.
Currently, tropical rain forest destruction is a major cause of carbon dioxide emissions. This significantly reduces our planet's capacity to absorb atmospheric carbon produced by human activities.
Sustainable Bamboo Flooring
While most bamboo flooring CANNOT be considered green, there are a few select companies that provide superior quality products, which adhere to sustainable environmental practices:
Teragren (www.teragren.com), and Bamboo Hardwoods (www.bamboohardwoods.com).
Cost of environmentally friendly bamboo vs none sustainable options
On average, you can expect to pay $4-7 per sq.ft for eco-friendly bamboo flooring. By comparison, you can get regular bamboo for as low as a $1 per sq.ft.
Note, that this cheap bamboo is usually harvested after only a few months of growth. So it makes a weak floor that will not last long. High quality bamboo is typically harvested when it reaches maturity, after 3-5 years of growth.
Here are the top problems associated with bamboo floors:
– clear cutting of thousands of hectares of regular forests to plant bamboo
– use of hazardous chemicals and fertilizers that pollute water and cause cancer
– toxic VOC emissions
– loss of biodiversity
– threat of extinction to various animal species, such as pandas
Reclaimed Wood Flooring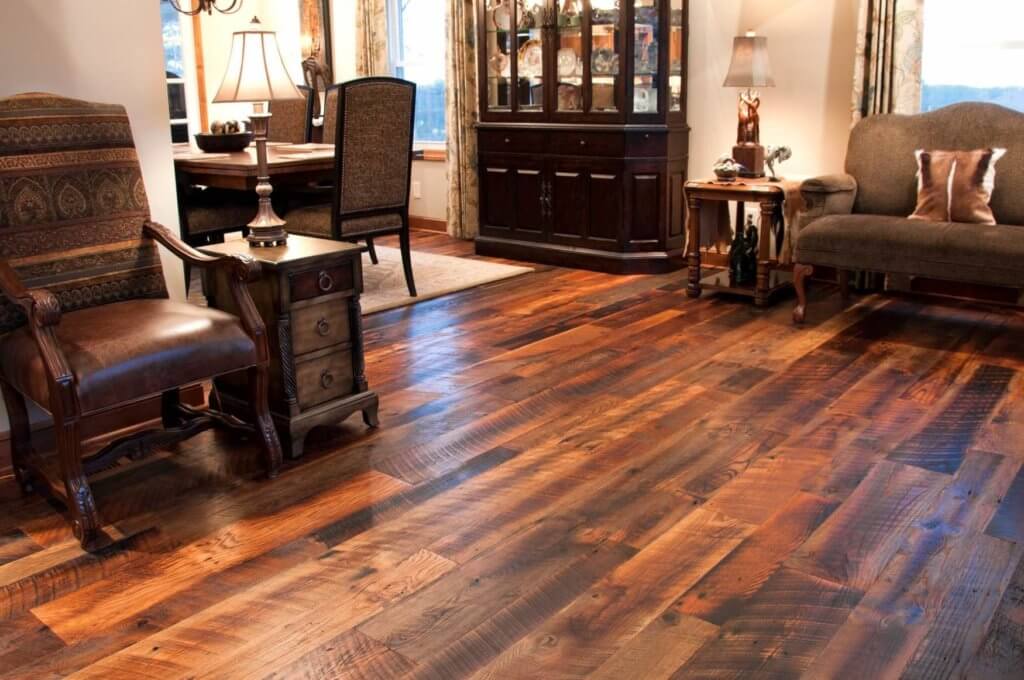 If you are a hardcore green living enthusiast, reclaimed hardwood is your dream come true. This is a truly eco-friendly option that preserves our forests! It reduces waste and pressure on our landfills, and conserves energy by salvaging and recycling old wood building materials. The finished product is an exquisite material with rich and unique accents.
Reclaimed wood is usually taken from demolished or expired buildings, barns, mills and warehouses. These woods are often a lot stronger and more durable than the those used in modern hardwood floor manufacturing. This is because they are made from virgin grown timber, which was allowed to grow for hundreds of years before anyone touched them.
Moreover, many of the species are no longer available today. This adds an exclusive quality and historic character to your floor.
Where to buy?
Since this is a very expensive and less popular flooring option, there are only a few companies that manufacture and distribute it.
-Elmwood Reclaimed Timber (www.elmwoodreclaimedtimber.com)
-The Woods Company (www.thewoodscompany.com)
-Sylvan Brandt (www.sylvanbrandt.com)
Flooring Costs
The cost of this wood is often a lot higher (20-50%) than both regular and FSC certified products.
Here are some sample prices from Elmwood Reclaimed Timber, and Sylvan Brandt:
Old Growth Ash Premium Select – $4.05/sq.ft
Weatherboard – $9/sq.ft for 4″-10″ wide
Resawn Antique Oak – $7/sq.ft for 3″-5″ wide, and $10/sq.ft for 6″-10″ wide
Resawn Antique Heart Pine – $8/sq.ft for 3″-5″ wide, $11/sq.ft for 6″-10″ wide
Walnut End Grain – $13.55/sq ft
Environmental Impact
Logging, or the process of cutting down trees for timber harvest takes a huge toll on the environment, when practiced in an unsustainable way.
Here are just a few of the many ways irresponsible logging practices affect the world's forests:
-Massive deforestation (for example, more than 10,000 acres per year is lost in Brazil alone)
-Disruption and loss of natural habitats
-Increased greenhouse gases emissions (an estimated 15% is the result of deforestation)
-Extinction of numerous plant and animal species
-Water cycle disruption
-Irreversible local climate changes
-Soil erosion
-Droughts
This enormous damage will be felt for generations to come, and it will continue accumulate, if we choose to buy unsustainable hardwood floors.