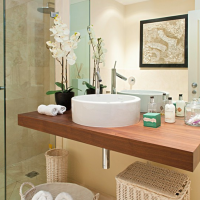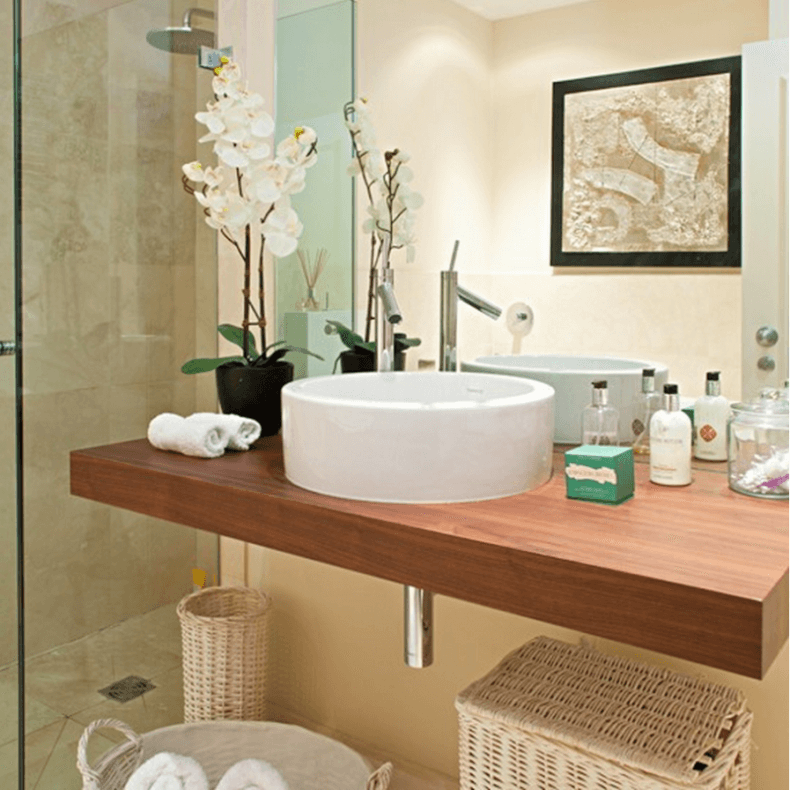 Did you know that the  average price people are willing to spend on their bathroom remodel is now hovering over $10,000?
However, it really is possible to spend a lot of less!!!
My husband and I just did a quick remodel for less than $1,000 in our small bathroom.
Here are 7 budget friendly tips to help you give your old bathroom a face lift.
Especially if you live in a rental apartment or a condo that you don't plan on staying in for too much longer, it is smart to do a budget bathroom remodel and hold on to your cash for other needs.
We live in a condo where the bathroom has not been renovated for at least 15 years. We decided to do a fast, inexpensive remodel before the birth of our son. Since we are planning to move out in the next two years, our goal was to spend less than $1,000 dollars on the whole project. My husband went the DIY route for the major remodeling work and I took care of the new bathroom decor.
I used these 7 simple tips to transform our bathroom into a beautiful space our whole family loves! The best part: it only cost me $247! To see how much each accessory cost and where I got it, check out the chart with all this info at the end of the post.
The rest of our $1000 bathroom budget went to doing the actual remodeling work – new bathroom sink / cabinet / faucet, new toilet, bathtub refinishing, wall painting, etc. See how my husband renovated the bathroom for less than $750.
Pick a Design Style or Theme
One of the biggest decor challenges is to create a unified look that feels organic. The wrong path to take is scout out different accessories that catch your eye and stuff them into your bathroom. Instead, before you go shopping, settle on a design style or theme that you and your family like. This will help you focus and pick out only the accessories that complement the style you chose.
My family loves the beach, so that was our decor theme. I decided to make it even more specific and focused on shells. As you can see from the decor I picked out, most of the pieces have shells, and the ones that don't, are beach related.
Choose Your Favorite Color Pallet (not a current fad)
Every year and even every changing season, top remodeling and interior design blogs come up with color trends for every room of the house. There are so many beautiful pictures of someone else's bathrooms that lure you in to try new trendy colors in your own space. I wouldn't go for that simply because trends change constantly, and you have to live with your bathroom color for a while (unless you plan to repaint it every couple of months). Instead, pick a color YOU love and enjoy looking at all the time, and use it in your bathroom. At some point, I am sure your colors will also become trendy:) Especially because the bathroom space is small, color will make a huge impact, so think twice before you settle on a color.
I picked a light blue/white/beige color pallet, for two reasons: 1. I love those colors 2. This pallet would complement our large cobalt blue ceramic floor tile.
Add Interesting Details
In a small bathroom, details can make a big difference. If you cannot spend a lot of money on big items such as the vanity, hardware, toilet, etc., you can still create a cozy and charming atmosphere by adding beautiful small accessories that will catch attention.
I love Japanese art and I found a decorative electric switch plate in that style ( Hokusai:Weeping Cherry and Bullfinch at http://www.artplates.com ).
DIY an Accessory
Instead of buying an accessory, you can put together one on your own. You don't have to be a master DIYer or an artist to do that. For our bathroom I got a small glass heart shaped vase, filled it with pretty pink and white shells and put a pink candle in the center. Voila!
Decorate with Plants
Greenery (the real ones) always brings a vibrant and happy feel to any space. The best part, plants are some of the least expensive accessories you can find. On the downside you do have to water them, because nothing looks more unattractive than a dying, wilting plant.
For our bathroom I got 3 bamboo sticks from Ikea (they actually bloomed) and put them in a clear glass vase from the Dollar Tree. I love the rich green color of bamboo and compliments the blue tile color in the bathroom. To add visual interest I also got green and blue glass pebbles that I put in to the glass vase. I change the water in the vase every couple of days.
Splurge on ONE Designer Accessory
You can add a bit of chic to your bathroom decor by finding one designer accessory you absolutely love. It can be a shower curtain, a trinket dish, a wall hanging, really anything that makes you smile every time you look at it. If you are on a tight budget, get just one such accessory and see where you can cut corners by purchasing less expensive, more generic stuff. For our bathroom, I found this cool, handmade hanging glass sculpture by and Israeli artist, Orna Lalo of Lalo Treasures. It was a sale item and I got it for $75.
If I had a larger budget I would also splurge on these gorgeous candle holders ($95 each) (shhh, if I had my way I would buy the entire Lalo collection, I think its brilliant 🙂 ) You can find many of her pieces at http://www.settygallery.com/.
Set A Budget
Figure out the maximum amount you can spend on your bathroom decor and STICK to it. If you don't, you will end up overspending and getting accessories you really don't need. Then they end up cluttering your home, because you tell yourself that at some point you will figure out the perfect spot for them. I have fallen into this trap myself a bunch of times, so now I always cap my spending.
For our bathroom decor the cap was: $250. I ended up spending $246.15!
In the chart below, you can see exactly what I bought, the price of each accessory and where I got it.
| BATHROOM ACCESSORY | COST | SOURCE |
| --- | --- | --- |
| TOTAL COST | 246.15 | |
| | | |
| Fabric Shower Curtain, Seashells Pattern | 32.99 | Overstock.com |
| Blue Bath Mat | 15.99 | Home Goods Store, Newton, MA |
| Soap dish, 2 Tothbrush Holder Cups, Seashell Design | 18.75 | Home Goods Store, Newton, MA |
| Hanging Net with Seashells | 16.99 | Home Goods Store, Newton, MA |
| Seashells Trinket Dish | 11 | Home Goods Store, Newton, MA |
| 2 Framed Drawings of Sea Shells (12x16) | 30.99 | Home Goods Store, Newton, MA |
| Glass Vase | 1 | Dollar Tree, Boston |
| Heart Shape Glass Vase | 1 | Dollar Tree, Boston |
| A small batch of glass green blue pebbles | 1 | Dollar Tree, Boston |
| A small batch of sea shells | 1 | Dollar Tree, Boston |
| 1 Small Pink Candle | 2.5 | Pier 1 Imports, Brookline, MA |
| Handmade Sea boat glass hanging sculpture by Orna Lalo | 75 | http://www.settygallery.com/ |
| Frameless Mirror (24x30) | 18.99 | Home Depot, Brighton, MA |
| 3 Bamboo Sticks | 9 | Ikea, Boston |
| Decorative Electric Plate, Asian Style | 9.95 | http://www.artplates.com/ |
Recommended Reading
Bathroom Remodeling Calculator
Bathroom Remodeling: Material Costs