Do you have a small 5×8 bathroom that is need of a major update? While you may not be able to change the physical size of your bathroom, you can certainly transform it into a space that will look and feel modern and spacious. All you need to accomplish your remodeling project is a bit of creativity and a few design rules for small spaces.
Here are 8 small bathroom design tips along with prices, to kick start your dream makeover.
INSTALL A GLASS SHOWER ENCLOSURE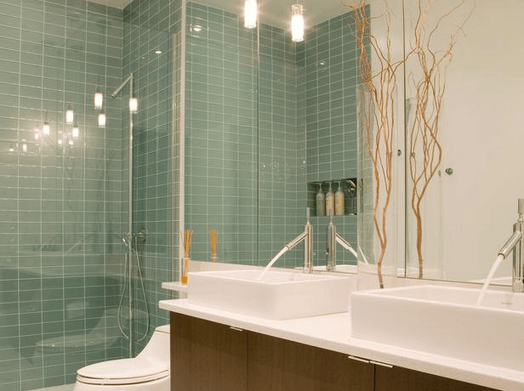 A shower curtain is one element that can drastically diminish the appeal of a small bathroom. A curtain makes the bathroom look dated, while also creating a visual separation between the shower/bathtub space and the rest of the room, making it appear half its real size. Framed glass doors also look heavy and divisive. The optimal solution is to install frameless glass doors, that will create a seamless, continuous look from wall to wall, visually enlarging the space. If you do not actually use your bathtub, consider removing it completely, and installing a glass shower enclosure. This will completely transform your space, giving it a luxury spa-like look and feel.
Cost: If you DIY the installation and are looking to get a small glass shower enclosure (31 x 31), you can pay as little as $550-650 for it. A standard size enclosure, with installation can run from $1500-2500, and a larger shower with multiple sides and special hardware can range from $2500-8000.
CHOOSE SPACE-SAVING STORAGE
If you want to open up your bathroom space, the first thing to replace is the old, bulky cabinets that leave no breathing room. Luckily, today there are plenty of stylish cabinets to choose from, that will not only add inches of precious space, but will also offer smarter storage solutions.
To visually add height to your bathroom, consider installing floor to ceiling cabinets. Floating storage cabinets are another attractive and effective storage solution that saves space. Also, consider using under-sink storage and towel bars to free your counter-top of clutter, for a cleaner, more spacious feel.
Cost: A single floating bathroom vanity can cost around $400, while larger cabinet systems and floating dual sink vanities can range from $600-2,000. Tower storage cabinets range from $100-400.
TRY LARGE MIRRORS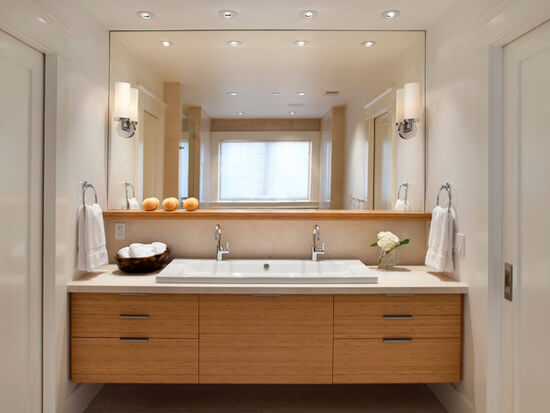 Interior designers commonly use mirrors to create an illusion of a larger space. Install a large, frameless mirror along one of the bathroom walls, and kiss the claustrophobic feeling in your bathroom goodbye. Huge, floor to ceiling mirrors that span the entire wall offer a stunning effect, but smaller mirrors that start at the height of your vanity and go up to the ceiling work just as well.
Cost: In terms of prices, size, design and shape make a big difference. Large 42″ frameless mirrors can start at around $250. Mirrors that are 60″ and over start at around $600 and go up. Fancy frames can hike up the cost to as much as $2000+.
GO FOR OVERSIZED TILE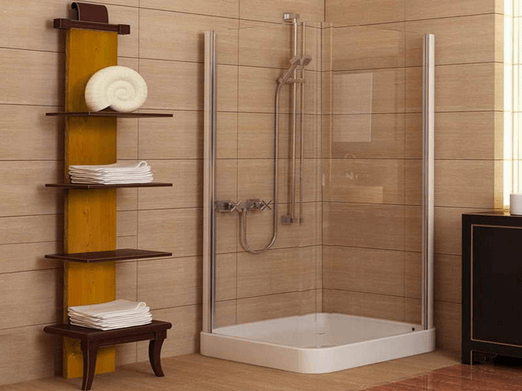 A sure way to dramatically transform the look of your bathroom is with tile. One design tip for small bathrooms is to go with oversized tile, such as 30×30, because these large surfaces and minimal amount of grout lines will make the space appear much larger and airier. Where should these tiles go? To achieve the best visual effect, consider doing floor to ceiling tile of the same color (preferably light) throughout the bathroom. By keeping the tile the same size and color both on the walls and on the floor, you create an illusion of seamless space, without dividing lines that visually cut up the room. Another great way to add a sense of space and height to your bathroom is by installing your tile vertically, rather than horizontally.
For a unique and creative look, go for glass tile; ceramic tile offers a more traditional look, while natural stone tile brings a sense luxury.
When selecting your bathroom tile keep in mind the material's slip and moisture resistance. Safety is the Number 1 priority in a bathroom, especially if you are remodeling a space that will be used by children or elderly individuals.
Cost:The following are prices for Stone Tile: Marble Tile (18×18): $6.79-11.99/sq.ft, Granite Tile (18×18): $5.99-20.81/sq.ft, Onyx Tile (12×12): $6.99-16.80/sq.ft, Slate Tile (24×24): $11.96-21.96/sq.ft, Travertine Tile (24×24): $23.96/sq.ft.
Prices for Ceramic Tile: (12×24):$2.19-7.86/sq/ft; (16×16): $0.68-20.37/sq.ft, (17×17):$0.97-1.90/sq.ft
Prices for Porcelain Tile:: (12×24): $1.58-39.84/sq.ft; (16×16): $1.58-2.75; (17×17): $1.83-4.62
If you are really not into the idea of huge tile all around your bathroom, another possibility is to install one or two bands of smaller size colorful tiles that span the entire bathroom. These bands attract the eye, taking it all around the room, and making it appear visually larger.
Cost: The prices for small glass tiles range from as low as $4.95/sq.ft to as high as $22.95/sq.ft depending on the quality of glass and design.
COMBINE VARIOUS TYPES OF LIGHTING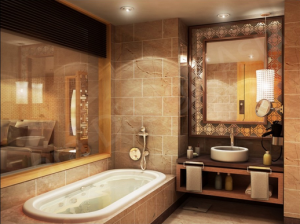 A single, ceiling mounted light fixture makes the bathroom look dated and offers the least amount of visual interest and functionality. Instead, consider installing recessed lighting, as well as task lighting above the vanity. You can get creative with task lighting and put in fixtures that offer an interesting focal point. Different types of lighting in one space will create an overall brighter and therefore visually bigger bathroom. Avoid using fluorescent lighting, as tends to look depressing and also adds an unnatural tone to your real skin color.
Cost: On average, bathroom vanity lighting can cost from $150 – 450, depending the design and finish. Bathroom chandeliers can cost as little as $100, average $250-500 and go up to $2000, depending on the number of lights, design and finish.
BREAK THE RULES OF TRADITIONAL DESIGN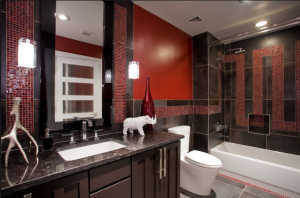 The beauty and special advantage of a tiny bathroom remodel is that you can break many design rules and play around with colors and patterns that would look "over the top" in larger bathrooms. By incorporating eye-popping details, you take the focus away from the square footage of your bathroom, and create a unique space that is all about experience, rather than size. Get creative and incorporate elements of design that speak to your personal aesthetic. Consider bright splashes of tile, unusual bold color choices, interesting wall paper patterns, unique shapes and materials for your vanities, catchy lighting fixtures, etc.
REPLACE BULKY VANITIES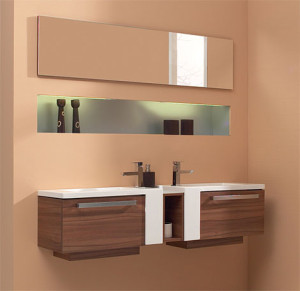 One of the key elements to successfully redesigning a small bathroom is to evaluate which fixtures take up too much and replace them with a smaller alternative. Typically, older homes have bulky bathroom vanities that are not very functional. Instead, consider installing a tall pedestal sink, a console or a wall mounted sink that matches the overall style of your bathroom. Today, there are many design options to choose from, ranging from the minimalist and ultra-modern, to traditional, old-world charm sinks.
Cost: You can expect to pay the following prices for pedestal sinks: modern glass:$180-400, ceramic: $170-600, copper: $400-1,000, stainless steel: typically over $1,000
Console sinks: budget models: $200, average cost: $300-600, and high end models: $1,000+.
Wall mounted sinks: budget models: as little as $80, there are plenty of styles to choose from in the $150-300 range, and designer sinks such as Kohler and Duravit, starting at $550-600+.
THINK COLOR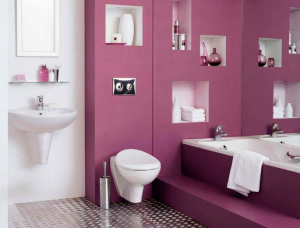 Color can really break or make your bathroom remodel. You can play it safe, and use neutral earth or ocean-inspired tones typical in larger bathrooms, but your bathroom will not gain much. On the other hand, you can transform the space by using brighter and bolder colors, such as deep hues of red or orange. Surprisingly, dark colors such as charcoal and black can also be an innovative choice, especially if you are going for a contemporary look. Since the space is small, don't be afraid to experiment with a color you really like, it will be quick and inexpensive to repaint, if it fails to meet your expectations.
Published/updated on: February 10, 2014