Calculate Deck Building Prices
Today, there is a wide range of deck materials to consider, ranging from budget to upscale.
We will review prices for the most popular decks: Composite, Plastic Lumber, and Pressure Treated Lumber.
It costs anywhere from $6,500 to 11,500 to build a new 300 sq.ft. deck with framing, depending on the material you use.
Use this Deck Material Calculator to get a quick price quote for building a new deck.
Note: all decks use treated lumber for framing (structural part of the deck, which is usually invisible).
Therefore, you are actually choosing the surface and railings (visible part) of your deck.
Composite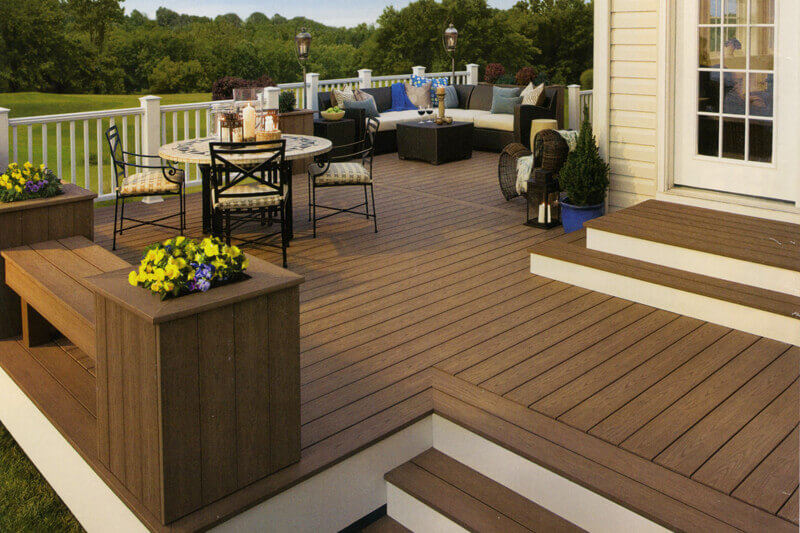 The average cost of a composite deck is $7.82 – 8.68 per sq. ft.. So a 300 sq.ft. deck will cost $6,800 – 8,760 to build.
However, prices vary greatly depending on the brand. The most well-established and largest manufacturer is Trex. However, in recent years other companies have come to the spotlight with their own product lines, such as: CorrectDeck, TimberTech and Veranda.
These decks have been around for just over two decades, and are now the fastest growing segment of the decking industry. They are made from a combination of real wood fibers and recycled plastic (30-40%). These materials offer a viable alternative and many advantages over classic wood decking.
For homeowners, the biggest selling point is very low maintenance. For increased durability, consider purchasing Capped Composite Decking: the surface is covered with a thin film of plastic. It is best to get a light color deck if you live in a hot climate, as it will retain less heat and will be more comfortable to walk on.
| PROS | CONS |
| --- | --- |
| | |
| 1. Extremely low maintenance | 1. Some products may eventually show signs of decay, since they contain wood |
| 2. Resistant to rot, decay and insect infestation | 2. Mold and mildew may grow in shady, damp areas of the deck |
| 3. Comes in a variety of colors and styles that replicate the look of real wood | 3. Surface gets very hot and hard to walk when exposed to high temperature |
| 4. Requires no sanding, sealing or staining | 4. Darker colors will fade faster than lighter colors |
| 5. Very durable and weather resistant material | 5. If mold appears, it may be difficult to remove |
| 6. Available in sizes similar to wood decking, including 2 x 4, 2 x 6 and 5/4 x 6-­in | 6. Needs more support than wood to prevent sagging, which increases the cost |
Plastic Lumber
A classic plastic lumber deck costs about $7.50 per sq.ft. for hollow core, and $9.48 per sq. ft. for solid core PVC. A 300 sq.ft. deck with a frame will run $9,100 – 11,700
This material is a close cousin of composite decking and shares many of its features and characteristics. It is manufactured exclusively of either virgin or recycled plastic and does not contain any wood fibers. The most popular plastic is polyvinyl chloride (PVC). Similar to composites, it retains heat, so its best to select a light color if you live in a region with a hot climate.
Top manufacturers are: Azek Deck, ForeverDeck and Leisure Decking.
| PROS | CONS |
| --- | --- |
| | |
| 1. Available in wide range of colors and styles | 1. Susceptible to mold and mildew in dark, shady areas of the deck |
| 2. Impervious to moisture, rot, decay and insects | 2. Gets extremely hot and difficult to walk on during hot weather |
| 3. Will not warp, crack or split | 3. Darker colors will fade faster than lighter colors |
| 4. Highly weather and stain resistant | 4. If mold spots appear, they will be difficult to remove |
| 5. Close to Zero maintenance | 5. Prone to chalking |
| 6. Will not need to be sanded, sealed, or stained | 6. More likely than composites to shrink and expand with temperature fluctuations |
| 7. Can be recycled making it eco-friendly | 7. May fade from rubber mats, sunscreen and insect repellants |
Pressure Treated Lumber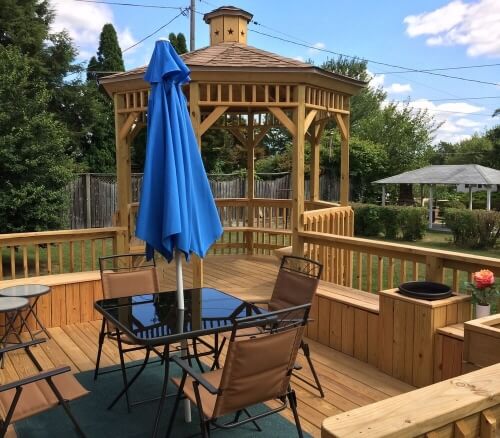 Pressure Treated (PT) Lumber is the most economical and popular material used for decks. You can expect to pay an average of $4.75- 5.60 per sq.ft. for standard PT lumber and about 40% more for premium grades. It will cost about $6,500 – 8,400 to build a 300 sq.ft. PT deck with framing.
Over 75% of decks across the US are build using pressure treated lumber (typically milled from Southern Yellow pine). It is important to know that not all pressure treated lumber is created equal in terms of quality. Its advisable to buy "choice," "premium" or "select" treated boards. These will have fewer knots, straighter grain, and will not warp as much as the regular grade boards. As a result, they will look a lot better over time.
For many years PT lumber has been infused with a now known carcinogen – chromated copper arsenate (CCA). However, as a result of research, this toxic chemical has not been used in residential decking since December 2003.
Instead, PT lumber manufactured today is treated with safer chemicals, such as alkaline copper quaternary (ACQ) or copper azole. A number of cutting-edge products, such as Wolmanized L3 Outdoor Wood contain a new, carbon-based, nonmetallic preservative.
| PROS | CONS |
| --- | --- |
| | |
| 1. Chemically treated to resist rot, fungus and wood boring insects. | 1. Budget grades tend to crack, warp, split |
| 2. Perfect for DIY construction: easy to cut and fasten with nails/screws | 2. Requires routine maintenance, such as annual power washing |
| 3. Extremely long lasting: most manufacturers offers a "lifetime" limited warranty | 3. Requires application of stain and sealant every 2-3 years |
| 4. Can be used for both ground level and elevated deck design | 4. Requires stripping and sanding every 6 years before stain is applied |
| 5. Dent and scratch resistant | 5. Requires galvanized metal fasteners to resist corrosion |
| 6. Most affordable option | 6. In case of fire, toxic gases can be released into the air |