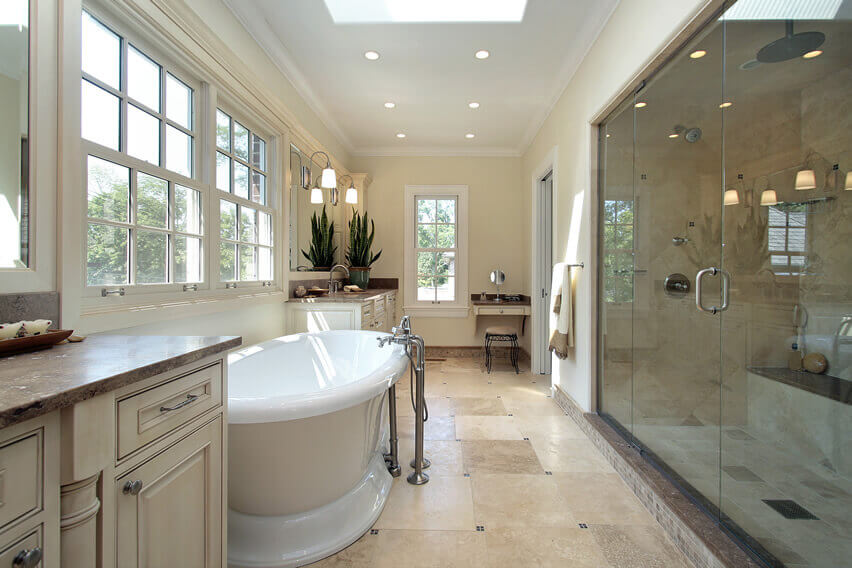 Are you remodeling your bathroom and looking for ways to add a touch of extra luxury and comfort to your new space?
There are incredible bath fixtures and gadgets that will make you feel like a king/queen, that you probably don't even know exist!
From electronic bidets and touchless faucets, to heat lamps and showers with LED lights, there are many cool products designed with the latest technological innovations for maximum comfort and style.
If you are ready to splurge and be pampered like royalty, check out out list of the 10 most upscale bathroom fixtures.
(Note, all prices on Amazon listed here are subject to change without notice. Click on each product to get the updated cost).
Average Bathroom Remodel Costs:

See costs in your areaStart Here - Enter Your Zip Code
1. Touch Free Toilet: San Souci by Kohler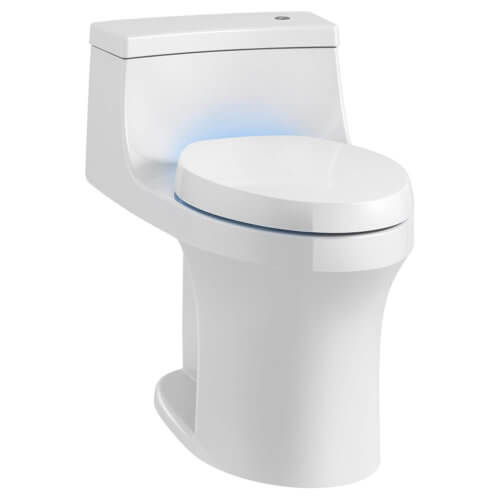 Undoubtedly, one of the most important fixtures in the bathroom is the toilet. So, here is one that will totally transform the experience: San Souci Touchless Toilet by Kohler.
Innovative technology enables you to simply hold your hand over the tank sensor to activate the flush. Also, no need to touch the handle ever again, which means fewer germs to pick up and spread around. Finally, the germaphobe in you can rest in peace!
Kohler is a leading manufacturer of bathroom fixtures offering superior quality and durability products. Thus, the San Souci toilet offers impeccable design and comfort, in addition to the very cool touchless flush feature.
Colors: White and Bisque (costs about $200 more than white)
Price: $650 – 700
Installation Cost: Amazon can install the toilet for an estimated $240. Hiring a plumber to do this job will cost the same or more. However, if you can hire a handyman (someone without a licence), you would be charged around $100-150 for the job.
On the other hand, we always strongly recommended hiring only licensed contractors for any type of install. Trying to save a few bucks can lead to bigger problems that will cost a lot of money to fix.
Notable Features
Flush is activated by a no-touch sensor mounted inside the tank
Touchless flush is powered by 4 AA batteries (included)
Elongated bowl offers added comfort
Includes k-5588 purefresh toilet seat, does not include supply line
Super powerful flush: aquapiston canister allows water to flow into the bowl from all sides (360 degrees)
Chair-height seating that makes sitting down and standing up easier for most adults
1.28-Gallon flush provides significant water SAVINGS of up to 16,500 gallons per year
Sleek, contemporary design
2. Verdana All Inclusive Vanity, Sink and Faucet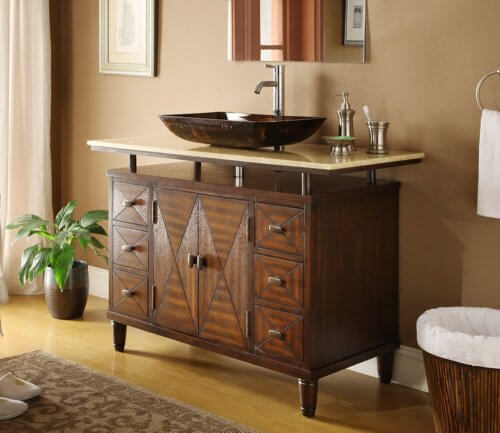 If you don't like to spend time shopping for different bathroom fixtures and trying to figure out if they match well, this upscale all inclusive vanity by Verdana is a perfect fit. It comes with the vanity cabinet, a beautiful sink bowl and a faucet.
Also, the vanity is a generous 48 inches with all functional cabinets. Lastly, the style would look ideal in rustic, transitional or traditional style bathrooms.
Price: $1,100
Rating: 4.9/5
Notable Features
Dimensions: 48 x 22 x 33.5"H,
Honey Color onyx counter top
Faux wood pattern glass bowl
Chrome finish faucet
Transitional style: dark brown finish on the cabinets
Ample cabinet storage with half shelf
3. Waterfall Faucet With LED Lights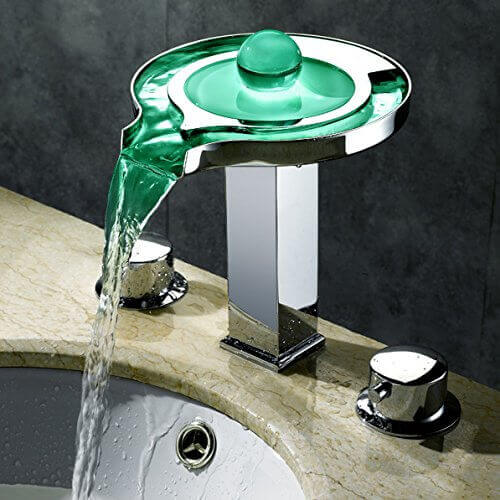 If your idea of luxury includes sleek, futuristic – looking fixtures, then you will fall in love with this waterfall faucet by Jia You Jia.
It is designed with a widespread spout that really makes a stunning waterfall impression. Best of all, this faucet also has changing LED lights that change colors depending on the temperature of the water. Undoubtedly, this awesome faucet will be envy of your friends, and the delight of your entire family.
Price: $220-250
Installation Cost: Amazon can install the faucet for an estimated $100.
Rating: 5/5
Notable Features
Sleek, modern design
3-hole installation
Double handle operation
LED lights that respond to water temperature changes
LED colors: LED colors: Red, Blue and Green
Lights will automatically turn on when water pressure is turned on
Durable Brass Body
Chrome finish that will not rust
4. Towel Bar Warmer
If you live in an area with prolonged winters, you would surely appreciate having extra warmth in your bathroom. Now you can, with a 4-bar towel warmer by Warmly Yours.
It swivels for easy reach and storage and comes with a "Smart" WeMo Switch, which allows you to start it remotely. That's right, you can warm your towels, ahead of time, right before you decide to take a shower or bath.
Price: $210-240
Rating: 4.5/5
Notable Features
20 volts, 60 watts
Sleek serpentine loop design
Swivel technology, ideal for easy access
Compact towel storage
2 year Warranty: covers Parts and Labor
"Smart" WeMo Switch enables mobile operation from anywhere
5. Ceiling Heat Lamp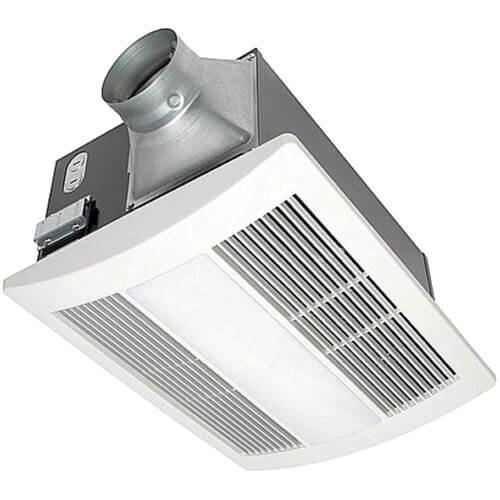 To feel warm and toasty, install a ceiling heat lamp. Indeed, nothing is more pleasant than to step out of the shower and experience radiant warmth all over your body.
While there are many inexpensive ceiling heat lamps out there, we recommend a brand that can be trusted: WhisperWarm Ceiling Mounted Fan by Panasonic.
Moreover, the beauty of this device is that it offers a heat lamp, fan, regular and night light all in one! This lamp is one of the most popular bathroom fixtures sold on Amazon, and people who own it, simply love it.
Price $200-250
Rating: 4.6/5
Notable Features
Smaller, quieter, warmer, and easier to install than competitors
Heating element features chrome wire with magnesium oxide for optimal heat transfer
Blower wheel is designed to draw air in both sides, allowing more area for air to enter the wheel
Highly durabel Stainless steel heating element
Trouble-free operation for years to come thanks to permanently lubricated motors
Rated 110 cubic feet per minute
6. Integrated Bidet Toilet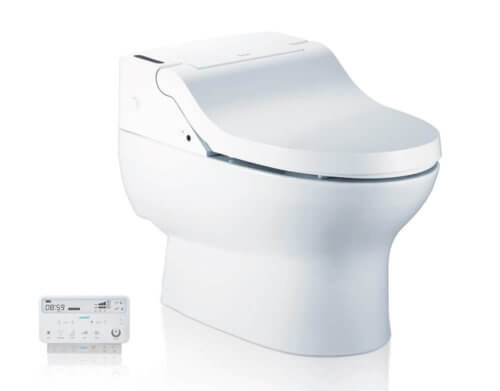 To truly pamper yourself, install a bidet toilet. While many people in the USA still have no idea of the pleasure and cleanliness one gets from washing rather than using toilet paper after going to the bathroom, a few have already discovered this secret gem.
We recommend a Bio Bidet toilet; it will exceed all your expectations! Enjoy a warm water wash with adjustable temperatures, dual flexible nozzles for him and her, and pulsating massage technology with bubble infusion.
Truthfully, after you try it once, you will not want to go another day without this bidet.
Price: $1,670 – 1,700
Installation Cost: Amazon can install the toilet for an estimated $240. Hiring a plumber to do this job will cost the same or more. If you can hire a handyman (someone without a licence), you would be charged around $100-150 for the job.
Rating: 4.2/5
Notable Features
Uniform and clean look ideal for modern style bathrooms
Compact design
Wireless Remote Control
Transparent LCD Window Screen that enables you to see all the settings
2 in one oscillating and wide cleaning nozzle system for Him and Her
Pulsating massage cleaning
Continuous warm mater
Bubble Infusion
Adjustable warm air dry
Auto flush
Adjustable heated seat
Powerful deodorizer
Slow closing seat and lid
3 year limited warranty
7. Bidet Attachment by TOTO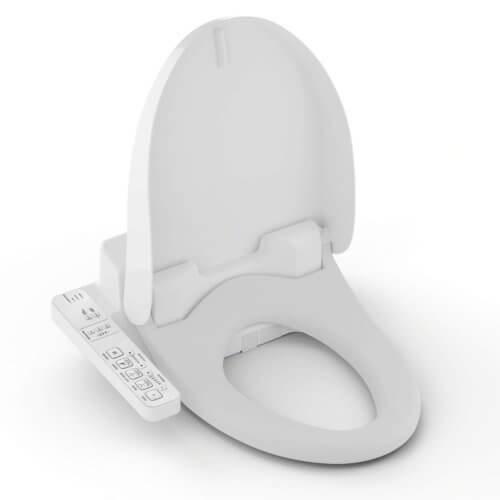 If you cannot remodel your bathroom in a way that will include a dedicated bidet toilet, you can still enjoy the convenience and pleasure of the bidet, by installing an attachment on your regular toilet.
Now, there are many bidet attachments to choose from, some mechanical, others electronic. We recommend getting the best attachment out there: TOTO Elongated Washlet. In fact, you get all the bells and whistles of a high-end separate bidet toilet, in this sleek looking attachment, for 1/4 of the price!
Moreover, TOTO comes with a heated seated, water temperature controls, dual oscillating nozzles and more. Once you try it, you will not know how you ever lived without a bidet:)
This is one fixture that is a total splurge, but you will not give it up, once you try it.
Price: $320
Installation Cost: Amazon can install the toilet for about $175. If you can hire a handyman (someone without a license), you would be charged around $75-100 for the job.
Colors: Cotton White and Sedona Beige
Shape: Elongated and Round
Rating: 4.4/5
Notable Features
Washlet performs a premist of bowl before each use to prevent waste build up
Adjustable front and rear warm water wash
3 temperature settings and 5 pressure settings.
Oscillating stream option
Heated , soft close seat
Warm air dryer with three variable settings
Automatic air deodorizer removes odors while sitting on the seat
Self-cleaning wand, that is automatically cleaned before and after use
Convenient arm control panel
Quick release, easy seat removal for simplified cleaning of the Washlet and toilet
Sleek, modern design
8. Shower Panel & Massage System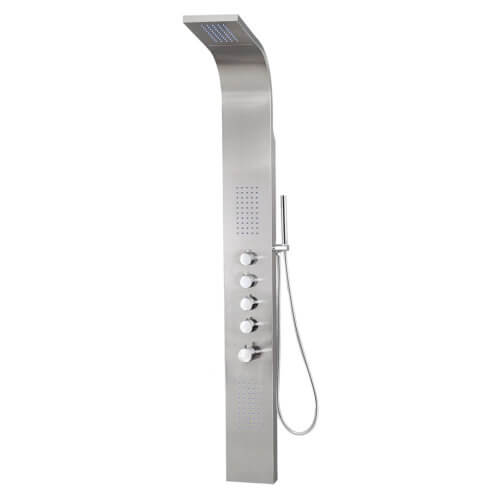 If you want to transform your space into a private spa, a shower panel will do the trick.
Now, we are not talking about just any old panel, this Decor Star Panel offers an integrated rain shower, massage system with jets and a hand held shower. Your shower routine will be transformed into a truly relaxing get away.
Moreover, you will love the stainless steel look and the cool, futuristic design. Indeed, this shower panel will look perfect in a modern bathroom, and would also work well in a dedicated man's bathroom.
Price: $280
Rating: 4.4/5
Notable Features
Elegant European inspired design
Attractive silver stainless steel panel
Durable stainless steel frame construction
4 stage shower function (Rainfall, Waterfall, Horizontal Massage Spray, Hand Shower)
Independent valve control for each shower function
All shower functions can be turned on at the same time
50 total rainfall nozzles
100 total horizontal spray massage nozzles
Thermostatic control minimizes the chance of scalding
Contemporary brass hand shower
59″ long stainless steel chrome hand shower hose
9. Vanity Bathroom Mirror with TV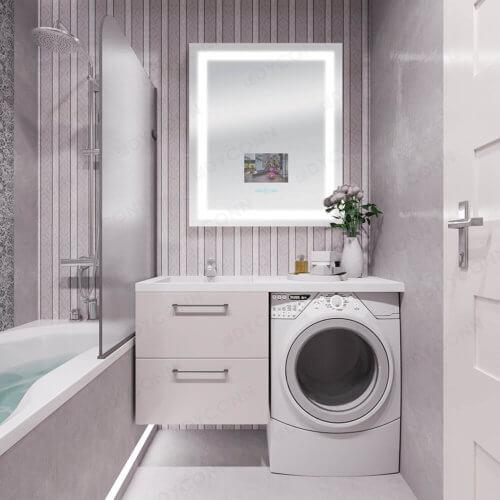 How cool would it be to get your news right in the bathroom, as you do your morning routine? Finally  you can, with one of the most rare luxury fixtures: a TV built into a vanity mirror.
Made by Dyconn, the mirror is a beautiful silver color. It would fit well in any style bathroom, from modern to traditional. Actually, the mirror itself is special. It has 35% more clarity than conventional mirrors, and a built-in anti-fog system.
The TV controls are on the mirror itself. Also, the TV has a 10 inch LCD screen, making it a perfect substitute for a tablet.
Price: $800-1,000 
Rating:5/5
Notable Features
Mirror is 48 inches (30 inches size is also available)
Built In 10″ LCD TV w/ HDMI input, RCA input & USB media player 720p resolution TV.
3rd generation silver mirror, copper free, anti-rust
5mm Thick Mirror, 35% more clarity over the conventional mirrors
Built-In Anti-Fog Heated Pad 4800K Warm Day Time Light Temperature
On Mirror Touch Switch On/OFF & Dimmer, TV controls
10. Electric Radiant Floor Heating System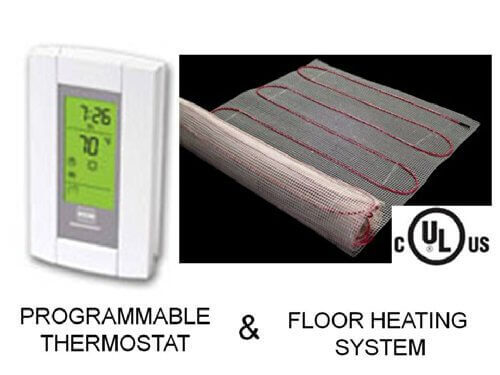 Few things can be more unpleasant that to step on to a freezing cold tiled bathroom floor. However, to solve this problem, you don't need to install a hydronic floor heating system in the entire bathroom (this is a very costly update). Instead, you can put in a small electric radiant floor heating mat by Warming Systems.
In fact, this mat is one of the most useful bath fixtures you can get. It is a very economical and practical solution. Electric mats come in a number of different sizes, so you can find one that best fits the size of your bathroom. Also, installation is easy and a lot less expensive than putting in a hydronic heating system.
Finally, the mat comes with a programmable thermostat, so that you can set the desired temperature.
Price: $148
Installation Cost: Amazon can install the floor mat for an estimated $92. Most likely, a licensed electrician will charge at least 20% more.
Rating: 4.5/5
Notable Features
15 Square Foot Under Tile Heating Mat, Mat is 20″ Wide x 9′ Long, 120 Volts
Highest Quality Heating Cable, Twisted Pair for Zero EMF, Single Cold Lead, Very Thin
Mesh can be cut to fit other shapes.
Includes Honeywell/Aube Digital Floor Sensing Thermostat with Floor Sensor Wire
Average Bathroom Remodel Costs:

See costs in your areaStart Here - Enter Your Zip Code