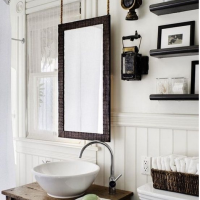 Would you like to transform the look and feel of your old bathroom without spending a lot of time and money?
A complete bathroom renovation can cost thousands of dollars, but if you know a few design tricks, you can give your bathroom a beauty makeover for as little as $150.
Check out our simple bathroom decor tips, along with prices for each accessory, best places to shop and save money, and design ideas to inspire you.
The SECRET to a small bathroom design
Chances are your bathroom is a standard 5 x 8 ft size, and at first this lack of space can seem limiting to achieving a great design. Nothing can be further from the truth, if you know the secret to any small bathroom remodel: the devil is in the details! It is the combination of carefully selected bathroom accessories and small personal touches that will make you love every minute you spend in your bathroom.
So what are the main accessories you need to focus on that make a big impact?
Mirror Mirror on the wall
Installing a large mirror can make a big difference in a small bathroom. It will make your space look both bigger and brighter. Even if you already have a mirror as part of your bathroom vanity or cabinet, putting another mirror on the opposite wall will amplify the effect. Mirrors without heavy frames work best in small bathrooms, plus they usually cost less. For a personal touch, consider a none-traditional mirror shape, such as round or oval.
Cost: The least expensive large mirror (30 x 24 in.) can be found at The Home Depot, manufactured by Glacier Bay, and costs $18.98
Places to Shop: In addition to The Home Depot, you can shop for budget-friendly mirrors of various styles at Ikea, Target, Amazon and Overstock.com
A Shower Curtain says it all
One of the most noticeable accessories in a small bathroom is the shower curtain, so put some thought into the color and design of yours. If the walls of your bathroom are either white or beige, or another very light color, go for a bright, bold shower curtain to create a focal point of the space. If you have bright color walls and want to create a modern look, go for a shower curtain that is of a complementary color to the walls. For example, if you have a blue walls, get a brown or beige shower curtain. Alternatively, you can create a more traditional look and feel by selecting a shower curtain that is similar to the color of the walls.
Keep in mind the overall design theme of your bathroom. You can find shower curtains that go well with nature, nautical, geometric/modern, city-style, feminine, kid-friendly, etc. styles.
Cost:The least expensive, yet ultra modern and stylish shower curtain can be found at IKEA for just $6.99 (TVINGEN). Check out this design in the picture below:
Places to Shop:Overall, we have found that Ikea has the least expensive selection of shower curtains. Other places to shop are Bed Bath and Beyond (although, it is a little overpriced) and Overstock.com
A Bath Mat = Comfort and Style
Another important accessory that can compliment your bathroom design and increase comfort is a bath mat set. If your bathroom already has many colors and accessories, select a single-color set. However, if your bathroom has minimal accessories, selecting a bath mat that has a bold color and/or interesting design will make a big visual impact.
Cost: Check out this 2-piece bath rug set by Cotton Craft from Amazon for $19.99
Places to Shop: In addition to Amazon, beautiful bath rug sets can be found at Overstock.com and Target.
Make Your Towels Count
Your bathroom towels can be another eye catching detail. You don't even need to look for any expensive or special designs, the color of the towels alone will make a visual difference.
Cost: The most budget-friendly 3-piece towel set we found is at Target, by Room Essentials for $11.97. Available in 6 different colors. Purchase here
Places to Shop: Ikea, Bed Bath and Beyond, Overstock.com all have a nice selection of towels.
Bath Accessory Set
A bath accessory set is a great accent to play around with for that personal touch. If you like everything to match, go for a set that has all the pieces you need. However, you can get creative and find pieces like this soap dish that have a unique style.
Check out this beautiful soap dish:
Cost:The soap dish in the picture above is sold on Amazon for $9.99.
You can purchase a 4-piece bath accessory set starting $15 on Amazon.
Places to Shop: Amazon, Target, Bed, Bath and Beyond have a good selection of bath accessory sets. Original, hand-crafted and one of a kind bath accessory sets, as well as separate items can be found on Etsy.com
Bathroom Wall Decor-unleash your imagination
Don't neglect the walls of your bathroom, as they are prime decorating space! You can purchase art prints or you can create your own for a more personal touch. Simply by some frames and print out your favorite photos and images to put in them. If you are feeling extra ambitious and creative, you can hand-paint the frames the colors that you like and that match your bathroom decor. As you can see in the picture below, sky is the limit to wall decor in your bathroom.
Cost: You can purchase an 8×10 art print on Amazon for $6.
Alternatively, you can purchase frames for $1 each at the Dollar Tree, and each print will cost you $0.25-0.75 at a local drug store.
Places to Shop: Amazon has a very large selection of art prints at an affordable price. Another great website with lots of creative art is http://www.art.com/
Set the mood with Scented Candles
Candles can not only add a touch of romance and luxury to your bathroom space, they can also bring an array of scents that will delight your senses. Go around different shops and smell candles to find the scents that lift your spirits. Candles also have beautiful warm colors, so use them to add those lovely accents in your bathroom. 1-3 candles of complementary scents should do the trick.
Cost:You can buy candles of different sizes for just $1 a piece at the Dollar Tree.
On average, scented candles both in stores and on Amazon cost the following:
Small votive candles: $1.99
8-10 oz candle:$9.99
A 22 oz candle jar: $25
Places to Shop: Nicely scented candles can be found at Pier 1 Imports, Yankee Candle, Bath and Body Works. Discover beautiful, hand-crafted candles on Etsy.com and choose your own custom scents.
Make a statement with Handmade Soap
Soap can be so much more than just the lonely bar you use to wash your hands in the bathroom. Handmade soap can be a great piece of bathroom decor, transforming the space into a luxurious spa. Look for soaps of different shapes, colors and sizes and create beautiful, original displays. An added bonus is that handmade soap is made with natural ingredients, smell wonderful and will contribute to your bathroom's ambiance.
Cost: A single piece of handmade soap can cost from $1.99 and up. Each soap displayed in the picture was $4.99, sold on Etsy.com by SmellyCat Shop.
Places to Shop: The greatest selection of artisan, handmade soap can be found on Etsy.com. Many soaps sold on Etsy are 20-30% cheaper than similar soaps sold on Amazon.
Bring Life with Plants and Flowers
You can freshen up your bathroom decor by adding a favorite plant or flower. Orchids are very popular, but if you don't want to bother taking care of it, a bamboo plant is a beautiful low-maintenance alternative.
Cost: An orchid costs $17-20 A single bamboo stick costs $4.99
Places to Shop: You can find the best prices for orchids, bamboo and all kids of other plants at either The Home Depot or Lowe's stores.
Unique Accessories and Bathroom Decor Ideas
With a little bit of effort, you can put together your best pieces of bathroom decor all by yourself. All you need is some glass apothecary jars (you can substitute regular glass jars, if apothecary jars are over your budget), and fill them up with your favorite bath accessories, little soaps, bath salts, cotton balls, natural sponges, bath bombs, sand and sea shells, glass beads, etc. You can display the jars either on top of the toilet, or install one or two wall shelves.
Check out these designs for inspiration:
IDEA # 1
IDEA # 2
IDEA # 3
Cost:All items on Amazon:
Set of 3 apothecary jars: $39.99+
1 apothecary jar: $14+
Glass jar: $9.99
Set of sea shells: $7.40
Decorative sand (various colors): $8.96
Assorted Sponge Package: $7.72
Bath bombs (6 pack): $14.99
Summary of Accessories and Costs
Let's recap all the items you will need for your bathroom makeover and calculate the total cost:
Bathroom Accessories Prices
| BATHROOM ACCESSORY | PRICE (USD) |
| --- | --- |
| TOTAL | $149.61 |
| | |
| Frameless Mirror (24 x 30) | $18.95 |
| Shower Curtain | $6.99 |
| 2-Piece Bath Mat Set | $19.98 |
| 3-Piece Towel Set | $11.97 |
| 4-Piece Bath Accessory Set | $15 |
| 1 Art Print (8x10) | $6 |
| 1 Candles (8-10 oz) | $10 |
| 3 Pieces of Handmade Soap | $12 |
| 1 Orchid Plant | $17 |
| 1 Glass Jar | $10 |
| 1 Apothecary Jar | $14 |
| Assorted Sponge Package | $7.72 |
| | |