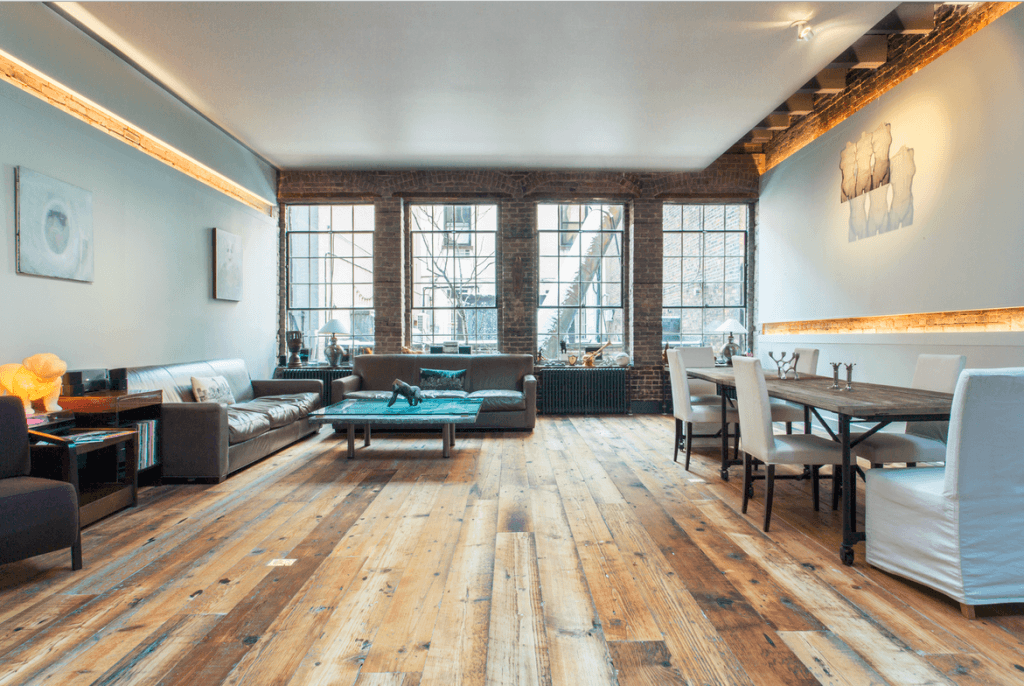 If rustic home decor makes your heart flutter, you will love reclaimed wood flooring! What I admire most about these floors are the rich color tones and unique imperfections in the aged wood. They are beautiful to look at, and can complement your interior design in a subtle way that exudes elegance and charm.
An antique hardwood floor has a rich pallet of colors that range from light beige, shades of grey to dark chocolate brown. Many marks sprinkled throughout the floor give real character that highlights the appeal of any room.
Get design ideas and inspiration from our gallery of 15 gorgeous contemporary and traditional living rooms with reclaimed wood flooring!
What Is Reclaimed Wood Flooring?
Reclaimed hardwood is very special, because in addition to bringing exquisite beauty to your living room, it also carries a unique piece of history from its place of origin.
Typically, it is custom made from salvaged wood that came from boards, beams and other structures in historic buildings, old barns and warehouses. Most reclaimed wood flooring comes from heart pine, oak, chestnut and hickory wood. Even though the cost for reclaimed hardwood flooring is very high (at least $9-15 per square foot installed), no other material can match its timeless appeal. These floors bring warmth and distinguished character to any living room design, whether rustic or modern.
Design Tip:  Pick one or two of the prominent color tones in your floor and use them in other design and decor elements of the room, such as wall color, color of the sofa or other small accessories around the living room. You will notice that this helps create a unified and harmonious look and feel.
Where To Buy
Antique wood floors are a very niche market, because most homeowner prefer the look of brand new hardwoods. Moreover, there is a limited supply of authentic reclaimed wood, which is one of the primary reasons for the high cost.
The bottom line is that you will not find this rare flooring sold online or in most large flooring supply stores. In recent years, due to increasing consumer interest, large flooring manufacturers have started to make replicas of distressed and hand-scraped reclaimed wood, so large stores do carry these options.
For the real deal, you can source the floors from only a handful of reputable companies across the US:
This company is one of the most famous producers of antique wood flooring. It offers by far the best selection of woods and styles, along with antique cut nails to finish the look. Elmwood primarily works with corporate spaces, but they do service homeowners who are interested in their upscale floor offerings.
This is a both a mill and a distributor of reclaimed wood flooring, that has been in business for close to 60 years. One cool thing about their flooring products is that they are actually salvaged from antique floors of historic homes across the US. So you are getting an original floor with a big piece of history.
Another very interesting company, Jarmark is a leader in the reclamation building industry. They offer staple vintage floors made from antique oak and pine, along with some unique products salvaged from industrial buildings from across the country. For example, you can purchase their Harbor Oak flooring, which is boards that measure 16 feet long!!! and have been taken from delapitated buildings along Boston's harbor. In addition to flooring, the also offer wood for beams, ceilings and walls.
Flooring Design Ideas