This Remodeling Costs Guide (updated for 2017) will help you research and understand the cost of most common renovation and construction projects. This comprehensive list includes costs of over 40 types of Interior Remodeling, Exterior Construction and Mechanical (HVAC / Plumbing / Electrical) projects, grouped by type.
This Guide is continuously updated to include new projects, and price adjustments in materials.
Most remodeling costs went up about 2-3%. Low gas prices and lower inflation has helped curb the typical 4-5% annual increase in home improvement prices.
In fact, roofing prices have not increased because oil, which is primarily used in manufacturing of asphalt shingles, has been at it's lowest price in over 10 years.
Average Kitchen Remodel Cost:

See costs in your areaStart Here - Enter Your Zip Code
Contractor prices fluctuate, and when you get an estimate for a project, you want to be sure that you are getting an accurate and fair quote that is in line with current market prices.
Whether you are a homeowner, investor, or real estate broker, our Remodeling Costs Guide is an accurate reference tool you can use to plan a budget for your projects. To ensure that you get the most current pricing information, we regularly update this list.
Keep in mind that actual remodeling costs can vary by as much as 15-20% or more, depending on the contractor you hire, type of materials used, existing conditions, and your geographic location, as well as other variables.
Interior Remodeling Costs
Project
Cost
Job Description
Average Kitchen Remodel
$19,420 (includes labor)
This price includes the following: 20 linear feet of cabinets, 200 sq.ft of floor tile and installation, 30 sq. ft. of backsplash tile and installation, 4 piece set of stainless steel appliances(Energy Star Rated) 45 ft2 of granite countertop (Colorado gold or Venetian gold), 50/50 under-mount sink, pull down faucet, dishwasher kit, track light fixture, new garbage disposal, and painted kitchen walls.
Cabinets
$3,885 (includes installation)
This price includes: 20 linear feet of Birch Wood cabinets (base & wall), available in 3 colors. Add $145 for each additional linear foot. Maple cabinets should be calculated at $185/1 linear foot.
Kitchen Faucet
$190-500+ (includes installation)
Price includes a new kitchen faucet, removal of old unit and installation of new pull-out / pull down faucet.

Installation / Labor cost for replacing a faucet is $140-200 when you hire a handyman. New faucets range in prices from $70-300+ and may in some cases also require new water lines ($7-10 each) and in rare cases replacement of water shut-off valve. Price for plumbing work to replace shut-off valve is not included here.
Garbage Disposal
$235-460 (includes installation)
Remove old garbage disposal, install new drain basket, attach new garbage disposal, attach electrical and plumbing (drain). Optionally attache dishwasher drain.

If you do not have a disposal currently, there will be an additional $75-125 charge to adjust / re-route drain pipes.
Bathroom
$7,830 (includes labor)
This price includes an allowance of $1,200 for new bathroom fixtures: up to $146 for a tub, up to $112 for a toilet, up to $227 for a vanity, up to $100 for a vanity top, up to $145 for a medicine cabinet, up to $120 for a shower head/bath faucet, up to $80 for a sink faucet, up to $200 for tile, up to $70 for an exhaust fan – see material only prices
Basement Finish
$35 / ft2
This price includes framing, electric work, recessed lighting, drywall, taping, sanding texture, paint and carpet.
Countertops
$35-100 / ft2
This is the price for installing basic color granite with standard eased or bevel edge. $10 / ft2 more for other edge types, and $10-15 / ft2 more for premium colors. You should budget an additional $200 for installing an undermount sink.

We paid $58 per sq. ft. for premium color find out how we Saved much money on Granite Countertops

Paint One Room
$355 for 120 sq. ft. room (includes the cost of 2 paint colors)
This price is for room free of furniture – painter comes in, paints and leaves. No prep work or repair work is included. Also excludes painting ceilings.
Interior House Painting
$1.75 – $3.40 / ft2 (includes the cost of 2 paint colors)
This price is for a floor plan's sq. ft. Use our Interior Painting Calculator to get more accurate cost estimate. Totlal cost depands on square footage. Less than 300 s.f. will be $3+ per foot. Over 1500 s.f. will be less than $2 / ft.
Exterior Paint
$2.05 – $3.74 / ft2 (includes the cost of 2 paint colors, trim and siding)
This price is for a floor plan's square foot of a level that has exterior exposed walls up to 9 feet high.
Tile Installation
$4.94 – 6.56 / ft2
This price is for tile installation on a prepared area and DOES NOT include the cost of tile itself. Includes: thin-set, grout and installation on walls up to 8 ft. high. Add $1-10+ for a sq.ft of tile (depending on style, quality, material, brand).

Kitchen BackSplash Accent Tile (glass/metal/stone mosaic) will cost about $4-6/ft extra to install, and material prices are typically $10-25 per square foot. If you have 30 sq. ft. of BackSplash Accent Tile, your cost will be around $23-39+ per ft for labor and materials.

Drywall / Sheetrock
$52 per sheet (includes materials and labor)
This price includes installation of drywall, taping, patching, sanding and texturing per sheet, up to 8 feet
high.
Interior Door
$295
This price is for a wood 6 panel white door and installation. Includes hinges, cutting and fitting the door to the right height. Add $45 for a new door knob with installation.
Hardwood Flooring
$7.32 / ft2
This price includes Oak wood flooring finished and stained, and installation.
Wood Flooring Refinish
$2.75-4.10 / ft2
This price includes sanding, staining and polyurethane finish.
Carpet Installation
$3.44 / ft2 ($31 / sq. yard ()
This price includes 1/2 inch padding, 38 oz carpet and installation. Removing old carpeting will cost another $0.6 – $0.8 per square foot. Note if your room size is bigger that 12 feet in both directions, you are looking at increased waste on materials side, because carpets come in 12 ft. wide rolls. So if your room is 13′ wide, then you will have 11 feet of waste.
Bathroom Vent Fan installation
$250 – $800 – labor + materials
Includes removal of old vent, cleaning the exhaust duct, and installing new vent. Price differences come from different quality fans (basic costs $40-70 vs premium models, with noise control, integrated lights, humidity and temperature sensors, costing $200-$300) and different level of installation complexity.

If you don't have exhaust duct already install, look to pay $300-500 more to install ducts/exhaust.
Note, if your bathroom is larger than 40 / ft2, you should calculate an additional $70/sq.ft.
Roofing and Siding Project costs:
We separated each of these trades into a separate Exterior Projects category, because there are literally over 15 projects here, and it would clutter up other outside remodel and improvement projects.
Average Roofing Costs:

See costs in your area Start Here - Enter Your Zip Code
Roofing Costs:
Project
Cost
Job Description
Roof Installation
$6288 or $3.88/ ft2 (includes labor and materials)
This price is for an average 1620 sq. ft. gable roof on 1 story house, with architectural roof shingles, and one layer tear off of old roofing material.

Add $50 if an OSB board needs to be changed. Add $25 a square big for each additional layer of tear off.

Metal Roofing
$5.39 – 12.50 per ft2 (includes labor and materials)
This price is for an average 1600 sq. ft. roof. Lower end prices are for R-Panel / 5-Rib panels with exposed fasteners. Mid-range and high end pricing is for Metal Shingles ($7.50+ per sq. ft.) and Standing Seam ($9+)

Add $50 if an OSB board needs to be changed. Add $45 per square for 1 layer of tear off.

Rubber Roof (EPDM)
$7521 or $6.71 per ft2
Price for an average 1150 s.f. flat roof, with removal of 1 layer of old rubber, installation of 1″ PolyISO insulations boards (6R value per inch), and installing new 60 mil EPDM rubber membrane, fully adhered to the insulation,
with 3″ aluminum drip edge, and one masonry chimney flash.

Removal of tar & grave roofs would cost an extra of $1 per foot. Installing Tapered (sloped) insulation will add about $1.35 per foot. Replacement of rotted substrate – $75 per sheet of 5/8″ CDX plywood.

Cedar Shingles
$12717 or $7.85 per ft2
Price includes installing new cedar shingles/shakes roof, Cedar Breather underlay, and copper valleys/flashing (if needed) on a 1620 s.f. roof.

Removing old wood shingles or shakes will cost $1.20 – $1.50 per foot. Repairing roof battens will be $30 per 8′ piece.

Steep and/or cut-up roofs may cost $2 to $5 more per square foot.

Roof Repair – missing shingles
$275 to $450 + materials
Price for replacing up-to 1 bundle (33 s.f.) of asphalt shingles, that are broken, blown off or missing.

If roof is very steep or high, cost can go up to $500+

Slate Roof Repair – broken slates
$700 to $1200 + materials
price for replacing up-to 20 slates, that are broken or missing.

If roof is very steep or high, cost can go up to $1500+

If roofer needs to match a rare slate size/thickness/color, you can expect to pay an extra of $15-50 per pc.

Rubber Roof Repair
$375 to $700
Patch up-to 10 holes in rubber roof. Replace up to 4 corner flashings on chimneys / skylights.

I personally charge $425 for 2 hours of labor + materials. Labor is $100/hr over initial 2 hours (15 min increments). My price excludes reseaming, as a lot of material is used (especially when you need to cover old 6″ tape with 12″ tape).

Reseaming costs $13-15 per linear foot of 6″ tape, and $20 per ln. ft. for 12″ wide tape.

Homeowners can also purchase a DIY Rubber Roof repair kit, which includes all necessary tools an materials for most common repair jobs, and save an average of $200-400.
Exterior House Remodeling Costs: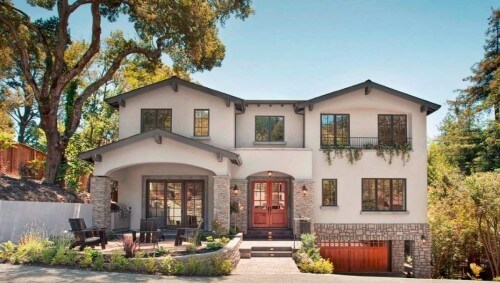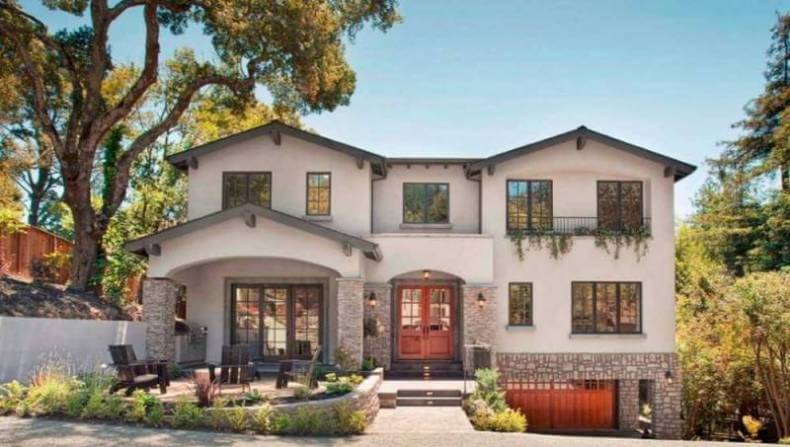 We grouped all exterior projects together. These include roofing, siding, windows, house painting, landscaping, paving, external buildings, additions, garages, sheds, etc.
See the complete list of exterior home renovation projects below.
Average Siding Costs:

See costs in your area Start Here - Enter Your Zip Code
Project
Cost
Job Description
Vinyl Siding
$5.92 / exterior ft2
This price includes removal of old vinyl or aluminum siding and installation of new clapboard vinyl siding with 1/4″ backer board insulation and wrapping 2 doors with aluminum, on an average size ranch home.
Replacement Windows
$405 / window installed (double pane, Low E)
This price includes removal of old windows, framing any openings and installation of windows (48″ X 48″). Add
$150 for an obscured window. Add $150 for tempered glass. There will be an additional charge if argon gas is necessary. Minimum of 9 windows.
Aluminum Seamless Gutters
$12 / ln. ft.
Average house has about 90 feet of gutters, which will cost $1185 for 5″ (K-style) seamless aluminum gutter and 4 downspouts, without Leaf Guards. Extra floors, corners, downspouts, will cost more.
Copper / Zinc Gutters
$40-50 / ln. ft.
Copper and Zinc gutters cost a lot more than aluminum, due to much higher cost of materials, and a lot of custom labor, such as seam soldering for copper. Copper and Zinc are typically installed on custom and historic homes, and are not very common on regular houses. Copper is often installed along with slate roofs.
Exterior Door
$570
This price is for a basic steel white exterior door, with installation.
Framing
$3.76 / ft2 (includes labor only)
Note that framing is very specific, so the final price will vary greatly depending on the project.
Wood Fence
$39 / linear ft.
This price is a for a linear foot of installation of a wooden fence 6 ft. tall, wood 3-Rail Dog Eared Fence Panel, includes cement and 4″x 4″ posts. Add $400 for a gate.
Cement Slab
$7.3 / ft2
This price includes preparing, pouring cement and finishing. Add $2/sq/ft for demolition of old cement(minimum of 800 sq.ft)
One Car Garage
$12,875
This price includes plans, framing, cement, roof, garage door, door opener and a walk-through door. Putting in a window costs an extra $325.
Two Car Garage
$15,925
This price includes plans, framing, cement, roof, garage door, door opener and a walk-through door. Putting in a window costs an extra $325.
Attic Addition
$71,190
Cost for a basic 15×24 shed dormer addition on the attic. Includes new shingle roof with two fixed skylights, 4 vinyl windows, basic shower bathroom and one standard room, and standard plumbing, heating and electrical wiring. Excludes building staircase, debris removal and building permits.
Average Siding Costs:

See costs in your area Start Here - Enter Your Zip Code
Mechanical Systems (HVAC, Plumbing, Electrical, Septic) Construction / Remodeling Costs:
These are not remodeling projects, but rather internal systems that support the lives in our homes / apartments and make them comfortable. Heat, Hot Water, Electricity, HVAC Systems, etc. All the moving mechanical parts in our homes go in this category.
Project
Cost
Job Description
New Electrical Panel
$1,390 (125 AMP electrical panel and installation)
Excludes additional grounding and removal of old service panel.
Recessed/Can Lighting
$210 / fixture
This includes wiring, cutting drywall and installation of the fixture.
TANKLESS Hot Water Heater
$1400-3500* Labor + Materials with basic warranty 10-15 years
This price includes removal & disposal of the old water heater and installing a new tankless unit, one with all connections. Relocating the water heater (if you need to vent the gas outside, using power vent option) costs extra.

Electric Tankless water heaters cost $300-600 less to install, than gas.
Electric option may and often will require Service Panel Upgrade to 200 Amps ($900-1200 extra)
Gas otion will cost much less to operate (in energy costs).
Gas units will often need to be power vented, and somtimes may not be vented into chimney.
Adding power vent costs $400-600, and relocation may cost $300-$1000

Hot Water Heater
$950 Labor + Materials with basic warranty 4-5 years (40 Gallon Gas)
This price includes removal of the existing water heater and installing a new one with all connections. Relocating the water heater costs extra.

A 50 Gallon Gas tank would cost extra $100.
Electric Hot Water Heater usually costs $100 less than Gas unit with same specs and warranty.
Extended Warranty Period (from 4 to 8 years OR from 5 to 10 years) would be $100 extra.
Tankless water heaters usually cost $900-1700 more than storage tank with same fuel type

Furnace Installation – 90K BTU
$3,675 (Labor only)
This price includes removal of an existing furnace, installation of a new 90% efficiency 90,000 BTU furnace with all connections. It does not include combustion air installation if it does not already exist. (Covers 1800-2400 SF)
AC System (3.5 TON)
$4,100 (labor and materials)
This price includes condenser, coil, line-set and installation.
How much water heater costs?
Water Heater Repair
$250 - $350
40 Ga. Water Heater
$850 - $1100
Tankless Water Heater
$1200 - $3500

See costs in your area Start Here - Enter Your Zip Code
There are a number of important things you need to keep in mind when using our Remodeling Costs Guide:
1. The level of finish that is on the price list is considered "Standard builder grade finish", which is the most cost effective way to get the job done. Prices will change depending on any specific materials, custom work and a tight schedule.
2. Work is done by code and inspected by the city if necessary.
3. Work is done by licensed and insured contractors and takes into account the overhead associated with maintaining a safe business.
4. Permit prices vary greatly depending on location and therefore they are not included in our price list.
5. Prices are based on a minimum project cost of $4000. In case the total job is under $4000, these prices will change due to the overhead of initiating and completing the project.
Remodeling costs for this guide are sourced from over 30+ medium and large remodeling and general contractors, extensive research and the Remodeling Mag (local price variations).
Average Kitchen Remodel Cost:

See costs in your areaStart Here - Enter Your Zip Code